As of Fall approaches, we can finally get excited about warm apple cider, socks and boots, and, of course, the latest accessory trends; mainly in the earring department. A solid earring choice can bring out the best in any outfit, and this year's looks are sure to turn some heads. From vintage pearls to modern DIY earrings, there are plenty of fashion trends to look forward to in the Fall of 2019. Here are six earring trends you'll want to keep an eye on!
Recommended: Productive Things to Do When Bored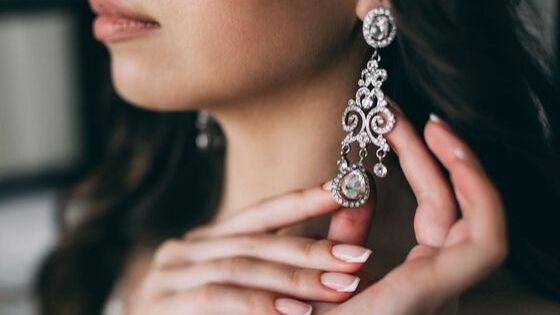 1. Pearls
Pearls are timeless. Crafted by time and pressure, pearls are truly a wonder of nature, and one of the most beautiful accessories you can sport this Fall. Whether you're rocking a simple gold earring with a pearl, dangling pears or gemstones that shimmer in the light, you'll look right at home with this fall fashion trend.
Don't forget that high-quality pearls make all the difference in how your pearls will look and feel. Pearls can be crafted into many different shapes and are usually embedded in gold, but can look good with sterling silver or other precious metals as well.
While pearls may have been your grandmother's favorite accessory, they're certainly not outdated. You can expect to see pearls making a comeback this Fall and toeing the line as a simple yet elegant fashion choice for earrings, necklaces, and more.
2. Hoops
Hoop earrings have been around for decades; with hundreds if not thousands of variations over the years. This Fall, you can expect to see hoops coming back in a big way. From simple, single-metal hoops to more intricate designs, hoop earrings make a unique fashion statement and blend quite well with just about any outfit.
Whether you're sporting your denim jacket for a casual gathering or an elegant dress for a friend's wedding, hoop earrings serve to compliment both the shape of your face and the curves of your outfit. Offering both simplicity and style, this Fall fashion choice is a must-have for any wardrobe.
3. DIY/Trinkets
Believe it or not, high fashion has sported some seriously unique DIY and Trinket earrings for Fall. From colorful paperclips (yes, really; just ask Vogue) to leather belt strap earrings, there's no shortage of room for do-it-yourself styles and trinkets this Fall.
Sometimes, the simplicity of a jewelry collection just isn't enough to truly showcase your personal style, and you want to try something a little different. A DIY earring or trinket style is the perfect way to blend style and creativity while setting the bar for an entirely new look that's yours alone.
Don't be afraid to branch out and try new things; fashion is all about self-expression and daring to step into the limelight.
4. Mismatched
Another popular trend you'll likely notice this Fall are mismatched earrings. This is a fashion statement that anyone can make; whether you're sporting your grandmother's pearl earrings or simple gold studs from an earring subscription box. Either way, mismatched earrings make a bold statement and keep everyone guessing.
Step outside your comfort zone and try mixing and matching things you'd never dream of intertwining. Pearls with statement earrings, DIY with elegant store-bought items, the possibilities are truly endless. Don't limit yourself to the comfort of the familiar. In fact, some of the best things happen when we step outside of our comfort zone and into the unknown!
5. Statement Earrings
Statement earrings are coming back this Fall, and you won't want to miss out on the chance to show off your favorite glamour accessories. From fantastic feathers to dangling tassels and diamond-studded hoops, statement earrings are truly a fashion choice for the bold and the beautiful.
Statement earrings have always been around, but they're so versatile as far as look and style that they often end up in the background until someone makes them trendy again. The good news is that they're certainly trendy again, and you can expect to see plenty of variations this Fall. Get yours today at your favorite online or in-store retailer and don't miss out on one of Fall's hottest earring trends.
6. Single Earring
The single earring is coming back this year, and you won't want to miss it! Whether it's a single stud, tassel, or statement earring, this bold fashion statement dabbles in asymmetry; something we're starting to see a lot of in high fashion.
Interestingly enough, symmetry isn't actually required for an outfit to look right. We're taught that everything always has to be equal and in-line, but the fact is, the single earring look can add a unique flavor to your favorite looks. Never underestimate the power of stepping outside the box and trying something new; you might just find that you've acquired a new fashion staple for your regimen.
The Bottom Line
This Fall's trends include some pretty unique looks that require a venture outside the comfort zone of the norm. Don't be afraid to step outside the box and try something like asymmetry, as it can not only be incredibly liberating for your personal confidence, but also quite stylish long-term.
Related Post: