Wearing T-shirts with personalized designs are both fun and cool in the crowd. In fact, it is beneficial for the manufacturers as well, as they can easily sell their designs and creativity in the market. Also, these customized T-shirts attract customers quite easily, as it can be used for a perfect family reunion or school reunion, or to promote an NGO or charity events and donations too. Well, sometimes customized T-shirts speak our minds too, and that's the best part of any personalized T-shirt.
Well, customers generally reach the T-shirts stores in order to avail a perfect designed T-shirt or to get them beautifully printed in a certain period of time. Of course, you having a Shopify T-shirt Store, need to be extraordinary from your competitors, so what can be done in order to stand out in the crowd? Well, here's the list of solutions that will actually be very much helpful to you and of course it will make your customers pick you even among the other best or probably the popular T-shirt companies.
You know the magic of technology, and you also know that the world is growing along with the technology. In this era, any business having a cool and awesome website actually wins. Well, what makes a website cool? Of course, without any doubt, it is the theme and the design that you choose for your website. Want to know some of the best Shopify T shirt themes?
Recommended: Three Starter Stores For Sale On ExchangeMarketplace Below $250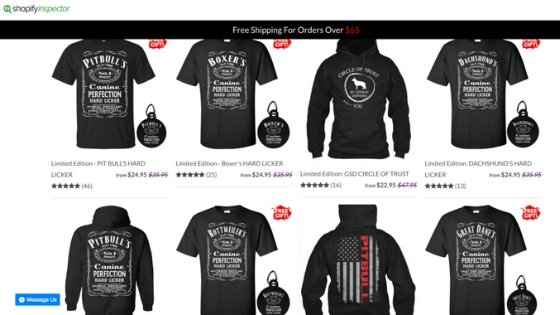 Best Shopify Themes to Create T-shirt Shopify Store
Well, check out this list of best and top themes that will make you stand out and look completely unique in the crowd-
#1. Evonea
Just like the name of the theme, even the theme is pretty unique. It is basically a multipurpose fashion store theme, which provides a lot of features and benefits to the website and of course for the website visitors and customers too. You can opt for a single click installation, along with multiple color choices, even a blog along with Instagram is available when you choose this theme.
#2. Wrapbread
Wrapbread is another popular Shopify T-shirt theme that is preferred by many of the online shop owners or the webmasters. This theme is quite unique and special, as it is fully responsive, language options, currency choices, social media options, customer form, blog, Google map, Menu, sort and filter options and a lot more. If you are looking out to start a Shopify store, then this could be the best pick for you.
#3. Theywear
Theywear and your Shopify store would be the best match. Yes, this theme is also very popular amongst the store owners and the website owners as it provides great features and the assured services to the Shopify stores for sure. Again, just like Wrapbread, it has got several features and is pretty similar to it. It also provides a shopping cart, crossbrowser, documentation, brands, semantic coding, slider and a lot more. Not just these themes, you can also avail for Shopify themes with videos along with it.
#4. Extreme
Extreme is another powerful Shopify themes with a video which actually helps you to get the best for your website visitors and the customers. To use this video theme, you actually don't need to have technical knowledge of course. You just have to install it in your Shopify store and just updating the products within it. You can avail color switcher, promotion banner, newsletter popup, various currencies, slider and a lot more.
5. Fashion Online Store Shopify Theme
You need to know that this is another fashion Shopify theme with video background that you can quite easily use within your Shopify store just pretty immediately. Of course, it has got every single and basic feature that you would be wanting in your Shopify store. It is again one of the best video themes, just install it and avail all its features.
Conclusion
The above mentioned themes are the best and the most popular themes that are generally used by the Shopify owners to attract customers. For information, not only those, these themes are very much easier and convenient for the customers and the store visitors too.
Related Post?