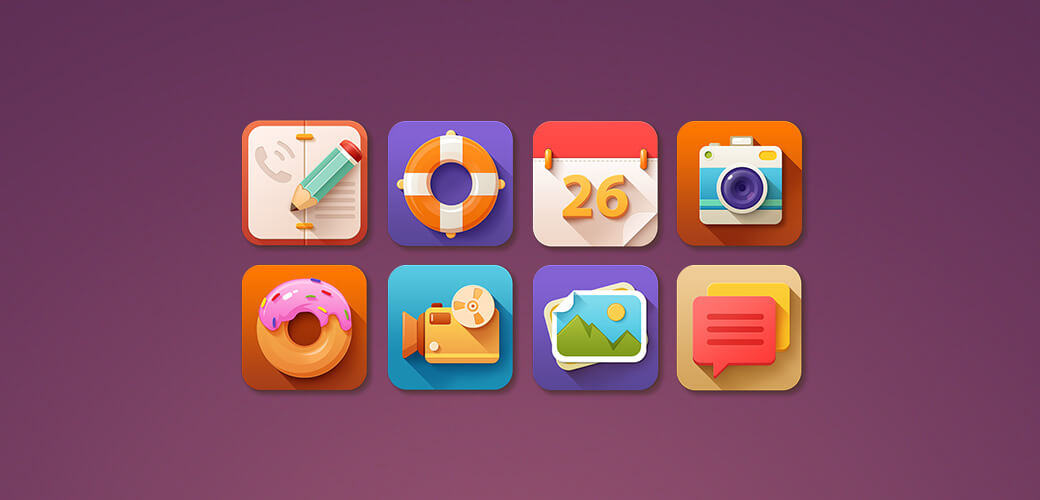 Sometimes focussing on minute things can make huge differences in driving your business to great heights. When it comes to mobile app icon designing, smallest but miraculous elements, determines the huge success of one vital element, which is the app. This app icon can either attract the attention of many or may get fully ignored, because they make the first eye contact for any users of mobile and not the features or its content.
An interesting, informative and eye-catchy app icon design does wonder to draw attention and compel the users to download your app. Mentioned below are some previous tips to help you design the perfect mobile app icon in 2017:
Also read: Paid Android Apps for Free
1. Opt for a unique shape or symbol
An icon speaks a lot about the app and it should be designed in such a way that the users can guess in a click what the app is all about. If they recognise it instantly, they would open it and download it without giving a second thought. So, design your app shape or symbol uniquely so that your app concept and the idea behind creating them is passed on to the users easily, and achieve success by drawing many users effortlessly.
2. Use vibrant colours
The app icon colours should be such that it stands out from the rest of the icons in your mobile and has vibrant and catchy colours in the background as well. Your mobile may be full of different apps, but the app with vibrant colours can be easily recognised, but remember, you should pick the icon colours vigilantly so that it looks amazing on different backgrounds. The colour blue is the favourite of all colours and is used by many apps, so if you opt to choose blue then be ready to face a tough competition.
3. App icon should be kept simple
Don't overdo with the colours in your app icon, as they tend to look jammed and unappealing. Many have this misconception that by using numerous colours in an icon design, it would look different and eye appealing, but it is exactly the opposite way round. Simply focus on just one element and concept to make it look professional and tidy and avoid showing off with too many things. Simple things get quicker recognition and this strategy applies in small app icons as well.
4. Avoid long words
Keep in mind that you are creating an icon for the mobile app, so if you try to fit in long words in the small space, the icon becomes congested and overcrowded. Just put the initial letter of either your brand name or the company name and dedicate your hard work in appropriate designing so that it becomes easy for the app users to recognise it instantly. In case you wish to insert a word in the icon, do it properly so that it doesn't look jammed.
5. Maintain consistency
It is very important to maintain a consistency between the app icon and the app itself. This means that the colour of the icon and interface should be in line by adopting a steady and alike design language.
By creating an amalgamated and simple app image brings satisfaction, liveliness and a long lasting retention in the minds of the users.
6. Do a A/B test on different backgrounds
Always do an A/B test of your app icon to ensure that the icon created looks superb in different backgrounds as well. Just put different wallpapers on your mobile and check if your icon stands out in all of them, because it is not necessary that if your app looks good in snowfall background then it would look good even in rainbow background.
A beautifully and thoughtfully designed mobile app icon speeds up the visibility and encourages downloads, so, just try and keep your app icon simple, striking and appropriate for the users.
Also read: Educational Android Apps