The addiction of mobile phones and devices is increasing day by day. And slowly becoming a huge problem too. Whether you are referring to yourself, your mother or even a child of your family, most of them and most of the time are seen using their phone. The time spent or actually wasted on your phone is increasing day by day. This is a very difficult subject to address and finding a solution to it is quite hard too. And even if we accept or not, our smartphone does come in the way of our day to day life and also our productivity. We lose track of time glued to our phone not realizing how much time of our life is lost while doing so. There are some solutions out there that can help you curb this problem. There are apps out there that can help you out in limiting the use of your phone. These apps set a time limit or block the apps you want to for a specific frame of time, thus helping you in keeping your hands off your phone. Let's make our cellphone an addition to our life and not a distraction.
Recommended: Best Instagram Repost App for Android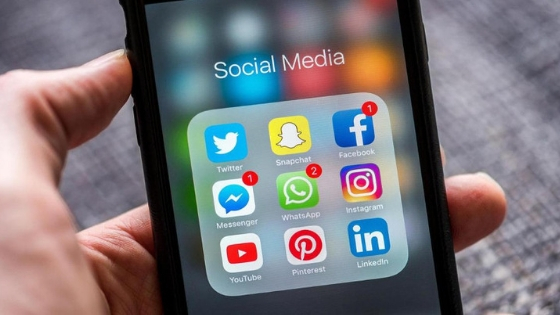 Best Android Apps to Limit Social Media Use
#1. App Block- Stay Focussed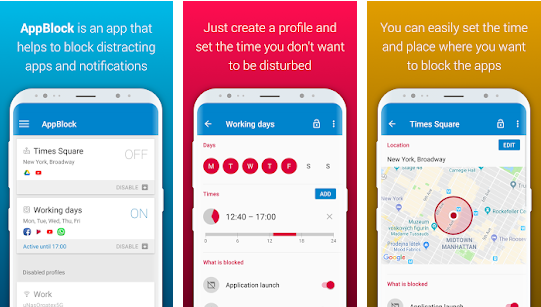 App block is a self-control android application that can help you block distracting apps temporarily on your device so that you can stay focused. You can activate the blocker of this app for a precise time and date and once the preset duration is over you can use the blocked apps again. There is also a strict mode which will help the super addictive users very efficiently. You can use App block as your social media blocker, focus timer and generally as a versatile focus app to boost productivity. The app is filled with features that are sure to help you out with your addiction. It is a simple and supportive way to enhance your work quality and productivity.
Main Features
Block application launch.
Disable notifications from a particular application.
Use a timer and activate profiles for a selected time window.
Boost your productivity.
Profile lock.
#2. Stay Focussed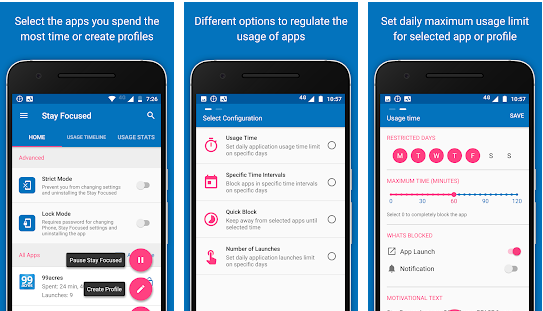 Stay Focused is an Android app which helps you in being focused by restricting the daily usage of blocked apps or overall phone to the selected time and specific intervals. If you feel like you are spending too much of your time on social media then this app will help you reduce the usage. You can increase your study or work time by blocking the apps you use the most. It also helps you keep a track of time spent on different apps so that you know what your weak area is and can find answers to your problem.
Main Features
Block apps at specified time intervals.
Offtime.
App usage history.
App time spent.
Screen time.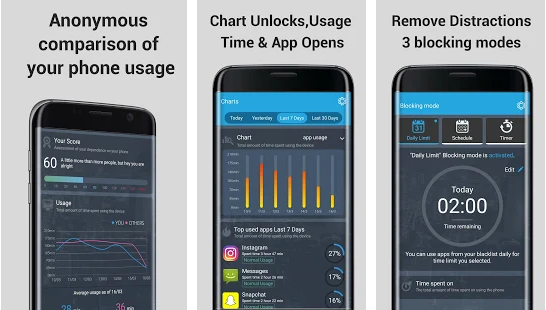 If you are curious to find out how much do you use your phone compared to others then this app has you sorted. Antisocial is designed not only to show you what usage is normal but also gives you tools to manage, block and control your cell phone usage. It helps you to unplug, minimize distractions and focus on important things. It gives you all the information to take the necessary action to solve your problems. It has the clearest and most simple interface and the only app that gives you detailed information to make an informed decision.
Main Features
Least impact on battery life and data.
Most accurate data available.
Extremely user-friendly interface.
Comprehensive customer support for users.
Ad-free.
4. Your Hour- phone addiction tracker and controller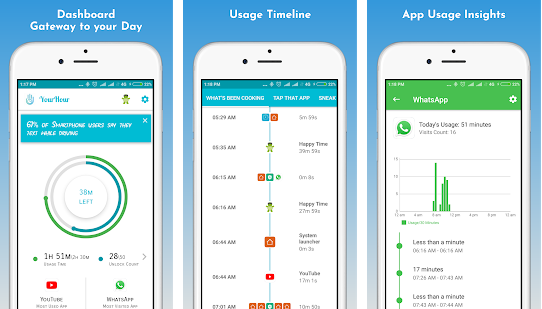 For the times you feel you are getting too addicted to your phone and need a solution then this app is for you. Your phone is your companion throughout your day and night but when this relationship turns toxic, its time to move on. Get the Your Hour app and break up with your addiction. This app gives you a variety of fun and user-friendly features that can help you track and manage your phone usage and also help you know the category of your addiction and find solutions.
Main Features
Daily and weekly reports.
Clock timer.
Know your level of addiction.
The dashboard shows all the information.
#5. Quality time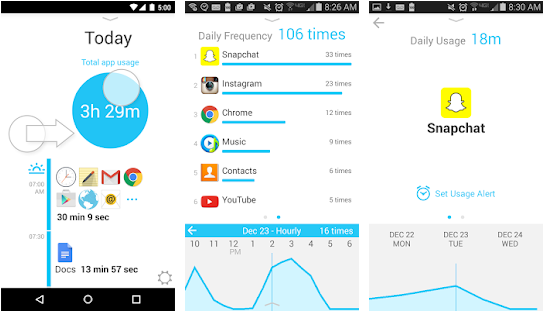 This might just be the app for you if you want to manage your digital diet. Quality Time is a fun, visually engaging and easy to use Android app that lets you monitor and get real-time reports on how much time you have spent on your device. It offers an in-depth and unique analysis of your activities on your phone. It gives hourly, daily and weekly summary of your mobile actions. Curb your habits by using this app and take a step towards addiction-free life.
Main Features
Your smartphone timeline.
Manage your apps.
Discover your smartphone habits.
Download
You can download these apps from the Play store for free and take a step towards a healthy, addiction-free life. It's very important to know when a habit becomes an addiction and these apps will help you in knowing what your problem area is. You can also schedule your posts on Instagram. This will help you avoid wasting your time every day on Instagram and will save you a lot of time. Time is very important and what is more important is to know where you spend your time, or what you spend your time on.
Related Post: