Remote Desktop Connections manager can help you to access other system remotely. You can easily connect with remote computer with the help of Remote desktop connection manager. In this article we are going to show you 3 useful free remote desktop manager.
Also Check: Best Sega Dreamcast Emulator for Windows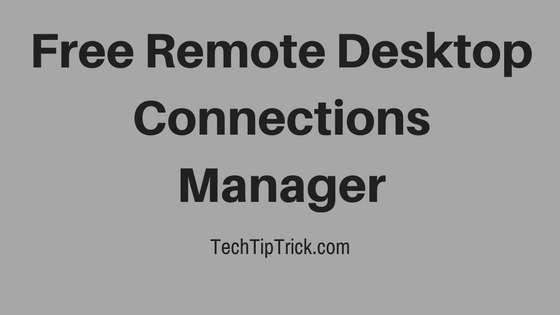 Free Remote Desktop Connections Manager
Managing your desktop, home appliances from a remote location might have appeared a scene out of a science-fiction movie, but it is not a thing of the future. These things are actually possible now, with the help of remote access/management of devices. With continuous progress in the field of computer sciences, many such software/programs have been developed which allow you to control any remote desktop. There are many remote desktop connection managers available in the market, many of whom have been in use for a long time. However, with the advent of latest technology, there also have been advancements in this field. Three of the best free remote desktop connections manager available these days are being discussed here.
Team viewer
It is highly recommended software to use when you want to remotely access any PC. It is one of the easiest ways to access another system once you have installed the software and created an account for it. The key features which make it immensely popular are-
It is free for personal use.
It supports all sorts of operating systems – Windows, iOS, Android, Linux, OS X.
It offers free remote support and management.
You can share files between the host and the remote computer.
You can view as well as manage multiple computers.
It supports wake-on LAN, you can control your remote computer even if it is put on sleep.
It also supports online meetings to help multiple people to connect to one computer.
It has an easy setup with many features available.
You don't need to make firewall modifications or port forwarding to use it.
However, with so many advantages, there are bound to be some catches too.
Your session might get disconnected if the site suspects commercial use i.e. if the connection between host and remote system is more than a couple of hours, the connection between them is automatically severed.
You need an additional Team viewer account to manage the desktop(s) with the application running in the background for anytime access to the system.
The paid version is quite expensive.
Microsoft Remote Desktop
Microsoft has introduced its remote desktop for both iOS and Android. Install the application on your mobile (Windows/Android/iOS) and your home system to control it remotely. The salient features of this application are:
It is fast, efficient, small in size and absolutely free.
You can manage multiple remote desktop sessions/connections in one window.
You can copy paste text files easily.
It doesn't require authorization codes to connect to your system.
It isn't without demerits too. Some of the cons of this system are:
It doesn't support multiple monitors and file sharing.
Helps remotely access Windows PCs only.
Automatically logs out remote computer after the connection has been established.
Chrome Remote Desktop
Most of us use Chrome as our default browser apart from IE, UC browser etc. It might make sense to use it for remotely accessing the desktop too. You can install this app on chrome at the computer you want to remotely access/connect to and manage it from another system or smartphone. The features which make it popular are-
It is free for personal and commercial uses.
Supports Windows, Mac, and Linux; mobile app for android and iOS available.
It is fast, extremely easy to set up and runs on your browser.
You don't need to install another software or open any extra account to run it (linked to your Google account).
Helpful for accessing files as well as quick troubleshooting for remote computers.
The disadvantages with this pretty great system are:
It doesn't allow file transfer between remote and host systems.
It does not support wake-on LAN, audio/video file transfer or instant messaging.
Hope this narrows down your search for the ideal remote access manager.
Some Useful Article: