Tinder Without Facebook
Tinder is one of the most popular dating social messaging apps among young teens. Young teens start dating blindly through this instant messaging application. If anyone wants to become Tinder user he/she needs to have the Facebook account first. In case anyone doesn't have the Facebook account, or the user doesn't want to connect the Tinder messenger through a Facebook account. But there are some tactics and strategies which can help you to use Tinder without Facebook account.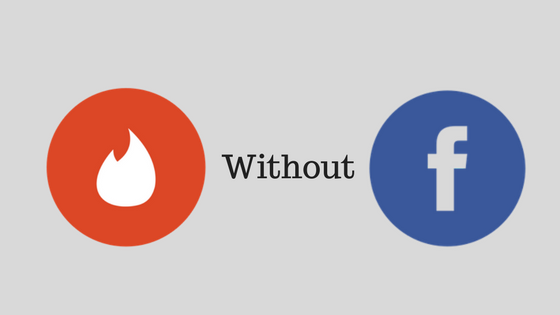 How can a user make Tinder Account Without connecting Facebook?
The most accurate and sincere answer is: you can't. But you can send complain to Tinder authorities, and then in near future, they may allow a user to do it. It is obvious that you are not the only who are facing this inconvenience.
Without Having Facebook anyone want to use Tinder! What to do?
You have to set up your Facebook account, otherwise, you cannot, and there is no other way than that. You will not have to add friends, don't use your real name, it may be a great lie for your potential matches, do this or not it is just an opinion. You just require putting a general information about yourself such as Male and female and you just need to keep in mind you just want to get Tinder. Either you share your pictures, date of birth or anything else regarding yourself, it's up to you. Creating a Facebook account is very easy thing to do, you just need to put your email address and we know you have it.
You might have the Facebook account but you are not comfortable to use it in order to get the tinder account because of privacy reasons. We know that all of your concern but unfortunately, but it is not possible to disconnect the Tinder from Facebook at all. But we can apply some tactics through Facebook in order to make the security tighter with the help of following strategies.
Tinder is social dating instant messaging app, so it is obvious that there could be stalkers who can find you out through mutual friends. You just need to go to your "Friends" and then click on "Manage" and then click on edit the privacy.
Make sure "Friend list" on Custom:
Now it is the time to visit the "privacy" drop down menu and change the settings for who are the people who can contact you and how they can find you. You just need to make sure that your private information such as email address and contact number should not be able to view by anyone.
One thing more makes sure that from Google, your Facebook profile should be unsearchable. Tinder only visualize user's first name, so it would be impossible chance for someone to find your Facebook profile through searching on the Google. You can also hide your profile from the search engine; it will increase the probability of your security.
Simple it would be as same as not connecting Facebook to Tinder:
Since you are very insecure about it, the very best thing to do is to create another Facebook account.
Just make another Facebook account along with your least amount of personal information, but we would say you just require adding your personal information details and also few photos which you want to Tinder user to see. Let's suppose you already have Tinder account in order to connect it to the Facebook account and now you want to go this through separate account tactic, then just visit the Tinder messengers settings and click on "Delete Account", and then with the Facebook new account.
Conclusion:
It is not possible to make Tinder account without connecting with Facebook. But having another Facebook account along with the least basic information: problem solved.
Author:
Aline is digital parenting expert and writer at TheOneSpy Cell Phone Tracking Software. She mostly writes about digital parenting tips, social media privacies for children and stops cyber bullying. To know more about her follow her on Twitter @AlineCarrara7
Some related Post