So have you stuck with a slow Windows operating system?….
Even you are using latest Windows from Microsoft. Well, don't need to worry about it happen with all of us so STOP worrying about your Windows PC.
All you need to do is to follow this detailed performance guide on How to Speed up Windows 10.
If you are not aware, then let me tell you, my friend, that in this technology world, almost every people on the internet and we use the web via PC, Laptops, Smartphones, and Tablets and at the same time these devices run by operating systems such as Windows, iOS, Ubuntu and much more.
So today I will talk about Windows 10 operating system and the biggest question on the web from Windows users such as how to speed up Windows 10 and also read my previous post How to Get Help in Windows 10?
I will share reasons why you need to speed up windows 10 boot and how you can speed up Windows 10 computer easily and in a faster way?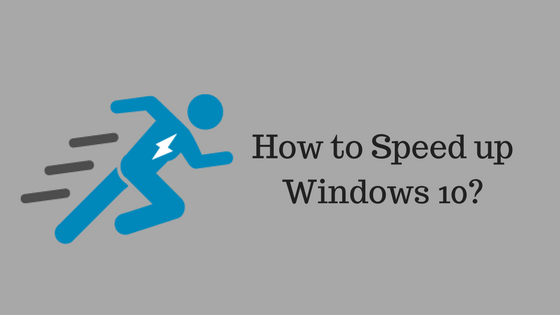 You will get a Step by Step follow to guide for speed up windows 10 PC and laptop. So without further ado, let's get started:
Detailed Guide on Speed Up Windows 10
There is no doubt that Windows 10 is a beast among all Windows OS and this time Microsoft packed it with so many productivity features.
As we all have a different style of using Windows systems that mean we all face different kind of issues on our PCs.
The most common issue for Windows users is, how to speed up windows 10 computer easily without paying high $$$$ to the cyber security companies or highly priced speed up software for Windows 10 or other Windows OS.
This is why we came up with a detailed guide on "Boost Windows 10 Performance" so without wasting any time, let's gets into this performance guide for the questions like how to make windows 10 run faster and smoother.
Steps to Boost Windows 10 Performance
#1. Modify Power Settings
Each Windows 10 users are aware of "Power Saver Plan," and if you are using this feature, then you decelerate your PC.
This feature will abate your computer's performance to make your PC energy efficient.
If you want instant performance boost in your Windows 10 than you need to change your power plan from Power Saver Mode to High Performance or Balanced because this change will help your PC to work faster and smooth without worrying about energy.
To Do This Task:
Go to Control Panel > Select Hardware and Sound > Power Options. You will see two options there, Balanced (recommended) and Power Saver. So choose Balanced options to faster your Windows 10.
#2. Disable Background Programs
You might feel the sluggish performance of your PC & it is because you are PC running background programs with your current programs. They might be those who are not worth to play in the background.
To Do This Task:
Go to Task Manager by Pressing shortcut key [Ctrl+Shift+Esc] or Right Click on the lower right corner of your desktop screen and select Task Manager.
Then Click on Startup tab, and you will get a list of programs that start running when you start your PC. If you find any program useless, then disable that program with below steps.
To step any program – Right Click on the program and Select "Disable" option.
Note: If you disable any important program then don't panic, simply enable that program by right click on it again.
#3. Disable Effects and Animations
We all know that visual effects and animations need graphics to work smoothly. Moreover, Windows 10 comes with such an eye-catching graphics in the layout.
YES, they look cool, but at the same time, this feature makes your PC slow in performance so if you want to disable that kind of graphical interface of your Windows 10 then follow below process.
To Do This Task:
Go to Search Box and type "sysdm.cpl" and press ENTER. It will launch System Properties Popup Box. Click on Advanced > Settings in the Performance section.
You will get some options which are as same as below:
Animated Controls and Elements inside Windows
Animate windows when minimizing and maximizing
Animations in the taskbar
Fade or slide menus into view
Fade or slide ToolTips into view
Moreover, so on.
Simply uncheck unwanted options, and this will boost your windows 10 performance like ROCKET.
#4. Launch Troubleshooter of Windows
Very few people aware of this kind of feature in the Windows 10 OS and that is called "Troubleshooter." To use this feature simply go to search box and type troubleshooter and click on "Troubleshooting Control Panel."
Now click on Run Maintenance task on System and Security tab.
How does Troubleshooter work?
Once you on this feature, it will start finding FILES and SHORTCUTS on your PC which you do not use and kill them, and check performance factors and other issue and make them work smooth again automatically.
It will boost your PC performance and will clean your PC and speed up Windows 10 without software.
Your Windows 10 PC has one more cool feature called "Performance Monitor," it creates a performance report of your PC and suggests you solutions for your PC issues and bugs.
If you want your PC report then, Go to Search box and type "perfmon /report" and press enter. Make sure you add SPACE between perfmon and slash.
It will start generating your PC report and examine your system information to share suggestions with you.
Final Verdict:
So now you have quick and simple five top steps to speed up Windows 10 PC. Stay tuned with us because we are back with more tricks to speed up Windows 10 computer.
No matter you want to speed up windows 10 internet tricks or speed up Windows 10 for gaming and these above tricks will work for all.
If you like this post, then don't forget to share these tips and tricks with your friends and family. If you have any doubt or question, then share with us in the comment section below, and we will get back to you as soon as possible.
Related Article:
How to Set Up iCloud on Windows 10?
Step to Fix System Service Exception Error in Windows 10
Solution to fix Windows 10 taskbar not working