SSH client for Windows is a network protocol through which people can access computers at remote locations over the internet. Since the internet is a relatively unsecured network that is prone to hacking and malware, SSH provides solid verification and safe scrambled data communications between the two systems involved. It is quite a preferred mode of communication these days. MS Windows along with other OS include SSH software by default in their list of programs. One of the best ssh client for Windows is PuTTY. However, despite being the most preferred SSH client for windows 10, PuTTY lacks certain features.
The advent of the latest technology led to the development of better software. This led to the search for a PuTTY alternative. Some of the best ssh clients that provide an alternative to PuTTY regarding security and other features are as follows.
Recommended: Windows update error 0x80070057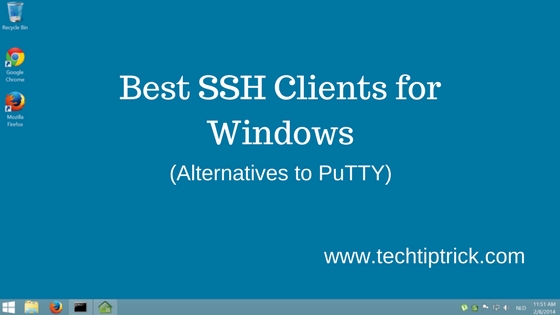 Best SSH Clients for Windows 10
#1. SuperPuTTY
One of the best ssh clients for Windows proved to be an adequate alternative to PuTTY is SuperPuTTY. As the name suggests, it is an improved version of PuTTY. However, it requires the parent program to execute it. Salient features include:
Provides import/export of session configuration
An interactive user interface is allowing the management of multiple sessions and personalized workspace.
Secure upload of files
Supports SSH, Telnet, and RAW protocols as well as PuTTY session configuration
Allows file transfer between the remote server and local storage
#2. PuTTY Tray
Another secure shell client window 10 that is based on PuTTY and makes the list for the best PuTTY alternative is PuTTY Tray. Some add on features that make it different from the parent program include:
Customizable icons
URL hyperlinking available
Easy to configure window transparency
Offers portability to store session configurations on USB drives
Can be minimized to the system tray for easy access
Also read: free movie streaming sites no sign up
#3. KITTY
Based on PuTTY, it works as an SSH terminal emulator with many add on features. Some of the key features of one of the best ssh client are:
Shortcuts for pre-defined commands
Session filters available
Automatic passwords
Separate icons for each session
Portability available for the script at a local storage
#4. MobaXterm
The one-stop solution for administrators, programmers, and webmasters, this alternate best ssh client for windows have some distinct advantage over PuTTY. Apart from SSH, it offers support for many protocols. It is light and portable and can be extended with the help of plugins. It also offers UNIX commands to Windows. It is often preferred as a PuTTY alternative for ssh client for windows 10. It provides tabbed SSH sessions also. It is available in both free as well as paid versions.
Also check: Unable to connect to Nvidia
#5. SmarTTY
It is one of the best, free ssh clients for Windows, that can replace PuTTY as an SSH terminal emulator. SmarTTY offers some unique features in its application. It can edit files at their location and also has the capability to transfer entire directories apart from individual files. It allows multiple tabs in 1 secure session. Apart from these amazing features, it is regularly updated by its developers, making it one of the most secure shell clients for Windows 10.
#6. Dameware SSH client
Dameware is a free SSH client for Windows. You can manage more than one session from one console while using this PuTTY alternative. It also allows you to save and access multiple sessions for easy login to different systems. It helps establish connections with other devices using SSH1, SSH 2 and telnet. You also have a paid and better version, in case you want to upgrade.
#7. mRemoteNG
An open-source, remote connections manager that allows both virtual network computing as well as provide support for many protocols such as SSH, Telnet, HTTP/HTTPS, etc. sounds like the best ssh client for windows 10. Like some of the other best Windows SSH clients listed above, it also allows a tabbed interface. It is an excellent system administration tool that offers support for tabbed sessions. The best thing is that it's completely free!
Also Check: How to Enable Disable Hyper V on Windows 10?
#8. Terminals
It is another free, open-source, secure multi-tab terminal, which provides remote access to the desktop. It has all networking tools like Ping, Tracert, etc. You can even capture screenshots with this ssh client for windows. It offers support for multiple protocols. It allows multiple tabs in a session with the option to view the tab in full screen!
#9. FireSSHAddon
It is an amazing alternate for Firefox and Chrome, especially when your system doesn't have administrative privileges. It is platform-independent, unlike most secure shell client for Windows 10. It is a great alternative for those people, who do not wish to install a separate SSH client on their systems. It has all the features available in other ssh clients for Windows.
#10. Bitvise SSH client
A great PuTTY alternative, it is free for personal use and paid for commercial purposes. It has an advanced graphical interface as well as a ssh terminal emulator. It is used interactively but can also be used unattended for file transfers or maintaining a connection for port forwarding.
Conclusion
Apart from the above best SSH clients for Windows 10 list, there are many other alternatives for SSH clients apart from PuTTY. You can choose one which best suits your needs.
Related Post: