In the digital world, everyone uses the Smartphone to connect with best buddies and relatives as well as family in all the time. When we look into the Smartphone world, there are a variety of models and versions available with every brand with its unique features. People target to buy the product which is related to their likes, portability and within their budgets as well.
There are many Smartphone manufacturers available worldwide to provide best Smartphone's for the customers with upgraded facilities. Sony and Motorola are one among the top manufacturers in the world. They have launched different devices with unique features to attract the audience. Sometimes the products from manufacturers have similarity with their competitors too. As like that we have listed some similarities and differences between the Sony and Motorola products here with its features. The both products are named as Sony Xperia Z2 and Moto Z.
Also Read: Xiaomi MIUI 9 Features, Release Date, Eligible Devices for Update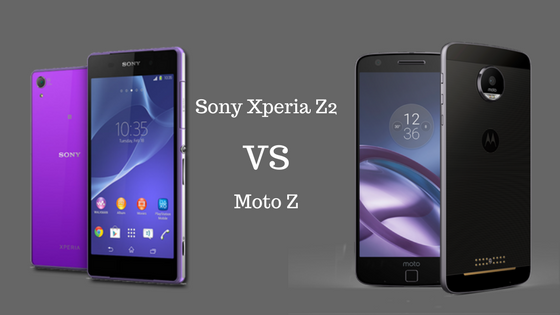 Sony Xperia Z2 vs. Moto Z
When we start to compare this two Smartphone, both have some similarities and differences too. They were launched in different years, but the functionality looks like same and admirable. Here we listed few matches between these two phones. They are
You May Like : Xiaomi Mi 6 Review – A New Beginning
Display unit
The Motorola Z mobile has the screen size of 5.50-inch touch screen display with 1440*2560 pixels. The Sony Xperia Z2 also comes up with a 5.20-inch screen with 1080*1920 pixels.
General factors
Both the phones work on with touch screen facility with the net weight of 163gms respectively. The Sony mobile has 3200mAh of battery backup, where Motorola Z has 3500mAh. The only difference which makes Sony upfront with the availability of color option.
Camera capacity
There is not much difference between the camera options in these two branded mobile models. They have quite a similar function on its inbuilt camera.
Sony Xperia Z2 front camera is available with 2.2 megapixels and back camera attached with 20.7 megapixels. In Moto Z also you can see the same features with a similar difference like 21 megapixel of back camera and 5 mega pixels of the front camera.
Operating system
Moto Z is operating with android 6.0.1 version, where as Sony Z2 is running on Android 4.4 versions.
Hardware components
Moto Z has 2.2 GHz quad core processor which is made up of QUALCOMM Snapdragon 820. The RAM size would be 4 GB, 32 GB internal and expandable up to several GB. You can use micro SD card for storage capacity.
Sony Z2 has made with 2.3 GHz quad core processor with QUALCOMM MSM8974AB Snapdragon 801. It uses 3 GB RAM, with 16 GB internal storage, expandable up to 128 GB.
Connectivity
Sony and Moto have designed with same connectivity configurations. They both use a single sim, Bluetooth portability, 3G, 4G compatibility and other features as well.
Price tag
The Motorola Z is available in the market for the price of Rs.24499/-
The Sony Xperia Z2 is available for Rs.22994/-
Conclusion
When comparing these two Smartphone's, they both have the same quality in most of the scenario. It is your choice to choose the suitable one for your expectations. These are very few and short descriptions we mentioned here. There are many other factors are also available for these gadgets.