Project management is an often under-appreciated area of business administration, simultaneously having significant overlap with all other subjects in that category, while in practice standing apart due to the temporary, frequently changing nature of the work. Project managers work in a huge number of fields, from tech to construction, for both business and government, ensuring that major undertakings are completed on time and within budget. As a career that relies heavily on certifications to demonstrate competence, success as a project manager is often dependent on the quality of your education. But getting a degree in project management can not only help you to pass your certifications and find work; it can also help provide the skills and knowledge you need to truly thrive within your industry.
Recommended: 6 Criteria for Choosing Software for Project Management Tools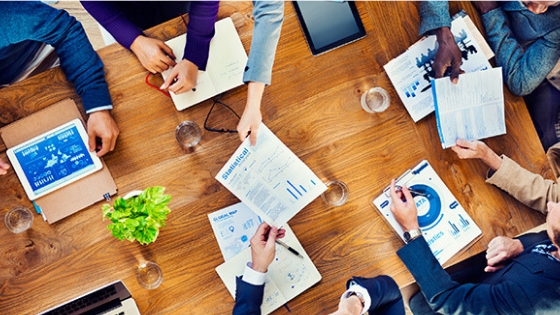 Project management degrees offer a broad base of knowledge
Because of the immense variety of projects a project management graduate may find themselves working on, project management degrees are one of the most flexible bachelor degree options out there. These degrees are typically structured in accordance with the Project Management Body of Knowledge, a set of standards developed by the Project Management Institute, the professional association for project managers through which certification is earned. In addition to general studies and its wide array of required subjects, students pursuing project management degrees learn about accounting, marketing, information systems, basic personnel management, budgeting, and leadership. Having a solid basis in each area of business will give graduates the knowledge they need to communicate with the department heads and team leads working with them, making it so that they can be more responsive to the needs of their employees. Students also receive dedicated education on topics relevant to project managers specifically, like building realistic schedules, using project management software, developing plans and executing them, and maintaining documentation along the way.
For those who already hold a bachelor's degree and are looking to break into project management, master's degrees and professional certificate programs are available to help build the skills that project managers need. Whether you hold a business degree or a bachelor's in another topic altogether, a master's degree can provide the skills to work as a project manager. Both bachelor's and master's degrees commonly offer the opportunity to demonstrate what you've learned by completing a substantial project with the help of faculty or through internships with professionals. This provides soon-to-be graduates with a first management experience under controlled circumstances which they can point to when applying for jobs.
Recommended: HRIS Systems: What They Do and Why You Need Them?
Careers in project management exist in almost every industry
One of the major benefits that a degree in project management has to offer is that no matter what you've studied or worked on in the past, it's likely you'll be able to apply your previous experience alongside the degree. If you used to work on construction sites, you could use that to find work managing commercial construction projects after graduation. If you previously held a degree in engineering, you're now particularly qualified to lead projects tackling engineering problems, such as aerospace development. This synergy between project management degrees and degrees in other fields can be exceptionally potent; while there may be several other project managers competing for a job on an upcoming project, having skills and knowledge in both the subject matter of the project and project management itself can increase your odds of landing the job significantly.
Specializing like this can help you to develop a niche of your own within the greater field of project management, where your particular combination may be rare. This not only increases your potential value to employers, it offers you the possibility of becoming an authoritative figure within the industry. As your experience grows, you may even find yourself able to pick and choose the offers set before you, taking on only the most interesting and best paying projects available.
Recommended: How Project Managers Can Get The Most Out of Microsoft Project?
Experience in project management is a strong resume item
Once you have your degree and have entered the job market, you'll quickly find out the value that project managers can hold. After your first project comes to a close, you will always be able to point to the results as an example of what you can accomplish, be that a new building down the street, a faster microchip in a smartphone, or a better, more efficient road system. This holds a surprising amount of sway, even with laymen—after all, someone may not understand what food science is, for example, but if you can point to a product on the shelf at the grocery store and say, "I led the team that created that," they'll sit up and take notice. Each project you finish will offer you the opportunity to do this, which is something that a lot of jobs, even in business, can't always offer.
Project management experience can also act as a jumping off point to enter new careers, should you choose to do so. A project manager who has worked on a number of food products, to continue the example above, could likely shift to a career within the agriculture or food industry, taking on a more conventional management job. That broad range of knowledge and skills can be honed according to what you best enjoy, or what your company most needs, to enable you to take on different roles. A project manager with sufficient experience would make an excellent choice for an executive, able to apply their knowledge of budgeting and personnel management on a greater scale.
The path to the top of an industry isn't always clear, but the strong resume that a project manager can build is a great benefit for those trying to make a name for themselves. That list of accomplishments under a project manager's name might never have been possible, however, were it not for the education and skills picked up during their time studying for a degree. By providing students with a breadth of knowledge and the opportunity to learn by doing, project management degrees act as a critical base to stand on when reaching for the stars.