Does  your children's are playing Pixel Gun 3D game, If yes then this is for you.
Parents are supposed to protect children from any harm. It is the responsibility of the parents to ensure their children receive that best physical and mental care. Failure to regulate children at a young age may turn out to be disastrous, something loving parent will not desire. Children develop appropriate behavior when directed by parents in many aspects, especially when under the age of 10 years. As a parent, you are supposed to know what your child does at all times.
However, it becomes very challenging when it comes to gaming. Parents, are you in a position to tell whether a certain game is appropriate for a child? This would mean that you first know the content of the games before allowing children to entertain themselves with them.
Recommended: Games Like Minecraft: 10 Best Minecraft Alternative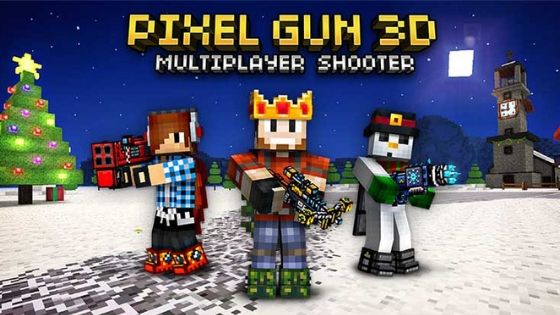 One of the trending games at the moment is Pixel Gun in your PC. The question of interest is whether this game is appropriate to children 8 years of age. What do you think? Well, this blog will shade lights on that. But before then, we need to clearly understand its features and how it works. Let's get going
Pixel Gun 3d
There are versions of the game Pixel Gun 3d for PC and mobile. Now let us focus on the mobile version in the meantime. This one has got two main matches:
The singleplayer campaign
The online multiplayer
Let us briefly discuss the features of each of these two modes.
The Multiplayer
The following are the main features of this match
There are two forms – worldwide and local
It has at least 35 distinct maps, each having different shape and size
Has different weaponry with a number upgrades
A single game can have a maximum of ten players
Chat is guaranteed and so you link up with friends while on the battlefield.
There are different varieties of the game online
Some updates contain the battle pass
The most interesting thing about this match is the fact that there different online modes. Let us have a brief overview of some of them.
#1. Deathmatch. In order win, you will be required to outscore other players with the set time period.
#2. Deadly Games. With this one, you are supposed to be the only remaining player alive and there are various tactics, you only choose the one that perfectly suits you.
#3. Team Battle. This is a team initiative and requires your group to kill the largest number compared to others at the point where the time is up.
#4. Flag Capture. As the name suggests, you will be competing with your opponent to steal flags. The winner is the one that manages to capture a lot of the flags from the opponent within a short period of time.
#5. Co-op Survival. Here, you competing in killing monsters in order to earn points. The winner is the one with a lot of points within a limited period of time.
#6. Point Capture. The two opponents struggle for important locations within the map. If you succeed to capture them, you end up winning 1000 points.
#7. Duel. This one involves one on one warfare. You win if you end up with a lot of points as well as killings over a short period of time. If the two opponents have equal skills, the one with a lot of points is considered the winner, though the draw is a possibility.
#8. Fort siege. Here two rounds divide the match. In the initial one, your group either escort the ram or guards the cattle. The teams exchange roles after a maximum of four minutes. The winner is the one that guides the ram longest.
From the foregoing, this is an interesting match. Have noticed anything undesirable to your kid so far? We will come back to that…
Recommended: Best Games Like Runescape
Campaign
In this one, the newbie gets into a distressing condition, which is in the midst of terrifying zombies intending to invade his farm unpredictably. A little bit later, he realizes that they are not simply hovering around the farm but rather everywhere. Will he be in a position to survive and discern the reason behind the invasion? Well, remain with him right to the conclusion and help him become victorious in dealing with the mystery. The following are the main features
There are various types of enemies
There are distinct forms of weapons
Intriguing rib-tickling book plot explaining everything behind the game.
Which one would say is between the two? I guess both are interesting. Again, from the description given, have you noticed anything that can be detrimental to an eight-year child? There are still other features your child can enjoy.
Arena
Here you are presented with different conditions that gauge the survival skills of children. Can you overcome a good number of monster attacks? The following are the features of this mode
Boundless gameplay
An unpredictable mix of various monsters
Getting to other page comes with an award.
Results can be compared
The Clan Mechanisms
You may have connected with friends while on the battlefield. If you all click the add button, you will end up being friends and it will be possible to always team up in other new matches. You can look at what each one achieved, and their character builds among other interesting features. Is it not interesting to have a clan made of experts?
Skins and Capes Designer
You can design your personal skin and utilize it during the multiplayer game. This is something you make personally with any pattern you prefer. Isn't this interesting to you?
The bottom line
Back to the question, we raised at the outset: is pixel gun 3d appropriate for an 8-year-old? We have looked and all the basic features of this game. However, an eight-year child may be left scary from the users' review. Some parents also feel it is violent for children under the age of 10 years. So it also depends on what parents feel. Some may feel even inappropriate to introduce children to guns while that young. What do you think?
Related Post: