Harvest Moon is a series of farm replication games and the best farming games on the Super Nintendo Entertainment System. All most sequels of its received praise and great reviews from gamers all around the world.
The fundamental focus of the game is the management of the time and energy to complete the maximum number of task. The game also features the various titles offer include resource gathering, foraging, mining, collecting objects, pets, and fishing. So you can play as much you like to play harvest moon.
But after a time you feel bored with this game and find an alternative to this game which has the same object with different features. Well, if you are also looking for the pc games like harvest moon then we have brought best 15 games like harvest moon for pc. Go through the content and pick the one which attracts you the most.
Recommended: Xbox 360 Emulator for PC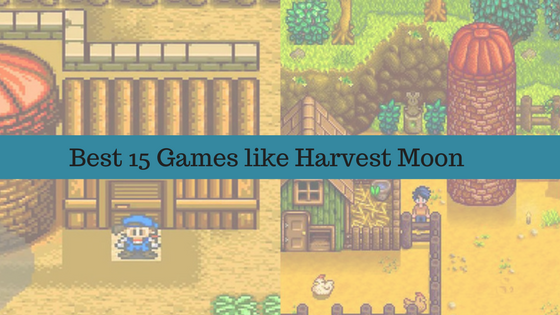 Best Games Like Harvest Moon
1. STARDEW VALLEY
If you are searching for the game harvest moon like games which meet the gameplay and graphics of it, then Stardew Valley is a close one. This successful indie hit reaches it to a whole new level and expands on it. It offers a comparatively larger world than Harvest Moon to enjoy your farm life, raise poultry, grow crops and all those farm work that you love performing. Stardew Valley is an outstanding game and called as the new Harvest Moon, and it is the closest thing to Harvest Moon you can get at present. So, try just once.
To Download it ($14.99).
2. VOODOO GARDEN
This game takes the idea of Harvest moon at another level. You can do all of the gardening and farming work like growing foods, veggies, herbs and also shrubs. You can also further used in your production of unrevealed accessories. You can also catch wild animals that come useful in making products for your voodoo magic. To give a company, you can also have a choice to raise pets that will provide you a company which can then be lost to gain a magical advantage. So this game is the place where your average farming game meets magical enchanting. Must once try it out to learn some fantastic voodoo magic.
To Download ($2.99) it.
3. PLANTERA
Plantera is nice farming and gardening and farming game if you want to grow your fruits, trees, and raise animals at the same time. The attractive graphics of the game will keep you occupied for a long time. In the game, you have to expand your garden and attract little helpers that will help you in harvesting and planting your crops. You can also do this thing by yourself, or you can allow your helpers do this manual stuff and invest in better crops and build a better farm, simultaneously. If you have pick helpers, then it is beneficial because on quitting a game they continue to work, and you get gold on a comeback. Try this game if you love delightful graphics.
To Download ($2.99) this game.
4. WAYWARD
Wayward is a mixture of many games like Ultima Online, Minecraft, a little bit of Harvest Moon and Don't Starve. It's a turn-based rogue-like persistence game were for the survival of your character, you have to gather resources and craft items. There are no fixed rules, no class, no levels, it all depends on how well you play the game. Your statics gain is directly proportional to the item you come in contact. In this game approx. 300 different things available for you to interact and craft that adds a lot of gameplay time. If you like crafting mixed with survival, then Wayward is the game to pick. Don't miss to check Games Like Minecraft.
To Download ($7.99) it.
5. TERRARIA
It is not entirely a farming simulator but lets you explore, build, dig and fight your way via the wonderful environment with classic retro graphics. This fully action-adventure game allows you to enjoy the crafting and resource gathering features of Minecraft with little role-playing action. Terraria is all about discovering dangerous caves loaded with resources and treasure that comes useful in crafting new items for your inventory. The primary focus of the game is on building and crafting, and the second option is the action-adventure. Terraria especially immersive game that will draw you in with its thrilling investigation based gameplay.
To Download ($9.99) it.
6. Rune Factory 4
Rune Factory 4 is more like an Anime adventure game that offers dungeons, farming, exploring and marriage system similar to Harvest Moon. The Harvest Moon don't have any action elements or dungeon crawling in the game, but the farming and marriage parts are still pretty similar. The main concentration is crafting, and the main character can use different items by crafting them over resources. So to progress your level and character, crafting is the key. You also have the power to issue orders as you are the prince/princess of the town. These orders can be anything like from hosting a Harvesting event, the social event of town, etc.
To Download ($29.99) it.
7. SHEPHERD'S CROSSING 2
Shepherd's Crossing 2 is very similar to a Harvest Moon with some additional unique mechanics mix in it. In the series, they fix many issues that overwhelmed the original Shepherd's Crossing game. The original game had many issues like no storage for tools/ crops/food trading system without cash, no partitions for your animals, and a few more issues that made the game entirely annoying to play. However, the series sort out all the issues and make a game more enjoyable gameplay. Now, you will get all the features with some additional unique feature like raise more animals, ability to expand your land to grow more crops; you wished for in the original game. So it is the perfect and one of the best farming games for pc and worth a try.
To Download ($50) it.
8. ANIMAL CROSSING: NEW LEAF
Animal Crossing: New Leaf is a complete life simulation package instead of just a mere farming simulation game. Here you get the freedom to live your life the way you want. You start your life as the mayor of a small town where tourists hardly come. And your job is to turn a small town into a beautiful paradise to attract all the tourists. As a mayor, you have the power to make rules and regulation, create new landmarks, bridges, public centers, and other infrastructure that increase the overall value of the town. The game provides very charming graphics and allows you to accomplish your entire town as you want to make it beautiful. Even you can play a multiplayer by inviting your friends to your town and show them your town.
To Download ($19.99) it.
9. MIRAMAGIA
Miramagia is game like harvest moon that also combines the goodness of farming with some special secret magic. It creates a new game style that you might not experience before anywhere. It is a fantasy MMORPG game, where you can grow crops and raise dragons together, and it is cool. Just pick one from the four classes provided that include Mage, Rogue, Shaman, and Druid. Grow your farm along with learning cool magic tricks. If you get bored with raising farm animals, then you have an option of a dragon, too. With the help of friends create your town and turn it into the most beautiful town in Miramagia world.
To download (Free).
10. WILD SEASON
Wild Season is a story-driven farming game with similar retro graphics and gameplay style. In this game, your character is a young farmer who ends up buying a whole new land. After getting rid of all the boulders, trash, and logs on the land, you prepare it for growing crops. The story of the game will surely book for a few hours. If you are looking for some additional depth with a decent storyline of a game, then Wild Season is the perfect game for you as it provides the same farming experience of Harvest Moon. So, you will love it for a storyline and farming.
To Download ($16.99) it.
11. FUNKY BARN
Funky Barn is a farming game for Nintendo 3DS and Wii U with the same experience of gaming. If you are looking for a fab game, it is made for you. The game provides geeky gizmos and whacky contraptions to use. You can also raise your animal and enjoy farming in a funky barn. The game is not an as serious game, but it is a light-hearted take on the farming genre that allows you to have fun while growing crops or raising cute animals. You will find it funny to throw your sheep in shaving machine and at the end get a sheep completely shaved. This type of crazy stuff makes Funky Barn a crazy little take on the farming scene.
To Download ($19.99) it.
12. FARM UP
Farm Up game is available on a various platform like smartphone and pc, and it is fun farming. The main aim of the game is to keep a stable flow of money coming in through your crops and animals. You need to assign your resources cleverly because there is a limited number of energy sources to use for the different task every day like farming, sowing and other. On playing a game, your level gets up and comes up with silver and gold earning potential. If you don't like micro communications, then you can also avoid it by playing it with planning and care. Otherwise, there may also be a chance to wait or pay for your energy. Anyone can play this game for the long term.
To Download (Free) it.
13. HAY DAY
Hay Day is a mobile farming game that has many similarities to the FarmVille game. The game starts with character's old uncle being not able to take care of his farm and gives it to a player so that he/she can take care of form and try to make it the best farm in the world. After a short and cute tutorial, you can go to farming. You can build your dock for fishing, harvest wheat, sell your good at your roadside shop trade goods with your neighbors in this game. You can also build and invite others to visit your town. Hay Day game is focused on managing inventory, selling your stuff via trucks, boats, and shops and it gives a new vision to a game. If you are looking for a quick farming fix game, then try Hay Day.
To Download (Free) it.
14. WORLD'S DAWN
If you wish to grow your food and live a peaceful life in the seaside village that is surrounded by natural beauty, then World's Dawn is the game for you. It is a single game that provides this scenery. You can choose the work to do as you like. You can either just raise animals or can become a full-time farmer that grow crops and food. Even you could also go hunting for some romantic relationships. There are many townsfolk around you in the game that make social interactions more exciting. It has some extra features that Harvest Moon give that makes the world's dawn more immersive.
To Download ($9.99) it.
15. DON'T STARVE
Don't' Starve is a thrilling action cum adventure game whose only purpose is to live in the face of evil giants and wilderness. Go to the dark environment and exploring it, collect useful resources to craft items, and build infrastructures to keep you safe from the evil monsters. So it is all about surviving, and you can do anything for surviving from your power. Hunt monsters, research or craft new weapons and other items, and do farming to stay alive. Also, don't allow your protector down because the dark forces will take your life if you just let it down for even a moment. So this game is all about staying attentive and surviving in this dark but amazing game.
To download ($14.99) it.
Conclusion:
So far we have seen the best 15 games like harvest moon for pc games for your farming fix. So you are also searching the alternative game then you can surely pick one from the above because it covers various game with rang of a budget. So don't wait and start playing now. Do not forget to like and share our article, if you like it. Thank you!
Related Post: