With the continuous advancements and rising risks of cyberattacks, one cannot rely on a low-resourced or less experienced IT team for the effective functioning of its organization. Managed IT services enable such organizations to outsource their IT tasks to a contractor. This contractor will then be responsible for everything, starting from IT strategy making, network management, infrastructure update, risk management, and cybersecurity. Thus, performing effectively in lightening the workload of the home team and in providing 24/7 coverage of IT duties that were not available otherwise.
At large the IT management services include remote management of hardware and infrastructure; threat monitoring and penetration test; configuration and maintenance of cloud services along with communication support.
These services provide a high level of IT support and assistance and allow companies to cut IT department costs. IT services are constantly updated with no additional cost and you never have to worry that your managed IT services will become obsolete. Managed IT services include monitoring, maintenance, reporting, and more. Third-party providers allow businesses to pay only for the services that the company is using. A proactive managed IT provider also partners effectively with clients to drive better performance and value.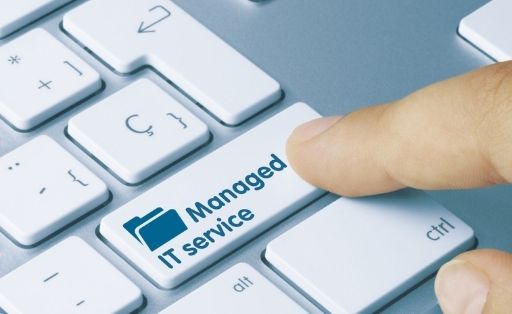 Benefits of Managed IT services
Provides IT strategic services and future roadmaps
Experienced IT management agencies work to provide you with IT strategic plans that are dynamic and forward-looking, working to benefit you for almost a year or two. These agencies, equipped with skills, expertise, and resources that allow your organization to plan and prepare roadmaps for your company. These roadmaps are a source of complete guidelines and an insight into the main goals and objectives of your company. Letting the company and its employees perform to their full potential.
Enables you to set contracture terms
Managed IT service gives you the authority to set contracture terms favorable for your company. These terms in turn include the service level agreements. Proving to be beneficial by charging you merely for the expert services without any need to hire or recruit employees for your company. Thus exempting you from the cost of employee maintenance.
Increase workplace productivity
Outsourcing your IT services lightens the workload of your company staff. Allowing them to utilize their time for work that was put on the back burner and to contribute to revenue generation tasks. Moreover, the expert direction from these IT teams also contributes a lot in optimizing the performance of your office infrastructure. Improving the productivity and in the long term the profitability of your organization.
Full time IT support
Managed IT services are provided by a company that is full of IT specialists and experts. They don't lack the manpower or advanced technology and therefore, provide efficient and 24/7 services to the company outsourcing the IT services to them. They endeavor to provide companies with constant up-gradation and system upgrades. Playing a vital role in leveraging the constant technology evolution available in the market ground.
Moreover, these teams are free from your set office schedules and timetable. They perform their tasks full time, including the off time of your office. The fully equipped professional team ensures greater uptime and lesser work disruption. Providing professional server and network management to your company in less time.
Provide better risk management
Seeing the current statistics, the rate of cyber-attacks and data breaches is increasing day by day. Demanding companies to find the weak back doors of their companies before it is too late. Moreover, the need for a risk management policy has also gained large attention in the business world.
Managed IT services with their well-equipped and experienced team members provide expert services in monitoring any potential threat to your system. Their proactive approach in handling such cyber threats within time spotting of weak points, security audit, and backup monitoring are amazing in providing guard against disaster. Moreover, in case you are already hit by an attack, their risk management system and ways to regain access to the hacked data can help recover soon.