Information Technology (IT) is changing how things are done. From cloud computing to programming—it experts are increasingly becoming important. So, why should you consider a career in IT Service Management? Well, before diving deeper into the reasons, get the basis right.
Recommended: Best Network Monitoring Tools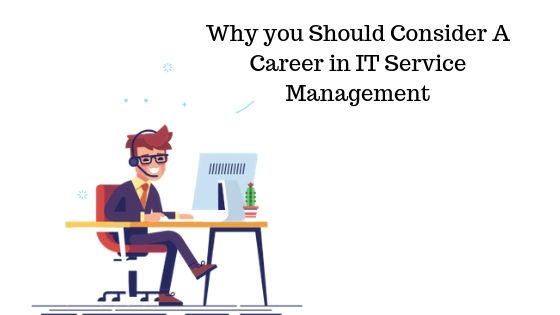 What's IT Service Management (ITSM)?
IT Service Management is all about guiding ITIL practitioners when it comes to aligning their IT services with the needs of the clients. ITIL—an abbreviation for Information Technology Infrastructure Library—acts as the facto standard for all experts in the IT industry. ITIL is tasked with offering IT management based quality-driven services in a cost-effective way.
The 5 Levels of IT Service Management
It service management can be broken into 5 levels. They include:
Foundation Level
Practitioner Level
Intermediate Level
Expert Level
Master Level
Why IT Service Management?
IT service management is an interesting career that comes with numerous benefits. First, prepares you to enhance IT service management (ITSM), and makes you fit to work under an ITIL framework. Secondly, it helps you transform innovative ideas into improved services for customers and also participate in ongoing service improvement. Thirdly, pursuing this career equips you with the right expertise to solve complex problems and provide long-lasting solutions. And lastly, IT service management helps you control project costs and risks more effectively while also managing new challenges by learning from various successes and failures.
ITIL Practitioner: The Job Opportunities
After securing a value-added certification, IT professionals stand a better chance of earning good salaries. However, one must successfully go through a certification path during their career planning. So, if you want to thrive in the highly competitive IT industry, securing the ITIL certification is a must-pick.
Since it's associated with service management, the ITIL certification will open up more IT-related job opportunities for you, especially in the healthcare as well as higher education sectors.
Some leading brands such as Caterpillar, Honda, Disney, Sony, Visa, and Microsoft have already embraced ITIL. And this has created more opportunities for IT professionals in businesses such as IBM, Amazon, and HP. So, if are already working in the IT industry, you can succeed in your career if you target jobs like help desk engineer, technical support, or IT service delivery analyst.
Once you've attained the middle level in Information Technology with more than 5 years of experience, you automatically qualify for positions like IT service delivery manager, release manager, service desk manager, or incident/problem manager and this will certainly earn you a decent salary boost.
ITIL Certification: Understanding the Roadmap
There are numerous organizations, including KnowledgeHut, that offer exceptional ITIL certification through various modules-classroom, team/corporate training, online classrooms, as well as e-learning. Pinpoint a reputable training facility like Helix Learning's online IT training and discuss your career objectives with them to judge their sustainability and potential benefits.
Enrolling for the ITIL certification training will provide in-depth preparatory help for comprehensive courseware, post-workshop assistance, ITIL examination, and credits toward higher level ITIL certification.
Key Takeaways
IT Infrastructure Library training courses, commonly abbreviated as ITIL, are some of the most relevant qualifications for those who're working in the IT industry. Despite regular announcements of its forthcoming collapse, it's still relevant present world as it was when it was first formulated.
This framework was documented 25 years ago and has always continued to be the de-facto "standard" for Information Technology Service Management worldwide. Research shows that more than 250,000 people take formal ITIL training every year. That's why the knowledge for ITIL is considered as a prerequisite for most job vacancies within IT.
Recommended: Vision Helpdesk Review – PINKVerify Certified ITIL/ITSM Service Desk Software