iPhone/iPad Not Charging
Having an Apple product gives us a sense of luxury and satisfaction. But even the best of the premium electronic products can have some issues. One of the common issues is your iPhone/iPad not charging when you connect your iPhone or iPad to the charger. That makes you little uncomfortable and you might think what is wrong with it. Many iPhone/iPad complaining their iPad says not charging and they searching for solution for that. iOS users also facing some other issue like iPhone stuck on apple logo, iPhone activation lock bypass, iPhone Wont Connect to iTunes, WiFi Not Working in iOS 9 and other.
Here we will discuss "How to fix the issue of iPhone not charging" so that you might very well start using your device again. But before this, make sure you have checked all the obvious human errors and rectify it if found. The common errors are, you have not connected your adapter properly to the wall socket, or device is loosely connected to the charging cable. Make sure everything is plugged in properly or try different socket to make sure everything is properly connected. Even after doing this if the problem persists; check the following tips to fix iPhone not charging issue.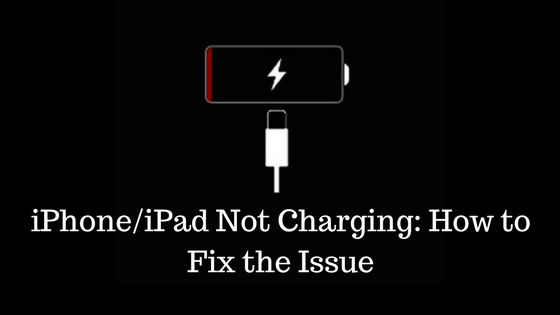 Problem with your iPhone/ iPad or your adapter
The first step is to diagnose which device is causing this issue- your phone or adapter. First, use the alternative cables and adapters or use the genuine Apple charger which came with your product. It should be noted that when plugged into a desktop computer or a laptop, your iPad does not charge if you are actively using it – look for the text "not charging" right beside the battery icon in the upper- right portion of your screen. In this situation, your iPad only charges when your Apple device is idle, or when the screen is turned off.
If this solves the problem of charging your iPhone/ iPad, then the issue was with your adapter/ cables. But if the problem still persists, the issue lies with your iPhone/ iPad. Try using a different iPhone/ iPad to the same adapter and see if it is working. If the other iPhone/ iPad charges using the same adapter then the issue is with your iPhone/ iPad. You can try other methods below before starting to think of contacting the Apple customer care.
Restart iPhone/ iPad
After checking all the USB chargers and making sure all the cables are working, try to restart your device so check if it is charging. While restarting, try to charge iPhone/ iPad when it is completely turned off.
Restore backup from iTunes
After doing the above easy methods, if iPhone/ iPad are not getting charged then you can try restoring the backup you have made before. There might be software glitches in an update released by Apple that might be affecting the charging capabilities of your device. Try to use a backup of that time when your iPhone/ iPad were charging. Otherwise, the latest updates already have the software glitches and it might not solve your problem.
Follow the below steps to restore your back up and check.
Connect your iPhone, iPod touch, or iPad to iTunes on your Mac or Windows PC via Lightning or 30-pin Dock connector.
Click on the Device tab at the top left.
Click on Backup.
Wait for the backup to finish.
Click on Restore
Wait for the restore to finish.
If the device is getting charged after restoring then well and good, or else try another method discussed below.
Perform a hard reset
This is the top solution to any software related problem. By performing a hard reset, you will be deleting all of your applications, personal data and more from your tablet/ phone. Your device will be as new as when you first used your device.
To perform a hard reset: from the home screen, choose Settings > General > Reset > Erase All Contents and Settings.
You can also use a different method for the hard reset.
Press and hold Power button together with Home button while your device is turned OFF.
Contact Apple Support Center
If nothing works and your device is not getting charged, the final solution will be to contact Apple customer care. Sometimes the problem is actually a major problem and contacting the customer care is the best option.
These are some of the ways for fixing iPad/ iPhone not charging. Hope it helped you in getting the problem solved.