IoT, or the Internet of Things which was once used as a tool for an application, is now one of the significant ecosystems today. IoT has put its steps in healthcare, energy management, agriculture technologies, logistics, manufacturing, etc.
It is now a startup ecosystem around the globe. Yes, it takes a decade to become at this place. Yes, you can say that IoT has done to startups for sure. And what is the reason for not to be? IoT is a global platform. Also, the startups based on IoT are global.
According to one estimation, IoT space gets about $6 Tn worth of investments between 2015 and 2020. And according to the IDC report, the global IoT market is expected to hit $1.7 Tn. You might be amazed by the numbers that IoT get worldwide! The number stands at $674 Bn in past years, and in 2018, it was reached to reach $772.5 Bn. It was about a 14.6% hike.
In 2020 it hit the mark of $1 Tn, and in 2021, it is reaching $1.1 Tn. And according to Carrie MacGillivray, VP, IoT, and Mobility at IDC report back in 2018, more than 55% of spending on IoT projects will be on software and services startups. And today, it is quite a true statement.
Based on a methodology, the startup can attract new customers. It is mainly focused on adopting the latest technology and how it can solve some problems. First, we take a look at IoT Business Opportunities for Startup. And after that, I will share with you the list of IoT startup list.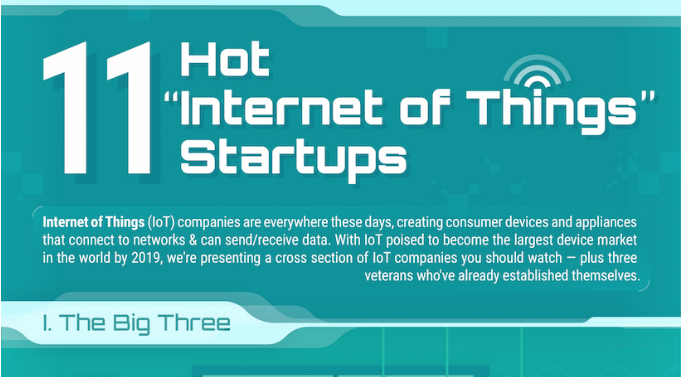 IoT Startup Opportunities
IoT opportunities are endless. I think only one factor that can work as an IoT entry barrier is the poor development of the digital niche itself. However, in this technology era, all modern digital services are connected to the web, including internet-based functions.
If we consider an example, a video surveillance camera system records the video of a specific area, saves it, and displays it on the other screen automatically. And all thanks to DropCam, which is again one of the IoT startups.
For your record, Dropcam Inc. is known for its Wi-Fi video streaming for the Dropcam, Dropcam Pro, and cameras. One can see the live feed of the camera or live video streaming on the screen through Dropcam's cloud-based service. Google's Nest Labs bought it for $555 million.
And today, a pc and smart home can be multifunctional and can be seen from anywhere due to such programs. It is just one such example of an IoT startup. There are many more outstanding startups worth noting down in the same field. And here we are with such 11 "Internet of Things" Startups to Watch.
Recommended: Best Webcam Recorder Software for Windows
List of 11 "Internet of Things "Startups to Watch:
Dropcam
Jawbone
Nest
LIFX
Beep
Chui
HeapSylon
PubNub
Neura
TempoIQ
ScanAlytics
Infographic brought to you by Wrike best free project management software