At the beginning of any project, tech start-up founders often find themselves asking. "Should I opt for In- House software development or outsource it? And we understand how confusing this can be, so let's find out which is the ideal pick for you.
Although we see that IT outsourcing is likely to grow by $98 billion by 2024, there is no definite answer to which one of the options is best.
The IT sourcing industry's rapid growth does not imply that it is the ideal pick for you. Choosing any of the options will have a long-term implication on:- organization, product, cost and profitability. So there are different factors that you need to consider before you make a choice.
We are here to guide you through the pros and cons of both these types so that you can make an informed choice.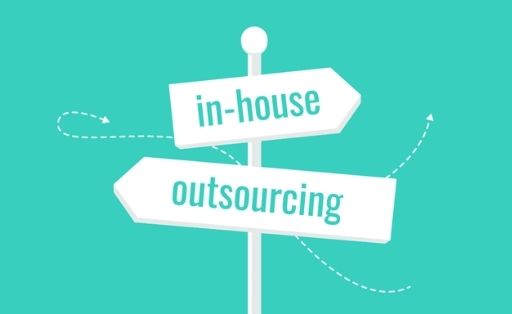 Pros for outsourcing software development
1. Drastic cost reduction
The sourcing and recruitment of qualified developers is time-consuming and difficult. When you outsource, you cut down the extra charges while hiring and maintaining full-time employees.
2. Ease in flexibility
Outsourcing enables ease in shuffling teams. To align with the changing requirements of your product and kick-start new business objectives.
It is difficult to expect the same kind of flexibility with an in-house development team. As the process of hiring and firing staff is exceptionally hectic.
3. Boost in productivity
Outsourcing providers allow the flow of experienced team members. They are skilled at inducing collaborations, and use well-defined processes to boost work productivity. Get even more benefits from working with https://www.qulix.com.
Cons for outsourcing software development
1. Restricted control over the development team
Outsourcing the task of building business software can significantly be a risk if the software adds a lot of value to the business venture. However, these teams follow well-defined project management code and keep you in the loop. So do not be afraid of being left out in the process!
2. Communication barrier
One of the limitations while working with outsourced providers could be the difference in time zones. The language barrier is another possibility. If the team leader of the outsourced team has issues understanding your language.
3. Difficulty in trusting
When you outsource, you are confiding your trust in a third-party developer. You are always going to be afraid about the company's privacy policy. And also the fact that they might take on projects from your competitors in the near future. So ensure that you get an NDA signed to protect your interests legally.
Pros of going in-house
1. More ideal and a fitting team
It is rightly said that a good team builds success. With the help of in-house development, you have the opportunity to hire members aligning with your interests. When a team fits your company's culture well, it is easier to yield better output and deliver value.
2. Direct communication
The in-house team members are the permanent asset of your organization and are exclusively dedicated to your company. The work is often done within the same physical space, so it is more convenient to send your points across to the team. You will have in-person interactions that will be highly beneficial to speed up decision-making.
3. Alignment with company's standard
In-house development facilitates control over a company's coding standards. With control over these standards, you can predict what's best for the maintenance processes of the product.
Cons of going in-house
1. The Cost
According to Payscale, hiring in-house software developers can be expensive as their average pay scale in the US costs $87,403 dollars. You will have to bear the costs of their sick and paid leaves. So be prepared to incur those extra costs when your employees are idling between projects.
2. Time-consuming process
Finding the suitable fit aligning with your requirements can be a task. And even if you come across the right fits, you won't be able to assign them to work right away. Only outsourced professionals can cater to such urgent requirements.
3. Lack of dedicated experts
Unless your company has an enormous budget to hire a software developer, it is unlikely that you will be able to cover your specific requirements for the projects.
Conclusion
We hope that this article helps you decide the more fitting model for the software development project. Deciding upon the correct model is tricky, so make sure to weigh both the advantages and drawbacks before making an informed choice.
According to Deloitte's 2016 Global Outsourcing Survey, outsourcing is expected to witness a boost in the fields of Finance, IT and HR. Make sure to research the top outsourcing companies to help you in your hunt for outsourcing. With the right software development firm, you can do a lot more than you think possible.