Dropshipping on eBay is one of the most competitive business strategies available today. On only one hand, it is an almost risk-free method of earning money online. So what is basically dropshipping on eBay?
eBay dropshipping is a low-risk business concept in which you resell things on eBay from other websites, which you don't have in stock. Then, after selling them to eBay buyers, you go to another website – your dropshipping supplier – and buy them for a lower price, then ship them to the buyer from eBay.
But how would dropshipping particularly on eBay be helpful for your business? To know the benefits of this business, you would need to know more about the eBay marketplace!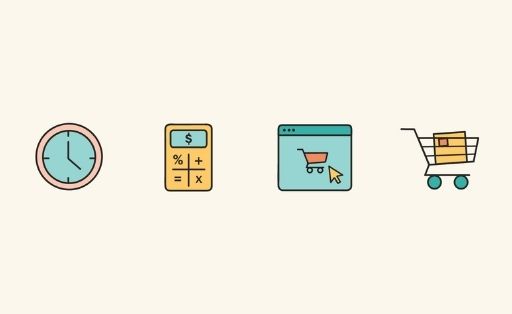 eBay – the one-stop solution:
On September 3, 1995, eBay made its debut on the then-new Internet. According to Forbes, its creator Pierre Omidyar, whose wealth is $21.4 billion now, chose the catchy name "The AuctionWeb" for the company. Auctions are well-known on eBay!
Following the eCommerce boom sparked by the Covid-19 pandemic, eBay's gross product sales topped $100 billion in 2020. Even for new sellers, eBay is a very fascinating site to sell on because it offers a unique chance. Moreover, now the platform has 187 million active users or possible buyers for your products.
So what does it mean to be an eBay dropshipper? Let's get started!

What is Dropshipping?
Dropshipping is a method of managing the logistics of your eCommerce business, not a business strategy. The concept is that you, as an online seller, don't have to worry about the inventory; instead, you hire a supply chain (a dropshipping supplier) to take care of it while you concentrate on making sales.
Drop shipping on eBay is based on a concept known as Online Arbitrage. The term arbitrage comes from the stock market and refers to a situation in which two marketplaces have different prices for the same company's stock.
Therefore, dropshipping is when you resell a product from another eCommerce marketplace on eBay, Shopify, etc., and earn more on the difference between prices.
Dropshipping model on eBay:
Here is how dropshipping on eBay works (its flow):
You discover a popular product on eBay.
You see a cheaper version of the same product on another website.
You use dropshipping software to list the product on eBay.
You sell the product once it receives free eBay traffic.
You buy this product for a lower price and your supplier ships it to your buyer's location.
The price difference, which is your risk-free profit, is yours to keep.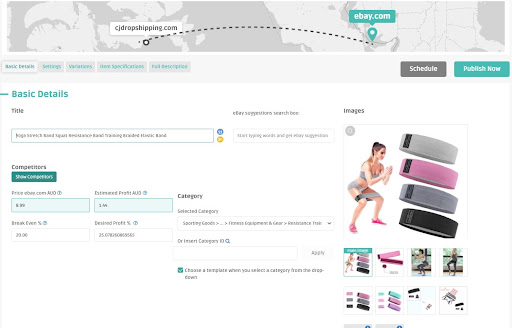 Advantages of the dropshipping business on eBay:
Free traffic:
This business model makes sense mostly because of the free traffic. The major difference between eBay dropshipping and other dropshipping business concepts is the availability of free traffic. And eBay SEO tricks allow you to get more of this traffic.
There is no inventory
Because of using platforms like AliExpress for product sourcing, you won't need to buy inventory in advance and keep it yourself to start making money.
Automation that is easy to use:
You can manage your business flawlessly with dropshipping software, and the amount of automation available today makes it very simple to start making successful sales rapidly.
There's no need to pick a specific niche:
It's not necessary to pick a specific eCommerce niche. The most important is that the product will be in demand. Since a product from the dropshipping supplier is cheaper, it doesn't matter which dropshipping niche it originates from. You can have a general eBay shop.
Is it profitable to dropship on eBay
Is dropshipping on eBay profitable? In comparison to Shopify dropshipping, dropshipping on eBay offers a lesser potential profit. But it has a far lower risk. Some may even call it risk-free, and you can make a few hundred to a few thousand dollars every month doing it.
The limited earning potential is due to the fact that making lucrative sales on Shopify requires spending money on promotion. The danger is that you will lose money. However, if your campaign is successful, you will be able to expand your advertising budget, attract more clients, and generate more profitable sales.
There are two forces in dropshipping business on eBay that drive down its profitability:
#1) Since there is no advertising budget, you are limited to visitors from the eBay site. You cannot increase the advertising budget for a product that sells successfully.
#2) The competition is fierce, and the entry barrier is low. Starting a dropshipping business on eBay is significantly easier than starting a Shopify business, which is a huge benefit for you as a newbie, but also for your competition.
How long does it take to get started with dropshipping on eBay?
Making the first profitable transaction takes on average less than 7 days. Isn't it great for an e-business that doesn't require any prior inventory investment or advertising budget?
This notion is supported by a survey in the DSM Tool dropshipping community. Sixty-eight percent of drop shipping sellers claimed it took fewer than seven days.
Making the first sale and operating a long-term profitable business is obviously not the same thing. The following is a rough outline of the steps involved in beginning a dropshipping business:
0-7 days of selling on eBay
The first week is spent primarily on establishing the business and learning the fundamentals. You'll use this time to set up your store, install eBay dropshipping software, and locate the first few things you want to sell.
7-90 days:
During the first 90 days of selling on eBay, the payment processor will keep 20% of all money, received for a period of 21 days. There is no way around it. In this way, eBay reduces the danger of fraud from new sellers who offer products but never send them and "fleeing" with the money. However, for inexperienced dropshippers, the 20% hold on cash is a real pain.
More than 90 days of dropshipping:
After you've completed the first 90 days of your dropshipping business, you should concentrate completely on increasing it. The day-to-day tasks will include sourcing new products and adding them to your online business, eliminating underperforming ones, order fulfillment, and providing customer service. However, there are other activities related to expanding your business that you can investigate:
Increasing the limits of your eBay – This is something you should do right away because eBay only allows you to list 10 products, which isn't enough to sustain a business for three months.
Identifying new dropshipping vendors – In the first 90 days, it is strongly advised to stick to selling things from home and dropshipping just from eBay wholesale suppliers. Following that, you can try expanding to retailers or even dropshipping from Amazon.
Extending to other business models — After passing the hold of funds mark, there will not be any requirement of credit to support your expansion. Hence a lot of the earnings made in the first 90 days can be kept which has held up in the hold of funds cycle. Consider reinvesting the money in riskier business models that can be even more profitable.
Money required to begin a dropshipping business on eBay:
There are a few costs associated with launching a dropshipping business that you should factor into your budget:
Learning
Yes, you will need to learn how this business works. You can do it on youtube, different online courses, and platforms. When you join up for certain websites, for example, DSM Tool. You can obtain a free course on the eBay dropshipping software. This course will take you through the entire process of getting started with eBay dropshipping, from beginning to end. There are other courses that cost money as well, so you have the option of selecting your instructor. Hence, t if you want to start a dropshipping business on eBay with one of the paid courses, it's a cost you'll have to consider.
Credit holds of funds
By default, this isn't an expenditure; all the credit you'll need to get around the 20% hold will be returned to you once the funds are released on eBay. However, as you require credit, it is appropriate to add it here as well.
Insertion fees on eBay
When you register an eBay seller account, you are allowed to create up to 200 listings per month for free. This credit is renewed every month, but each active listing in the store consumes one credit every month. As a beginning, you shouldn't be concerned about this; by the time you've added 200 listings to the eBay platform per month, you should be profitable.
Steps to start to dropship on eBay:
Here are the more practical steps that you need to follow to begin your dropshipping business on eBay:
Register for an eBay account.
Sign up for eBay managed payments or create a PayPal account.
Create an eBay seller account.
Set up suggested drop shipment settings on eBay.
Create an account on dropshipping software.
Search for products that you can sell, including items that you can sell from home.
Create a system for optimizing and growing your store.
That's all! Now you are ready to sell on eBay. You are responsible for the stability of your account, visitor creation, and customer support. As a business owner, you need to track your results. Find all seller reports on eBay Seller Hub to control your metrics.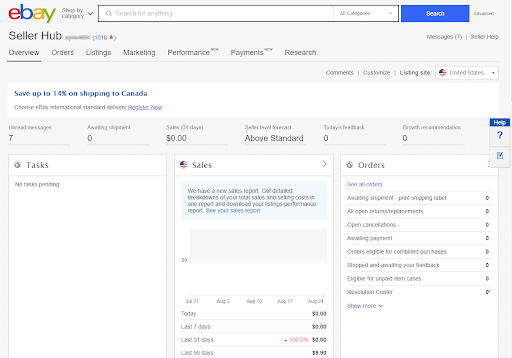 Though, the competition with top-ranked sellers already decreases the overall potential traffic generated by drop shippers stores. It's still enough to make a lot of money!
But if you fall below the standard, you can expect some period of time with absolutely no traffic until you correct it. Make sure you always provide outstanding service! However, strong health metrics aren't enough; you also need to cultivate the habit of driving traffic to your eBay business by understanding how to optimize eBay SEO.
Conclusion
Now you are ready to start an eBay dropshipping business! The difficulty of starting a drop shipping business provides you with an opportunity to learn how to manage the process of creating your own internet business.
Best of luck!
About the Author:

Diana Velyka is a part of the content team of the Dropship Academy where she focuses mainly on dropshipping research to help global entrepreneurs start and grow their online businesses. In her free time, she enjoys traveling the world and learning languages.
Recommended Reading: