If you've been happy to use simple stock photos or you've been putting major efforts into improving your SEO without considering photography, think again. Online content with imagery receives 94% more views than those with only text, which goes to show the extent to which human beings are visual creatures. Recent report from Citrix, meanwhile, found that almost two thirds of the updates audiences view on social media comprise visual content. This means that if you want your content to be shared, commented on, and interacted with, you definitely should give photography due importance.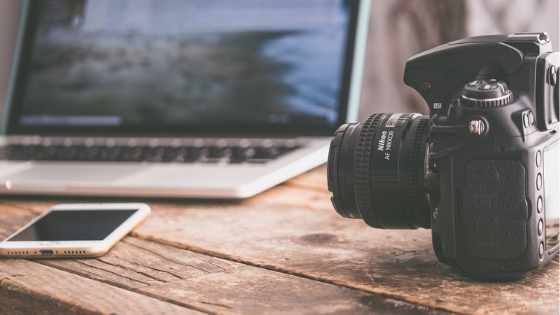 Go High Resolution and Professional
Depending on the nature of your business, professional photography may definitely be a worthy investment. Stock photography is slick and varied these days, yet depending on the subject, some photos can be unnatural and clearly 'stock'. This is particularly case with some photography in office settings. Ideally your site should show your team and what you do; your real interiors and the activity in your office. If you mainly market products, slick high resolution photography is still important, since blurry, badly lit, obviously 'posed for' or poorly positioned product photos can be a big turn-off for savvy Internet users.
Relying on Templates
The layout of your photography is key as well. As noted by canvaspop.com, templates can give you a good idea into the different options for laying out photos – be it in simple, triptych, or even photo collage style. Regardless of which you choose, ensure that the balance between imagery and text does not suffer. A handful of simple, minimalistic images on your homepage will work better than an overly cluttered layout. Here is some best photography portfolio websites, you must checkout.
Photography Should Speak To Your Target Market
The photography on your website should be considered part of your branding. If you have gone to considerable effort and expense to create a logo, brand colors, website look etc., your photography should be perfectly in tune with your strategy. For instance, if you deal in a high-end market (think a luxury publication, real estate firm, or resort), your photos need to exude luxury in terms of subject, styling, light, etc.
Taking Note of Online Photography Trends
The images you choose don't have to reflect modern trends but if you're seeking inspiration, you may want to take your cues from the websites you find most appealing, as well as those of your competitors. Some trends currently holding sway including candid shots (rather than posed ones), vertical photography, and nature. As far as enhancement is concerned, photographs can be in black and white, vivid color, or a mixture of both. For instance, black and white photography with color enhancement is a feature that is commonly seen in artistic and technology websites alike.
To boost interest in your website, visually impactful content is key. Investing in a photographer is an excellent way to present your team, products or services in a professional manner. Templates can go a long way towards helping you lay out your photography in a visually pleasing, useful manner that will inform rather than confuse your audience and help direct them to pertinent sections of your site.
Related Post: