The evolution of markets and technologies, as well as changing societal demands for the establishment of comfortable working circumstances, has resulted in the transformation of familiar interior elements into sophisticated systems. Furthermore, the incorporation of technologies into the furniture sector enabled not only the creation of a comfortable working environment but also the management of its elements by pushing a single button on the phone. How has technology influenced the evolution of a classic desk?
People have relied on traditional tables for many years, both at home and at work, due to a lack of alternate options. Furthermore, they were also all created to the same standard and based on people's parameters average data.
Nonetheless, people's lives have changed dramatically since the introduction of the technology era. This was reflected not only in the invention of digital gadgets like smartphones but also in the automation of ordinary furniture components.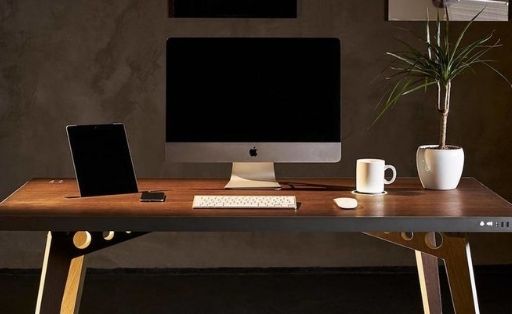 What Is The Impact Of Technology On Desk Selection?
Nowadays, businesses are attempting to improve workplace efficiency. It is becoming increasingly important to provide employees with not only the right environment, but also the best available tool, technology, and ergonomic furniture solutions.
As a result, there is a continuing need to upgrade employee work environments and look for technology advancements that will allow for increased productivity.
The Desk Has Become Part Of The Smart Office
In recent years, there has been a trend toward building tech-forward offices in which all components work as a single mechanism. Furthermore, great attention was given to creating an environment of interconnected workplaces that could be controlled remotely.
The rise of technology has had a significant impact on the desk construction industry. It encouraged the creation of electric standing desks that could be controlled either manually (by pressing a button) or remotely via a control panel (via a smart gadget, miles away from the office).
More Durable Materials
Because technological advancement impacts all aspects of human life, it has also had an impact on the creation of materials used in the production of вуылы. Production techniques have become more intricate, and new materials have emerged, providing the consumer with a considerably broader range of materials that are no less durable and wear-resistant than natural wood.
Reduced Price
The use of alternative materials or wood processing materials has resulted in substantial cost savings in the production of solid tables and their components. Price is an important factor to consider while choosing a desk. It is often the determining criterion in the buyer's decision.
Makes Employee's Life Easier
The appearance of an electric height-adjustable desk is one of the most significant technological contributions to the desk construction industry. A single push of the button activates the desktop risers, allowing you to choose the most comfortable position for your body either sitting or standing.
It also eliminates the need for regular improvement of your home environment by purchasing a new workstation for your children (who grow really quickly). As a result, you may save a significant amount of money and invest it in desk upgrade gear.
Aside from that, electric height-adjustable desks are beneficial to your health:
Lowers blood sugar levels;
Relieves neck and back tension;
Allows you to maintain proper posture while working;
Reduces fatigue;
Improves efficiency, etc.
Construct-It-Yourself Options
Gone are the days when the market provided only two or three different desk configurations. Companies now provide a variety of apps that allow users to use their software to model the design of their dream desk. As a result, you can order a ready-made desk or a desk construction set, and create your ideal workstation at home.
Choice And Flexibility
Creating true workplace choice necessitates more than simply constructing several areas within an office. Nowadays, one can select from a wide range of options and ergonomic design solutions, tailoring standards to individual demands rather than vice versa.
Technology has enabled modern desks to provide optimum comfort, allow a person to work in a manner that is most comfortable for him (sitting or standing), and save time by adjusting the desk's height remotely, before arrival to work.
Allows To "Fit It All"
Making the most of the workplace space might be difficult when it comes to making it comfortable for everyone who works there. Technology has assisted you in finding a great solution that allows you to accommodate a limited area while offering the necessary level of comfort. Foldable or corner desks, for example, can be used in small offices.
Technology provides incredible opportunities for businesses to increase efficiency. It is also critical that the workplace and office design be adaptable enough to accommodate personnel, their physical characteristics, and their demands.
When incorporating technology in the workplace, it is critical to design it with the appropriate technology in mind. Furthermore, it should be checked on a regular basis to see if it can genuinely improve user comfort and work efficiency.
Author:

Hayley Mann is a technology enthusiast specializing in automation methods of ergonomics devices. Her engineering background helps her to create interesting articles on technical topics, making them understandable for all readers.