Search Engine Optimization is a branch of digital marketing that ranks your website in search engines like Google, Bing, and Yahoo. Your website is essential to expand your business and attract potential customers. It is important that it gets maximum traffic so you keep getting sales, viewers, or subscribers. Once you learn the importance of a website, you realize that you need proper time and expertise to run it. For that, some try to manage it themselves, some hire an in-house SEO analyst, and others acquire services of a digital marketing agency.
Whether you have a matured business or a startup, it is recommended to always hire an agency for SEO. Not getting the right digital marketing services is one of the reasons many startups collapse. A digital marketing agency will help you grow your business fast and efficiently. Here are five reasons to convince you why it is important to hire an agency for SEO.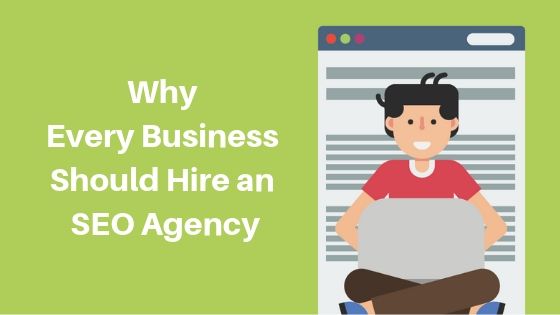 Why Every Business Should Hire an SEO Agency?
1. SEO Keeps Changing
SEO is not a onetime process. You don't just practice a few tactics and your website maintains the top ranking position in search engines. It's a complex and continuous practice. An SEO agency would keep looking for ways to increase your website authority, get you more backlinks, increase your rankings, and maintain them. They study your old and current analytics to create and implement SEO strategies.
2. Bring More Traffic to Your Website
SEO is not just for rankings on a search engine. It's a branch of digital marketing with a fundamental objective of bringing more traffic to your website. SEO analysts try to rank your website in the top results of search engines because they get the most traffic. Almost no one goes to the second page of search engines. They use many tactics in Backlinking to get more traffic on your website. For example, they would search for websites and blogs that are relevant to your niche because their audience is more likely to be interested in your website. When you get more traffic, you get more leads.
3. Keep Your Brand Alive
If you stop marketing, your target audience and potential customers will forget you. That's why you have to make a brand name and then keep it alive. SEO agencies create and implement many strategies to first make a brand of your business and then keep it alive. Agencies have more experience than you or any individual to help you achieve your goals.
4. Cheaper than In-House SEO
You can hire an in-house SEO analyst or team on salary, but it will cost you more and won't be as effective as an agency. An SEO agency has a complete team for each work (backlinking, content, social media marketing, etc.) and more resources.
First, you don't have the experience to manage an SEO team.
Second, you have to buy expensive premium tools for SEO.
Third, your SEO team/analyst alone can't compete with a company in performance.
5. You Can Focus on Your Department
If you are to hire an in-house SEO team or do it yourself, who will do your work. It takes time and resources to do SEO. Instead of dividing your focus, you should hire the best digital marketing agency in the city to do SEO for you. It will give you more time to work on your department of expertise. Moreover, you don't know this field as SEO agencies do. It will take years of experiences to reach their level of proficiency to do SEO or manage an SEO team. That's why most businessmen prefer to outsource their work instead of putting their valuable time on it.