In our previous article, we discussed how to download Garageband for Windows but if you don't want to use Garageband then we have listed some of the best Garageband Alternative for Windows which you can use.
GarageBand is popular software and first choice for many professionals to create music and record album with instrument music, special sound effect, voice, sound modulation, etc. but unfortunately it is not available for windows. A user can use it with MAC and iOS devices. Much bigger names of the music industry like Rihanna, Fall Out Boy, etc. used GarageBand to record their hits.
If you are a windows user and fascinated by GarageBand and want to use it, then sad news is you can't do it as it is not available for windows. But do not worry there are other awesome GarageBand alternatives available for windows users which you can use to record and create your music and today we are here on the same topic.
Recommended: Best Free Beat Making Software for Windows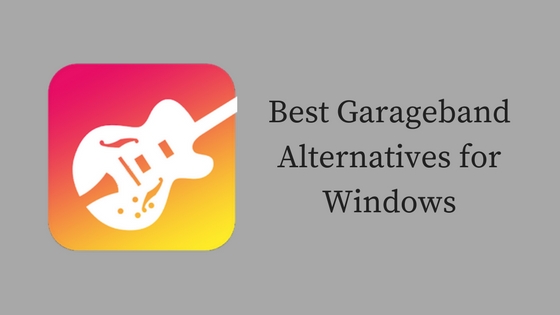 In this article, we will share 10 best GarageBand alternatives for Windows which you can use to create as awesome music. We have listed best GarageBand alternative for windows, in which some are free, and some are pro. So let's take a look at the list and find the one which meets your requirement.
Garageband Alternative
#1. LMMS
LMMS is a free, open-source and versatile solution for the musician. It is compatible with Windows, macOS, and Linux. As it is free, it will allow you to develop your skills by trialing various features, and as a result, you can create great music.
The UI is easy to navigate and use. It offers various innovative features to create the great best music. It has a great collection of effects, instruments, and music that makes each step of production easy. You will find fine-tune the melodies, patterns, and chords with the help of the Piano Roll Editor. Not only this but you can share your creations on LMMS sharing platform and SoundCloud.
#2. CUBASE
With the 9th version of a software, and trusted by professional for more than 30 years, Cubase allows its user to record, mix and produce tracks with professional performance. It highlights a collection of Musical Instrument Digital Interface- MIDI, digital audio editing applications, and music sequencer. With this professional tool, you can edit and mix songs and also get bets recording audio-quality.
It provides specific tools for different musical genres so that you can create astonishing music with your preference. It also offers Pro version which is standard for record live shows, a band in the studio and everything you can imagine.
#3. AUDIOTOOL
Audiotool is a web-browser based tool, so you don't have to go to the download and installation process. Simply open the website and start your work. It allows users to create music online with the support of powerful tools. You can store all your tracks, composition, samples and more in the cloud and access them from anywhere, whenever you need them.
You can share your music on Facebook, YouTube, and SoundCloud. Audiotool is perfect for collaboration and is compatible with any device and apps. With Audiotool you can access to thousands of samples, and you can remix other tracks with the samples. There are multiple mixing options, musical instruments, effects and much more.
#4. MIXCRAFT 7
Mixcraft 7 is one of the apps like GarageBand for Windows that offers a user-friendly interface and a vast library of loops to create music quickly. There is an excellent variety of loops that can be mixed and makes it simple for you. Drag and drop the loops and start using them. To use this software, it does not require any professional experience. You can easily manage this software and features that are available on this platform. Mixcraft 7 enables you to edit videos with a great selection of plugins that will allow you to add significant effects.
#5. SOUNDATION STUDIO
Soundation Studio is open source and free software like GarageBand. This app gives you the opportunity of using an extensive range of features that will support you to create different music. It offers a library with approx. 700 sounds and loops, virtual instruments, real-time effects, audio editing and recording and more.
You can use this tool for free, but you can get extra sound from the shop or upgrade to pro version to get access to premium sound and feature that allows you to import or share your audio and finish tracks online.
Recommended: Xbox 360 Emulator for PC
#6. MUSIC MAKER JAM
It is another excellent alternative to GarageBand that can access for free for windows pc, android, and iOS. With Music Maker Jam, you simply and efficiently create your music. It provides all necessary features to provide the best results.
You can select music from 4 different genres and change them on a monthly basis. If you want any additional features to improve the outcome of your music, you can select in-app purchase for a different tool. With this software, you can remix tracks, and also add effects just by moving the device.
#7. FL STUDIO 12
If you are searching for popular software to create music, then FL Studio 12 is for you. It is available in the free and pro version. The pro version has some additional advanced features to create the best music. The interface is renewed with new functions that will give you more ideas to create music. There are many important features available, but to access all them you have to organize them neatly. FL Studio 12 cover all advanced functionality simply and completes every task without any trouble. It supports multi-touch function and a wide range of advantages that make it worth counting.
#8. ABLETON LIVE
Ableton covers a broad range of options, but its unbelievable real-time editing is what makes it different from others. It offers a lot of powerful tools and flexibility for writing songs, capturing live performances, composing and remixing with top-notch quality. If you are a professional person, then it is a perfect choice as it an advanced groove engine with unique effects, supports advanced technology, and enhanced MIDI editor.
The software includes great live effects, including erosion, chorus, and grain delay. Ableton Live also allows great customization settings, sophisticated edition functionality, and audio routing that allows you to record from Push sampling.
#9. REAPER
Reaper is also available for free and pro version, at an affordable price to get access to all additional features. As the software takes something to get used to the way it works, it is more proper for advanced users. It offers great functionality but not easy to use compared to the previously listed software.
You can edit recordings, add effects to it and much more with this software. It offers an easy solution that will suit broadcasters, musicians, game developers and anyone who needs a complete digital audio production application.
#10. TRAKAXPC
TrakAxPC let you mix as well as edit audio, video, and photos. trakaxPC has all most all tools so you can create whatever you want. You can even make a full movie by adding video, photo and audio files with this software. Sound can also professionally edited and modified too. If you find other music creation software can't meet your requirement, then try this software once. It will never fail you.
CONCLUSION:
It is all about the best GarageBand alternative for windows. We hope you like the list we have collected for you and also find the best suitable option for you. You can leave your queries and suggestions in the comment section given below. We will surely reply. Thank you!
Related Post: