Best iPhone Call Recorder Apps to record phone calls while talking to someone on phone call.
It is very important to keep a record of voice call when we are doing a serious discussion with someone. If you have iPhone call recorder apps on your iPhone device it can help in many ways like you got a call from your boss and doing a serious discussion or sometimes it happens that we got a call that we think to harm us at that time this kind of call recorder apps helps us.
Apple iPhone doesn't have an inbuilt feature to record the call so we can't blame them if we miss something while calling. But you can get some useful free and paid call recorder iPhone apps which make your work easy. After installing this app on your iDevice you don't need to remember anything. Whenever you think you are missing something, just play the recording on your iPhone.
When we go to the App Store search for the iPhone app to record calls, we found a list of apps there. And this very hard to find such apps there. So we and our team decide to list out best free and paid iPhone call recording apps. So let's check out the top 10 best iPhone call recorder apps.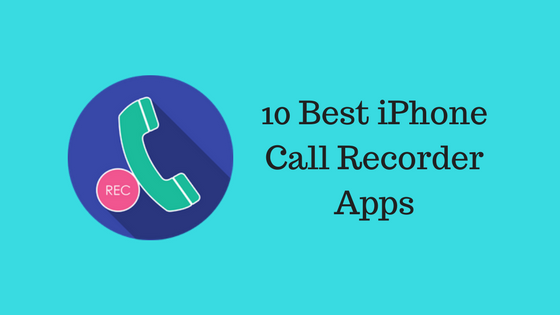 Best Call Recorder iPhone Apps
Automatic Call Recorder (Paid)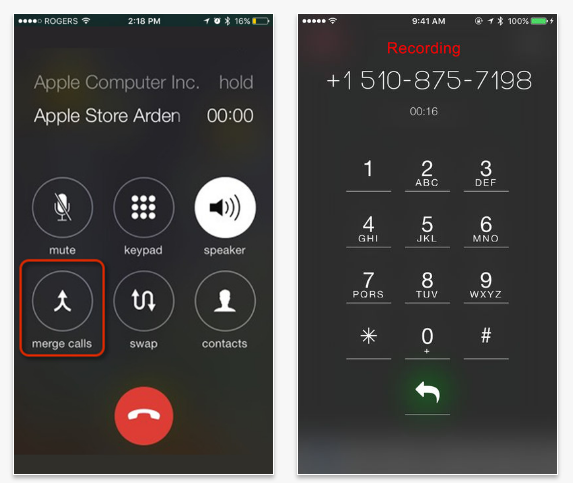 Automatic Call Recorder is the best iPhone call recorder Apps available on App store that allows you record call as many and as much you want. There is no limitation on call recording. You can easily make domestic and international calls with Automatic Call Recorder. You can save your recording clip on your device. Just make a rememberable folder to find it easily. You can also share this recording with your friends and also on social media.
[appbox appstore id1137977595]
How to record with Automatic Call Recorder?
– When a call arrives at your number, accept the call from the iPhone app and open the Automatic call Recorder app. Now Press the record button and start recording calls. When you receive the second call, just accept & hold the call to merge. Your call recording will start automatically.
Once you finish the call, go back to the Automatic Call recorder app to see the recording file.
Best Call Recorder Pro – Call Recording App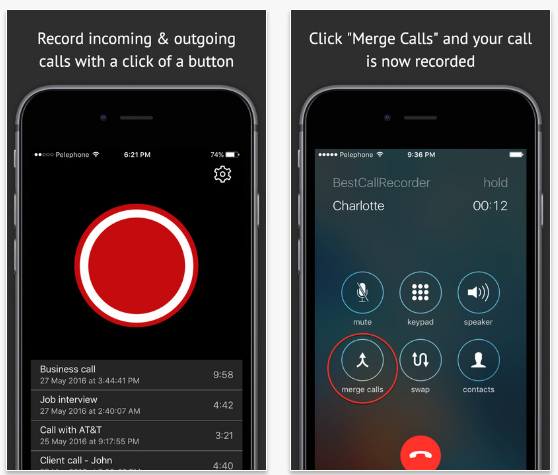 Best Call Recorder for iPhone is best to call recording application which provides high-quality recording services. There is no limitation to record a call with this Best Call Recorder. You can record not only incoming but outgoing calls.
As you receive a call or do, the recording will start and you can share with friends and also on a social media platforms like Facebook, Twitter, Linkedin, etc.
[appbox appstore id1117288234]
Minimal Call Recorder for iPhone
Minimal Call Recorder is the best iPhone call recorder apps that allow you to record incoming and outgoing calls with high quality. There is no call recording restriction that means you can record unlimited calls whether it's domestic or international. The app protects your call recordings with fingerprints.
There are many other features in this call recording app like, you can store unlimited call recording on the cloud and also you can transfer your recording to other devices. If you wish to download recordings to your computer, you can do it with a single click. You can send your MP3 recording by email and can share it on SMS, Whatsapp, Facebook & Twitter, etc. To take advantage of all these features you have to pay for the very cheap price.
[appbox appstore id1161478933]
Ipadio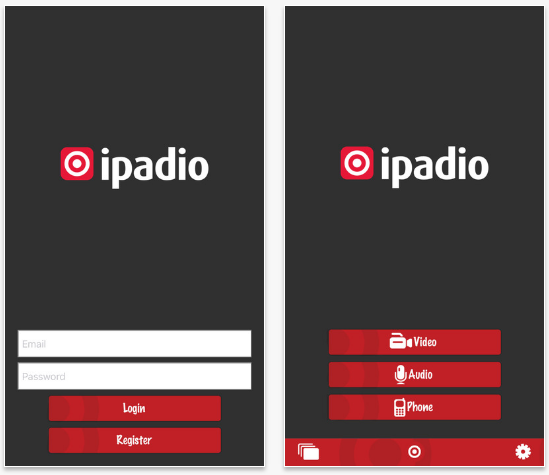 Are you looking for an iPhone call recording app which allows you to record the call for 60 minutes and also allows you to add a title, description, and image with geo-location then Ipadio is the best call recorder app for you. The app offers you either record or uploads your recording. You can do live stream your recording to the web from your phone. Like the Automatic Call Recorder app, this app also merges two calls and record all the conversion happening on a conference call.
This all services are paid but it is worth to use it.
[appbox appstore id316553962]
Call Recording Pro Free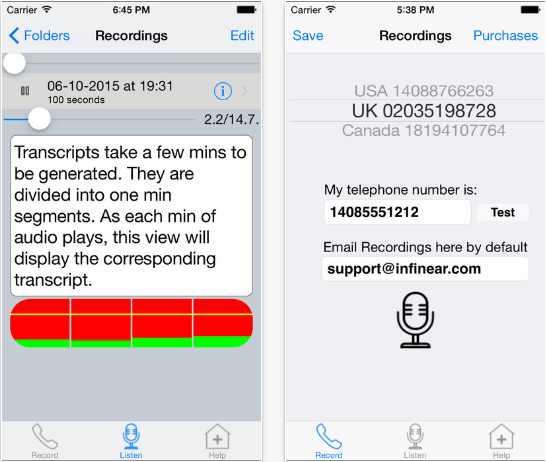 If you are searching for an app to record phone calls for incoming and outgoing and send recording link on your email to listen after then Call Recording Pro is perfect for you. All your calling recording clips will be available on the "Call Recordings" folder so that you can find it easily. The best part is that this Pro but Free app. There is no limitation on call recording (2 hours) users from the USA, Canada, and the UK. You can share this recording on a social platform like Facebook, Twitter, etc and also can upload it to Dropbox and SoundCloud directly.
[appbox appstore id658388383]
Call Recorder FREE – Record Phone Calls for iPhone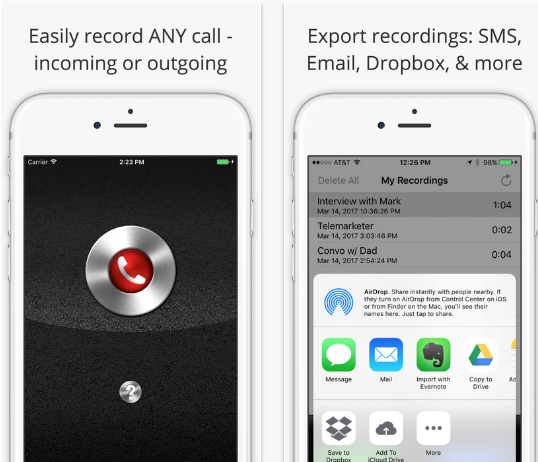 Call Recorder Free lets you record incoming and outgoing calls. Whenever you are on incoming call or your outgoing call, to record a call on this app you need to tap on the record button and your current call is put on hold then you have to dial recording number and merge both calls. You can also download this recording and also cal shares it via Email, iMessage, Twitter, Facebook, and Dropbox.
This free call recording app that you can download from App Store and its let you full-length calls but to listen past 60-second recording you need to upgrade this app.
[appbox appstore id637819447]
Voice Charger (Free)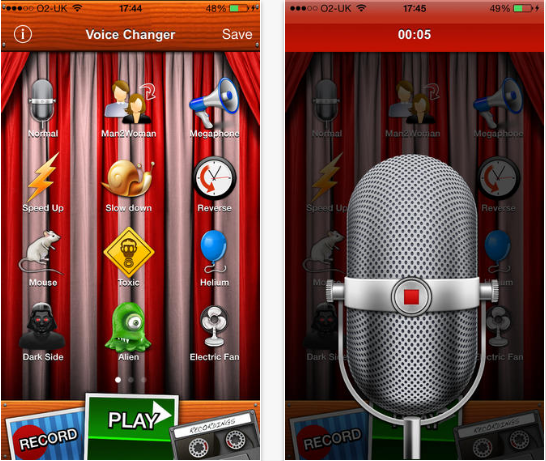 Voice Charger is the most advanced call recording app for iPhone users. iPod users can record call but they need an external microphone to record the call. The app record calls in high quality without trouble. The most interesting thing about this app is that you can give 25 sound effects to your recorded call. You can frank with your friends by changing your voice. You can download this recording as a ringtone and can send it to your friends.
[appbox appstore id364926152]
Edigin Call Recorder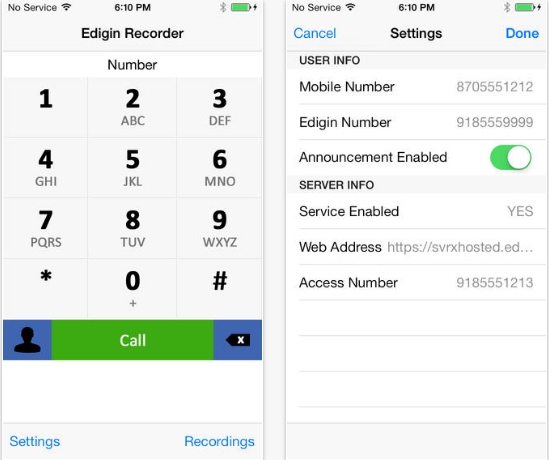 Edigin Call Recorder is a cloud-based call recording app for iPhone device that let you records incoming and outgoing calls both on the cloud. This app used cloud-based service to route your iPhone device with its data center and record your phone call.
With this app, you can easily search call recording and can play back it. You can also download a recording from your mobile, tablet or PC/Mac.
[appbox appstore id791669289]
TapeACall – Call Recorder For Phone Calls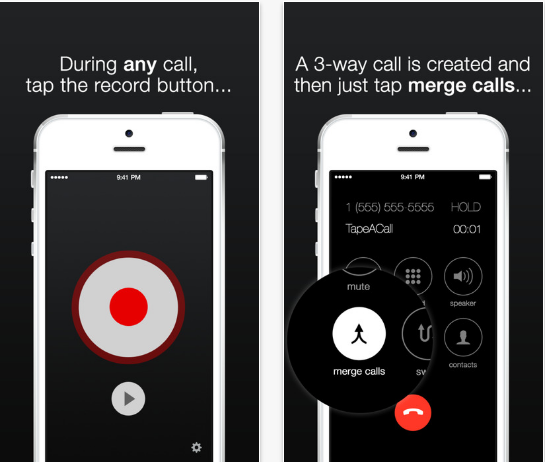 TapeACall is full-featured iPhone call recorder apps that allow you to record the incoming and outgoing call. You will get full access to this app in just $9.99. With the purchase of this app, you will be free from call recording limitations and long call recordings. You don't need to pay-per-minute fees. You can easily download your call recording and can upload it Dropbox, Evernote, Google Drive, etc. You can share your recording in MP3 format via email and also can share it on social media.
[appbox appstore id573751328]
I hope you enjoy the list. We have not tested all the apps but according to a user review, we have mentioned some most useful iPhone call recording apps which you can use. If you are using any other apps for call recording you can share it on the comment box and we will update it in this list. Till then enjoy these awesome iPhone apps.
Some use post