Super Mario Odyssey
Super Mario Odyssey is one of the best games for the game lovers which keep them on your toes until reached on a specific target. It is a 3D platform video game is entirely designed and developed by Nintendo for Nintendo Switch.
This 3D gaming platform was initially released on October 27, 2017, worldwide. It is the series of one of the most played a fantastic video game Super Mario which is based on the technology of open end and exploration.
Also Read: Download 3DS Emulator : Nintendo 3ds Emulators for Android and iOS
The game is all about Mario who keeps on exploring various open worlds like destinations just as done in Super Mario 64, Super Mario Sunshine. The graphic of the games is perfectly designed to resemble with the real world locations and oceans.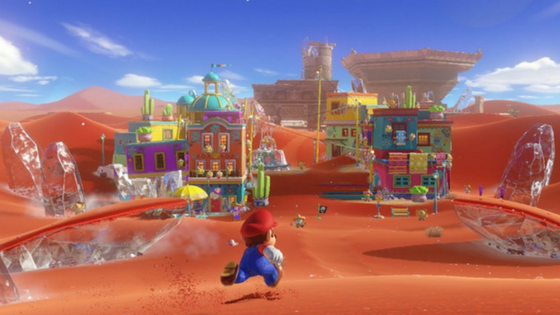 The story of the Super Mario Odyssey for Nintendo Switch
The story of the Super Mario Odyssey moves around the traveling of Mario for rescuing his Princess Peach from a browser who wanted to marry her. It starts with a fight over the Peach's Castle between Mario and Browser for Princess Peach. Mario was defeated badly by Browser, and the flying parts of his airship also have been destroyed. Browser wants to get forced marriage with the princess. Mario was sent back to his homeland of Bonneton situated in the Cap Kingdom while he got fainted during the fight. Mario caught the ghost which came in front of him while he wakes up, who introduced himself as Cappy. He further also tells Mario that Browser had also attacked his kingdom, destroyed its airship armada and also had kidnapped his sister, Tiara.
Mario decided to rescue both Princess Peach and Tiara from Browser. Both Mario and Cappy made the team together. They find a usable airship from the next kingdom, and they then go forward in search of Browser. Broodals who are the wedding planners of Browser's and Peach's marriage encountered Mario who was further severely defeated. Mario and Cappy travel together for the Cascade Kingdom and find an airship named Odyssey which includes Power Moons as energy for traveling. They further used this ship Browser and Broodals and safely rescued both Princess Peach and Tiara.
Related Post: Best Nintendo 3ds Emulator for Android and PC
Characters involved: – The story of Super Mario Odyssey involves various aspects playing in and as main characters or supporting casts.
Main Characters
Supporting Characters
Princess Peach
Tiara
Broodals
Toad Brigade: Captain Toad, Hint Toad, Banktoad, Yellow Toad, Mailtoad, Toadette
Pauline, Jaxi, Sphinxes, Dorries, Glyndon, Yoshi, Frogs, Talkatoo, Uncle Amiibo and Donkey Kong, etc.
Kingdoms involved in the Game
Mario deeply researches through various countries and Castles in search for the Princess Peach and Tiara. All the kingdoms involved seem to be one due to the involvement of graphics it includes. Here, are some:
Mushroom's Kingdom: It is the place where Princess Peach Lived.
Cap Kingdom, Bonneton: It is the hometown of Cappy and his Tiara. It is a misty town with black, white and gold color scheme and theme of a hat.
Cascade Kingdom: It is prehistoric mountain area with dinosaurs.
Some of the other kingdoms involved in this story are lake kingdom, Sand kingdom, a lost kingdom, wooded kingdom, metro kingdom, snow kingdom, cloud kingdom, luncheon kingdom, seaside kingdom, ruined kingdom etc.
Conclusion
It is one of the best video gaming platforms which provide you best gaming experience you ever had. The sites included and the wars seem to be a real one with the involvement of 3D graphics included. This wonderful game includes all the features which are quite efficient of attracting most of the game lovers. Get this video game on your device and enjoy the unlimited fun.
Related Post