Discord Voice Changer: If you are a true gamer then you already knew about the Discord. Discord is mostly used to chat and talk during playing games.
A true gaming lover often using Discord while playing the game. But, do you know there is a thing by which you can change your voice? If no, then you are at the right place where you will get to know about the Voice Changer for Discord.
Discord Voice changer is available for free on the google. There are many tools available in the market for voice changer discord.
The intention of using Voice Changer for discord is just to hide your privacy. It will help you to hide your voice from another member of the games. You can change your voice tone so no one can identify you by your voice. Some people are using a free voice changer for discord for just to make fun.
If you are looking for this type of Voice changer tool then follow the article to the end. I will share with you different Discord Voice changer along with its features.
Recommended: How to Add Bots to Your Discord Server?
Discord Voice Changer: Best Voice Changer for Discord
Majorly 5 discord voice changers being used by 99% gamers in the gaming world. Here below is the list of the best 4 voice changer for discord.
1. Voicemod – Free Voice Changer for Discord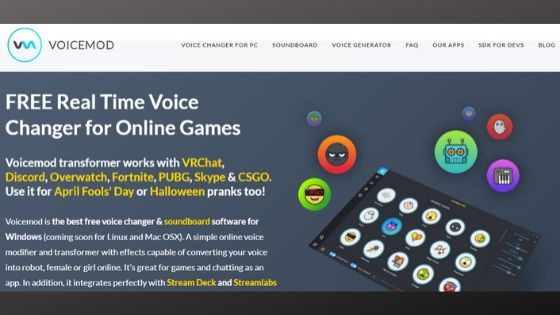 Voicemod is the best voice chat servicer for discord. If you are using discord and wanted to change your voice during playtime then this software is the best option that you should choose. It has more than 100 different voice modes available. This tool is completely free for anyone.
Recently it is only available for the windows users. You can download it directly from its official site. The main thing is that you can change your voice in real-time. Not a play-back voice changer.
How to Use Voicemod on your Discord?
First, open Voicemod Voice Changer in your PC
Then Download Discord App and open it
Now open User settings.
Then click on the Voice& Video Button
Now expand the Select microphone as an input device from the dropdown list.
Then press ESC. That's it… you have set up completed.
Website: https://www.voicemod.net/
2. MorphVOX – Voice Changing Software for Discord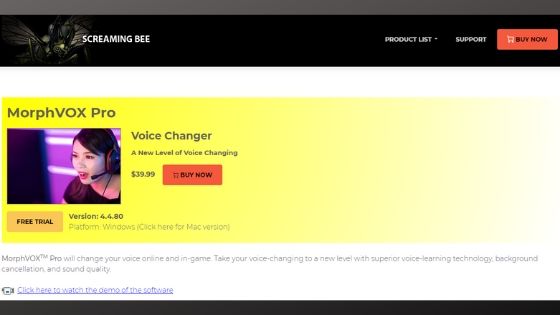 MorphVOX is the best voice changer for discord. It is also known as screaming Bee voice changer. A funny thing is that you will have soundboard on the software and by pressing keys you can make funny sounds like farting, drums, bells and voice of the birds chilling.
MorphVOX can be optimized for online gaming to change your voice and hide your identity. If you want to know how to use this software then follow the below steps:
How to Use MorphVOX voice changer in discord?
After installing software into your PC, open the Software dashboard
Then click on the voice setting button and open discord in it.
IN the User setting window, you have to change the input device as a microphone.
Then uncheck the auto sensitivity setting. It will automatically determine itself.
That's it. Now click on the Done button and save the setting. Now you can use the microphone to do voice chatting while playing online game and also change the voice from inbuilt sounds options.
Website: https://screamingbee.com/morphvox-voice-changer
3. AV Voice Changer Software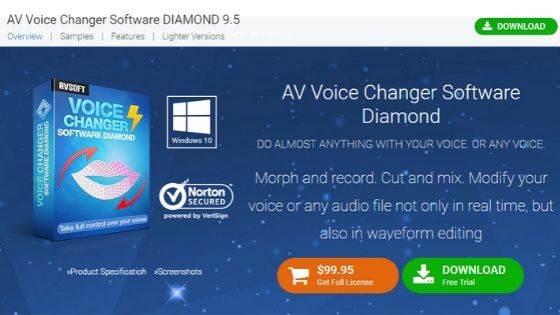 AV Voice Changer for discord the coolest software for gamers. In this software, you can morph and record your voice. You can cut and mix your voice to manipulate the competitor while playing the game online.
AV Voice Changer Software is a real-time voice changer for discord. It's not free software but you can take a trial of this software for free.
Here you can edit and add in effect in existing real-time voice changer. In this software, you will get the 30-voice effect, 70 background effect, 17 non-human voice, and 40 plug-in audio effects.
How to use AV Voice Changer Software in Discord?
First, open AV Voice Changer Software on your PC.
Then on the top bar, you will see the preferences. Click on it and check on the vadMOD and click on the ok button as shown in the below image.
Now if you want to change the voice then keep following steps ahead.
Visit the site mnogochat.com from your browser.
Select the platform "Battle game"
When the game starts, it allows the browser to use the microphone as a voice media changer.
Then on the webpage in the URL section click on the video icon. A pop window will be seen. Click on the manage button.
Now select the Microphone and Save the setting. Now you can chat by changing the voice from the software as per your favorite voice.
Website: https://www.audio4fun.com/voice-changer.htm
4. Voxal Voice Changer
Voxal is one of the best voice changers for Discord. If you are using Discord to do voice chat while playing games or video chatting then it is the best software. Voxal has the best interface to easy to understand.
It has a simple dashboard to use. There is more than 500 inbuilt voice effect and background effects which can use simply. If you want to know how to use then follow below steps:
How to use Voxal Voice Changer in Discord?
Firstly, open the Voxal Voice changer software
Now check the microphone is active or not. If not then do activate from the toolbar.
Click on the Options button and then click on the preview Recording Device button.
In the next step select the microphone as an active device for recording and click ok and save the setting.
Now make sure that you have to open the Voxal software before playing the game or any other Discord use.
Select the voice as per your requirement.
Check that it should be shown Voxal software status: Successfully processing
Now you will able to do voice chat or play the game online by changing the voice to manipulate your friend.
Website: https://www.nchsoftware.com/voicechanger/
Conclusion:
If you are using Discord software while playing an online game or while doing video chatting, this software will help you out to hide your voice identity. Also, you can use this software to make fun with your friends. Also, we have described how to use them with your Discord software.
Recommended: Best Android Shooting Games