By far 2018 passed by half and to pass remaining half year there are numbers of ways available and one of the way is to watch TV shows and superhero movies and TV Shows. But for those who were born in 80's and 90's, they must know how exciting to read the comics. But at now with the growing technology, people move from book to screen and looking for the read comics online free. Yes, to all those comics' lovers, though comics vanished form of Paper yet, you can read it. Just the way is different that is online!
Have you never read the free comics online? If yes then you don't have an idea which one is to pick first. So, here is a list of some of the famous and popular comic book publishers for you.
| | |
| --- | --- |
| Dc Comics | Famous For Arrow, The Flash, Batman, Justice League Of America And Superman |
| Dark House Publisher | Famous Comic Hellboy |
| Marvel | Famous For X-Men, Iron Men, Avengers, And Captain America |
| Idw | Famous For Star Trek And 30 Days Of Night Comics |
| Image Comics | The Walking Dead, Curse Words |
So the above are few of the famous name in the comics industry, but there are dozens of other available. Even depend on these comics, you can watch the movies, too. But reading these comics have a different level of enjoyment.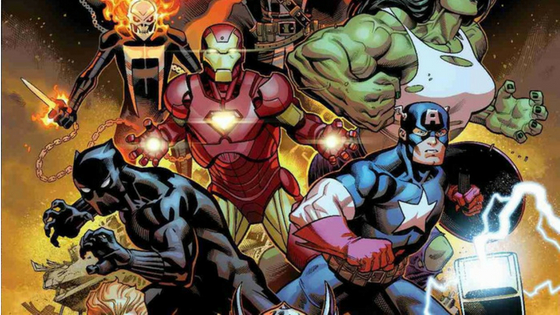 Where can I read comics online?
Not all sites let the user read the comic online for free. so if you are searching read dc comics online or read marvel comics online, then this article is for you. Yes in this article we have made a list of some of the website that let you read comics online for free. So what are you waiting for? Read this article and get back your days of 80's and 90's childhood.
Best Website To Read Free Comics Online
1. GetComics
It is the best site that let you download comics, and yes you don't have to pay because it is free. You will not find some of the new comics on this site, but if you a new reader then you can get plenty of comics to read. If you are looking for the sites where you can read comics online, then you might get disappointed as there is no such option available to read the comics online. You will find multiple links from download including Mediafire link.
When you go to GetComics for download comics, you have to remember one thing that you can see the title like 'read' and 'download' below comics title, but they are fake. If you want to download it, then click on the title of the comic. After that scroll down and you find multiple links to download. Apart from Marvel and DC comics, there are many other publishers of comics also available on the site. You will find all of them in other comics section. In my view, it is good option to download most the old and new comics.
2. ComiXology
ComiXology is the best place to read comics online. It is a cloud-based digital distribution platform for all the comics' lovers. And, it controlled by Amazon so that you can sign in with your Amazon account also. All the major and famous comics publisher companies like DC and Marvel use this platform to sell their digital comics online. It also presents CMX-HD format that is the high definition comic format.
ComiXology is a legal platform for digital comics, and hence you may not find all the comics for free, but yes some of them are available for free on the site. Here you can get about 700 free comics of DC, Marvel, IDW, Image, Boom, and other publishers. Even it has a mobile app too, so if you want to read it on your mobile phone then you can do it using the app. to download the app go to the link given below:
3. Comicastle
Comicastle is another best site to read comics online for free. It also has some cons and pros. One of them is it doesn't use HTTPS secure connection so there might have chances of data-stealing. To overcome this, always browse this site by using proxy and incognito mode (ctrl+shift+N). You will also find some advertisement while reading comics. So from my view, the comics reading experience is not good on this site. But still, there is one reason behind why this site is on this list.
You will get all the latest comics on Comicastle so, in other words, it is one of the best alternatives to HelloComics site. No need to register yourself on this site, open it and start reading the comics of DC, Marvel, and other publishers.
4. View Comic
If you are searching for the alternative of Comicastle, then View Comic is for you. This site doesn't provide any option to download comics, but one can comfortably read comics online with good reading experience. No need to click on next button to go to the next page, scroll down and read once the comic loaded completely. Even if you don't find any particular comic of your choice, then you can request for it also. Yes, there no such option like the category to segregate the comics. So it is hard to find any specific publisher comics. Still, the hope is there with the search option as it is quite helpful. Every week, the site updated with the latest comics so you will get all old and new comics here. A register option is also available, but it is not compulsory to register to read comics.
5. Comic Happy
If you take my opinion, then ComicHappy is one of my favorite sites to read Marvel comics online free. You can get all latest DC, Marvel, Deadpool and image comics for free. You can also search comics category wise and also sort them according to their publishers. If we talk about reading experience, then it is similar to 'View Comic' site. It is a blog, not a site so you can always find all the latest released comics from an option of 'recent posts' for free.
Last Words:
It is all about best apps and sites to read comics online for free. There are dozens of other sites available, which provides you online comics for free. But I am damn sure using this five sites; you don't need to surf any other site. We hope you like the list of best site to read comics online. If you like it, then share it with all you comic lovers and live your childhood days again. Thank you for reading!
Related Post: