Bitcoin has taken the world by storm and it is the current favorite of people for investment. Though people are so curious about Bitcoin, only a very few people know that Bitcoin was created by Satoshi Nakamoto. Bitcoin has posed a huge challenge in front of the government-backed currency and it won't be a surprise if someday Bitcoin replaces paper currency.
The basic motive behind the creation of this cryptocurrency was to have full power and control over your money and no third party interference of bank:
No need to store money in a bank.
No need to go through the bank procedure to transfer your money to any third person.
Now you must be thinking that if not bank, where am I supposed to store my cryptocurrency safely? Well, worry not! You can store your cryptocurrency in your own personal bank with keys and can send it to anyone you want without any third party interference. It is a Bitcoin wallet!
A Bitcoin wallet is a software that interacts with all the blockchains that help you send, receive and store money in the Bitcoin wallet. If you are involved in crypto-trading, then you need to have a wallet to store, send and receive the crypto-currency.
So, if you too want to get a Bitcoin wallet, we are here at your service. We will list down the best Bitcoin wallet available for you.
Just read on:
Recommended: Best Cryptocurrency Apps for iOS and Android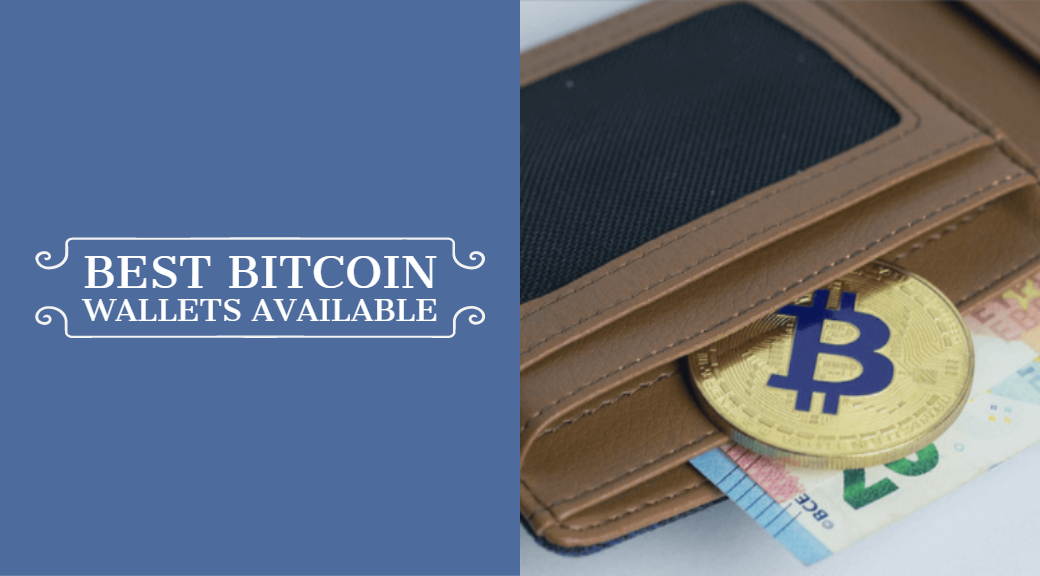 #1: Ledger Nano S
Ledger Nano S is a hardware device prepared by a French company. This hardware stores private keys, passwords of your Bitcoin account. The best part is that this hardware device is online fraud and scams free as the wallet stores all the information offline. Even you do not have enough knowledge of coding, then this device is the best and most easy to use wallet you can ask for.
Pros
Easy to install
Supports 1184 coin types.
Cons
It is not open-source hardware.
If not taken care of, the recovery sheet can be stolen.
#2: Trezor one
Trezor is another Bitcoin wallet made by a Prague based company. It is the most portable and easy to use wallet available. You can easily carry it around with yourself. To use it, you can plug in the USB drive to your laptop and connect to your chosen interface.
Pros
User friendly
Portable design
Supports 1064coins.
Cons
It does not support Ripple.
Costs $99, which is a bit expensive.
#3: MyCelium Bitcoin Wallet
MyCelium is the most well-known Bitcoin wallet for mobile out there. It supports both ios and android versions of the phone. The basic agenda of Mycelium is to make the transactions of Bitcoin less complex and as smooth as possible.
You should also, however, know that this Bitcoin wallet is not for you if you are a beginner in crypto-trading. It is the best wallet for you if you are an advanced and skilled crypto-trader.
Pros
It has a lot of amazing features.
It is an open-end software.
Offers high-end security.
Cons
It is a complex system, not beginner-friendly.
It does not have a desktop interface.
#4: Exodus Wallet
It is a great desktop wallet with extra-ordinary features. However, what actually sets it apart from other wallets is that it is very easy to use. Any beginner can operate it so easily. It supports Windows, Mac OS, and Linux platforms and there is no mobile version available. You need to download and install the wallet into your computer directly.
Pros
Great privacy option
100% beginners friendly
It supports vast range of cryptocurrencies
Cons
It has very limited features of security.
It does not have any mobile app.
#5: Samourai wallet
Samourai wallet is the latest mobile wallet that lays more emphasis on the security and privacy of your account. The best part is that Samourai is that it is a wallet is created with the same ideals with what Bitcoin was originally created – decentralization, privacy, transparency, security, and fungibility.
Interested in investing in Bitcoin? Visit The official Bitcoin SuperStar site and start earning.