Automate Apps for Android
Android is the world's leading Operating System for mobile devices. Manufactured by Google, it is the most used OS with millions of devices running on it. One of the best features of Android is the freedom that it gives the users. The apps on Android have a great access and an open source identity. Due to this, the developers get a chance to create some unique and essential android apps which can do a lot of interesting things. This includes even automating your device. Yes, you heard it right.
The developers have come up with Android apps which can automate menial and even repetitive tasks of your Android device. This can make your life much easier. Now there are many android automation apps which can automate your Android device. But we have shortlisted the best ones for you so that you don't have to spend your time searching for the best ones. Let us have a look at the best apps to automate android.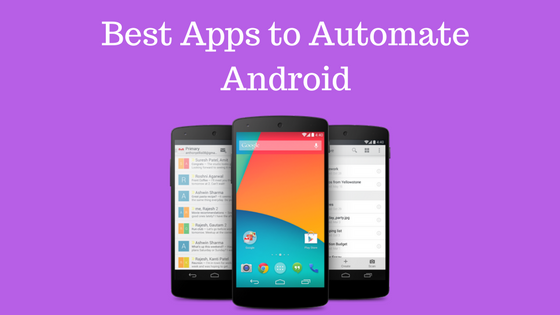 Best Automate Apps for Android
Tasker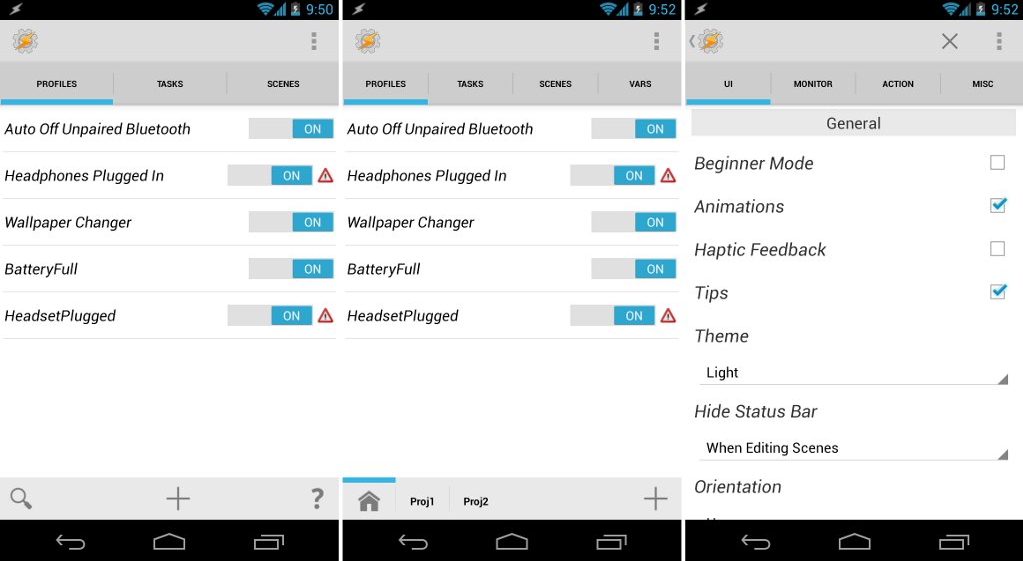 Tasker is one of the best Android automation apps that have been around for while. It takes full advantage of the openness and versatility of Android OS. If you want to turn on the Bluetooth as soon as you enter the car, Tasker will help you do that. The app also helps you dictate your personal texts while you are driving the car or disable your lockscreen as well.
Tasker can replace a number of apps that you are using on your smartphone. It has got a simple UI that helps the users to operate this app in a better way. The app has a number of tabs and modes to make the things more precise. It basically makes the things happen either automatically or manually as per your choice. Give a try to this amazing app and automate your Android device with cool Tasker profiles.
Condi
This Android automating app is also known as the "mini-tasker". This app can be installed on Android devices without requiring root access. Though a few tasks may require root access to be automated. Using this app is quite simple as well. Just install the app, tap the "+" button on the menu bar and hence you can create a new task. You will also get a list of actions from which you can choose a task.
These actions include launching an app, turning on or off connections and sensors, muting the incoming calls amongst others. You can also choose a trigger after you have selected an action. The trigger could be a particular location or a particular time etc. or it can be some activity like when you plug in a charger or when you plug it out.
You also have the option to exit any task if it is not anymore required. The app is compatible with only android version 4.9 and above and is available to be downloaded for free from the Google Play Store, making it one of the best apps to automate android.
Llama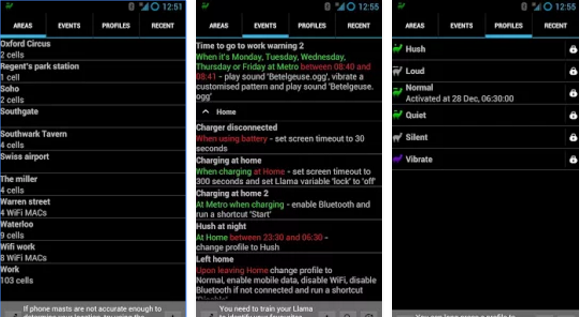 Llama is one of the highest rated Android automation apps available on the play store. It has an overall rating of 4.6 stars which adds it to the category of best apps to automate android. Also, it has been downloaded more than a 1 million times. These statistics are enough to show that the app is quite popular and well developed. The app is completely free and requires an Android version of 2.1 or above to the least. It generally uses the location of the user as a trigger to predefined actions. These actions can range from running apps, changing screen brightness, killing apps, clearing ram amongst others.
The location is determined with the help of phone masts. So depending on where you are, you can set various actions. The app also comes with some predefined actions. These include mostly sound profiles which can be either modified or even added to. Such great features and ease of use have what made this app so successful in the market. You must also give it a try to automate your Android.
MacroDroid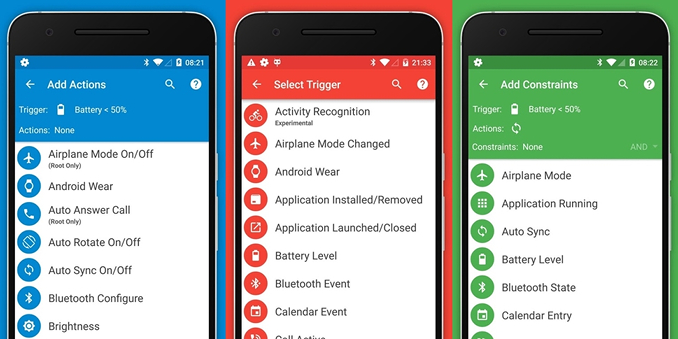 Available for free on the Google Play Store, this app requires Android version 4.0 or above to run on Android smartphones. This app is very beautifully designed. It adheres to the material design trend which makes its interface quite stunning to look at. Besides the looks, the functionality also is astonishing. It certainly has got enough to sway the users from using any other automation apps. Although the free version offers the users just 5 tasks and also shows ads, but you can always pay $2.99 which would add some racks and also remove the ads from the app. If you want to create a new task, all you need to do is to tap on the "add Macro" button. This will open a new screen window.
Here you need to choose a trigger for your event, and then choose the action which you want. For example, if you want your phone to take a screenshot whenever you shake it, you just select that action. Although a few actions requires root access to work, but most of the features will smoothly work without it. These great features are enough to make it one of the best apps to automate android.
Automate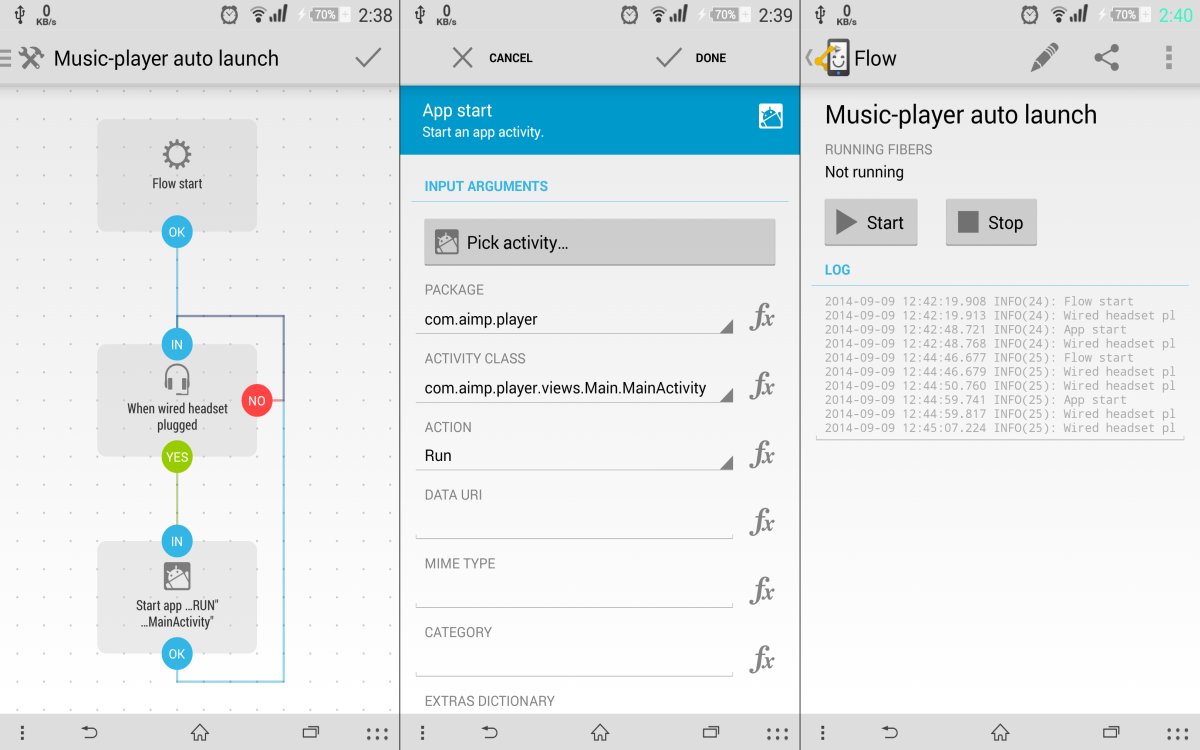 This Android automation app runs on all Android devices above the version 2.3 and is one of the best apps to automate android. This is also a very popular app. It comes in two variants, of which one is a free version while other is a pro version, available at $3.2. Its interface is a bit unusual but simple to understand and use.
The interface operates on the basis of the set rules. If you want to add a rule, you need to click on the "add Rule" button. After that, you can choose a trigger for your event. Also, you will need to select the action which takes place when the event is triggered. You can choose from a list of multiple actions available on the app. But be sure that you have registered yourself on their database to be able to unlock that feature.
IF by IFTTT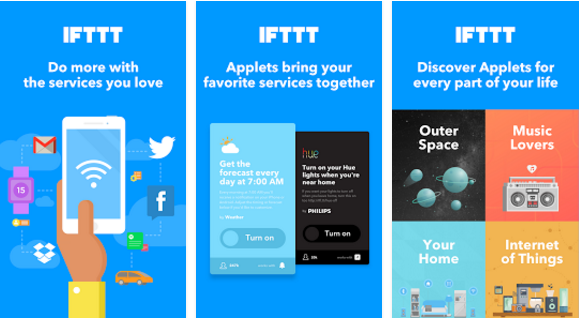 'IF' is a great Android automation app developed by IFTTT. With this app, you can create powerful connections amongst various apps. All you need to do is to create simple recipes in order to connect popular apps which include the likes of Twitter, Facebook, and Gmail amongst others. To take an example, you can post your Instagram photos on Twitter, or you can get a notification about your favorite team's match score through Google automatically.
The new events are known as recipe in this app. To add a new recipe, you are required to press the "+" button. After that you can select a trigger when the recipe will kick off along with the corresponding action that will take place. You need an Android smartphone running on version 4.0.3 and above to use this app. All these great features make it one of the best android automation apps 2017.
The Last Words
So we saw how there are many apps which can perform your daily tasks on smartphone based upon a trigger which can be a location, time or action. We saw some of the best android automation app 2019 as well as the most useful android automation apps. So download any of these android apps and sit back and relax while your phone does your tasks for you.