Antimalware service executable is a process which is also known as MsMpEng (MsMpEng.exe) used by a program in Windows called Windows Defender Program.
This program is associated with one service called "Windows Defender Service". The most common two reasons for antimalware service executable high CPU are:
[First -> Real-Time feature which constantly scanning files, All Connections and related apps or software's run in real time which is also known as Protection in Real Time.]
[Second -> Complete Scan feature which scans all the files of the system, when you turn on your PC either from Sleep Mode or when it is connected to the network (Internet), so this is how it works.] Also check err_internet_disconnected.
Both of the reasons above are might be the main reason for high antimalware service executable CPU usage.
How Antimalware Service Executable Works?
When real time scanning is in the process and it is doing a complete scan, that time your windows system will face some lagging, delayed process for your input commands, hanging and WHY? This is all happened? Because that time your entire computer is hacked by Windows Defender Program.
You guys don't need to be afraid with this because it is working for the goodness of your PC and you need to be calm and let it run and scan your computer completely to find out any kind of issue in your windows PC files, apps, and other related stuff.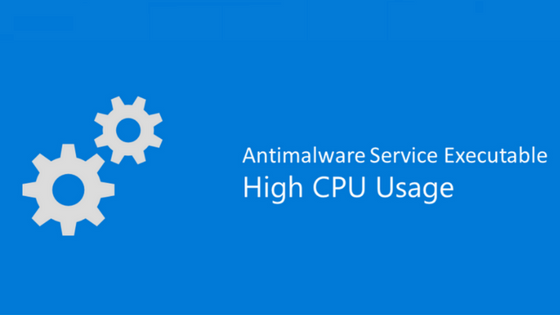 How Much Time does It take?
Sometimes your PC generate some extra program files based on software's you installed and other than that it also scans your files which you paste into your PC so based on the file sizes and the count of the files, this scan can take few minutes to some hours.
So be patient and let it work and finish the process by its own algorithm so because it is working for your PC protection, once it will do, it will release the CPU and the high CPU usage will drop to its normal procedure. If you understand carefully than msmpeng.exe antimalware service executable
The process is good for your Windows PC.
When should be the "Full Scan" Done in PC?
A FULL SCAN should be only activated on your PC in a while and not daily. Once the Windows Users knows about antimalware service executable then they have scheduled the scan functionality to run when PC wakes from Sleep and whenever it is connected to the network, as we mentioned above already.
BUT BUT… it is completely wrong and not should be done on a daily basis because it may cause a damage of processor because CPU must be work like normal and not in a hanging mode so we STRONGLY suggest you to use this once in a while in Week or month.
How to Fix High CPU Usage By Antimalware Service Executable (MsMpEng)?
This issue of high CPU usage by antimalware service executable also applies in Windows 7, Windows 8 and Windows 10 too. So you need to learn methods to fix this entire issue.
Method 1: It Will Repair Corrupt Files by Defender
You need to download Reimage Plus software to run, Scan and Repair all the corrupt files. If it will find some files corrupt or missing then it will repair them and make your CPU usage light and then your PC CPU will work like charm.
If after this method, your CPU usage still HIGH then, please move to method 2 now.
Method 2. Schedule the Windows Defender Properly
You can reschedule the windows defender properly with the step by step process which we have given below.
Click on Start MENU, search Administrative Tools. Now tap to OPEN.
Now in Administrative Tools, you need to explore Window and choose Task Scheduler. Double tap on it. Here is solution if your Windows 10 File Explorer Not Responding.
Now go to Library > Microsoft > Windows > Windows Defender.
Now in Windows Defender, Locate "Windows Defender Scheduled Scan" and tap on it (Don't Open Directly) and choose properties.
In Properties, Click on Conditions tab and uncheck the Idle option, Power, and network and then click OK.
Once you have done with this, Now we will reschedule it. Now again tap on Properties from right pane and this time select Triggers and click on NEW. Here you need to choose WEEKLY option or MONTHLY as per your choice. Now click OK and make sure it is enabled.
Now it will activate the Windows Defender once in a week or month, which you choose and scan your PC automatically.
This functionality is FREE from Windows but people want to install third party software. You need to understand that Windows developers know that since the first Window released that what kind of ISSUES will come in windows and this is why they develop internal software's which helps your PC to run smoothly.
So try this method and it will help your Windows PC to run faster and smoother than before.
Final Conclusion:
We hope you found this post useful and it helps you to fix "High CPU Usage By Antimalware Service Executable" and you can enjoy your PC performance better than before.
So if you like this post and it helps you then do give this post a Share on social media handles. It is free and helps us to reach such a good audience like you.
If you have any query related to "Antimalware Service Executable" or "Windows Defender Service" then drop your queries in the comment section and we will get back to you with the solution as soon as possible.
Related Post: