Jobs in the computer and information technology sector are projected by the U.S Bureau of Labor Statistics to grow by 12% from 2018 to 2028 which means there will be around 546,200 new jobs in this sector.
In 2020, a generic resume will land you nowhere in the tech industry. If you are still copying your resume from some resume you found on Google, stop! The recruiters have read the same resume from a hundred different applicants so you might as well be an average joe from the stack of applications they already have.
Your tech resume is the first point of contact with your recruiters. A great resume will go a long way in forming the right impression and helping you land your dream tech job.
What you need is a tech resume that will set you apart from the rest of the applicants.
Recommended: Polish Your Writing with These Online Grammar Tools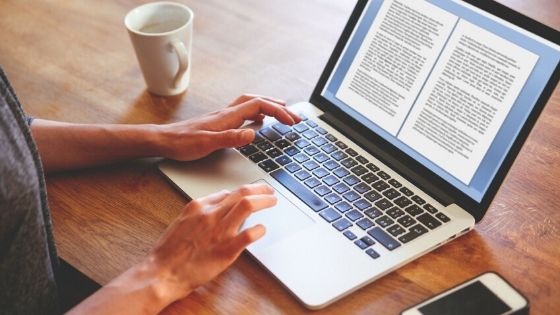 How to Write a Job-Winning Tech Resume
Here is a guide on writing a job-winning tech resume in 2020:
Choose the right resume format
People on different stages of their career need different resume formats to effectively present their career trajectory and future goals. A freshers resume will look completely different from someone who has extensive experience. This is why you should scrutinize over which resume format will be best suitable for you.
Pick the resume format from the ones listed below based on your current professional needs:
Reverse Chronological Resume Format: This is the most common format among tech professionals. It presents your information in a reverse timeline, making the information relevant for your recruiter. It is best suitable for people with less than 10 years of experience.
Functional Resume Format: This format is not much preferred by the recruiters and it also does poorly in the applicant tracking systems. This format focuses on your skills and does not put much emphasis on the timeline. This format, however, could be useful to job-hoppers or those with career gaps.
Combination Resume Format: This format takes the best from both the reverse-chronological and functional resume format. It lays an equal focus on your skills and experience. Professionals whose experience transcends 10 years should use this resume format.
Optimize your professional experience section
Opt for one-liner bullet points over paragraphs when framing your professional experience section. Paragraphs are bulky to look at and hard to read. Moreover, apply bucketing and bolding to better organize your bulleted points.
In bucketing, group similar points under unique subheadings. This makes your resume easier to navigate for the recruiter. Additionally, bold the highlights of your career in each point to draw the recruiter's attention towards it.
Take the following example:
3rd Party Integrations
Conceived and applied a plan to integrate a 3rd party Channel Manager
Integrated Payment Gateways to process 130k+ weekly payments
In the above example, '3rd Party Integrations' is the bucket and you can see the highlighted sections which have been bolded.
Also, notice the use of action verbs at the beginning of each bullet point and the presence of performance figures.
Provide an eye-catching resume summary
As studies show that a recruiter spends an average of 6 seconds to analyze a resume, you need to make these 6 seconds count.
As the resume summary might be the first thing that a recruiter will lay their eyes on, compose it to perfection. It is the last thing that you should be composing after you have finished writing the rest of your resume.
Start by stating the number of years you have been in the workforce. Follow it by the most significant highlights of your career and your skills.
The ideal length of a resume summary is 3-4 lines so do not use fluff words to max out on length. Rather keep it brief and to-the-point. A well-composed summary can let recruiters recognize you as a competent employee with the right skill set for their organization.
Only provide the required personal information
Check the requirements of your organization before submitting your personal information. Most organizations only require your contact details to inform you of any possible shortlists, to set up an interview or for a preliminary telephonic interview.
Only mention your contact number, email address, and your current location. Provide other personal information only if explicitly asked for.
Take care to not make any typing mistakes for that will make it harder for your hiring manager to reach out to you.
Endorse your skills
Make your skills stand out on your tech resume. A distinguished section labeled 'Key Skills' is the way to go. Here, separately mention your core skills and your technical skills.
The given example shows how your key skills should be highlighted for the recruiters to recognize your potential as a suitable applicant:

A great approach is to look for the skills required by the organization you are targeting. They will have mentioned the same in their job description. Identify the skills that you have and replicate them in this section. Ensure that your professional experience justifies the presence of these skills on your resume.
Give a distinct section to your education details/h3>
The necessary skills for a technical profile will often demand particular degrees and education. Most job listings will list the degree of education they require from their candidates.
Additionally, even if the requirement shows a bachelor's degree, A master's degree could mean higher pay. So, you can use your educational background while negotiating payment details.
A distinct section should be made for your educational details to let the recruiter know that you are a qualified candidate.
Conclusion
With the end of this article, we hope that you are armed with enough information to write a job-winning tech resume in 2020.
Make sure to keep the following points from the article in mind while drafting your tech resume:
Use the resume format best suitable for you to draft your tech resume.
Optimize your professional experience section by framing one-liner points and inputting performance figures wherever appropriate. Further, use action verbs to start each point and organize these points into relevant buckets. Bold the important information in each point to highlight it.
Compose an effective summary of your resume by mentioning your career highlights and core skills.
Only provide contact details in the personal information section unless other information is explicitly asked for.
Endorse your skills effectively by distinguishing your core skills from your technical skills.
Mention your technical education in your resume.
Author's Bio:

Aditya Sharma. As a Co-Founder and the unofficial CPO (Chief Problem-solving Officer) of Hiration — an AI-powered online resume builder and platform to help job-seekers find their way in the treacherous job market, Aditya likes to code away his days and nights when he's not busy disrupting the career space.
Related Post: