When was the last time your marketing team has completed the designated task on time? Marketing teams face too much inefficient creep like constant interruption, short deadlines, unrealistic client demands, and a few more. All together make progress slow and adds frustration.
However, after all these dramas, the question is how one can do better work with proper workflow management? The answer is Marketing workflow management, as it can help you achieve efficient processes and address all the time-consuming challenges.
Recommended: How to Choose Project Management Software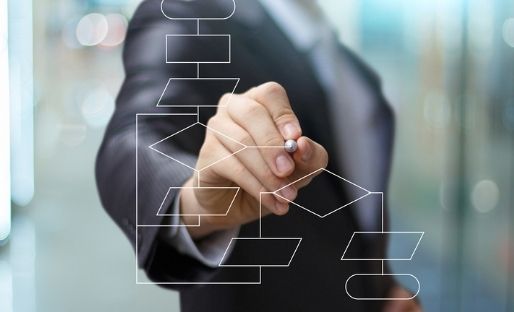 What Is Workflow Management?
Workflow management is the coordination of small tasks that are required to manage any work in the organization. Workflow means series of tasks that needed to be followed to complete larger tasks. You can also call it a business process. With workflow management, organizations can achieve a better result for the deciding set of goals.
Workflow management is similar to a checklist of tasks. But here, it manages work in a disciplined manner, focused on the structure of work, and collaboration of teams to complete the work on the given timeline.
Why Do You Need A Marketing Workflow?
At first, you will find this question easy. Of course, one needs a marketing workflow to manage the workflow. Apart from this, there are other benefits of it. It isn't easy to keep track of the overall system and manage project deadlines. Things become worst when the team implies scattered marketing workflow, store all the details on a local device or in email.
However, an effective marketing workflow management process helps you to overcome all the flaws of the system. It automates your manual tasks and eases your work.
And here are all the primary reasons why you need marketing workflows for your business or organization. Please have a look at it.
1. On-time project completion:
Marketing workflows provide a centralized location for all your data and documents, which help in two ways. One, it avoids duplication, and second, it saves time. It minimizes constant bombarding of team emails about assignments, deadlines, payment, and publication dates.
It cuts down all the time-consuming and disrupting processes, allowing team members to concentrate on the quality of work instead of worrying about it.
2. Team alignment:
Marketing workflows keep all your team up to date about their role and tasks. It means all your team members know their core task, how to do the work, and who they depend on for the work.
Each team member can show their work status. The manager can see project progress and tasks and clarify each member's responsibilities and doubts. The manager can be in the loop with other teams like social media managers, content creators, graphic designers, video creators, etc.
In short, it offers you glitch-free collaboration and 100% transparency in organization for each project.
3. Better project management capabilities:
You don't have to track all the task in detail as a marketing workflow management system do perfect supervision for you. A strategic outlook feature will do it and improve your project management capabilities without much hard work.
4. Positive impact on results:
Workflow management offers a straight idea for business operation. It is easy to reach all the necessary components from the central cell. As a result, it saves lots of time to find essential details in a local server or email and show a positive result on a given deadline.
5. High campaign success and profitability ratio:
After opting for marketing workflow, all your task completes in less time, and hence your team has spare time to reach out to other clients and projects. Also, it ensures the correct order of sales and marketing process for each client, so there is no mistake by the team.
It is all about the benefits of marketing workflow management. To get more idea about it, check the below-given infographic brought to you by Wrike project management tools
Recommended: