Have you heard the term "virtual phone system"? Well, if not, it's time for you to recognize this innovative technology. Though there is much to say about the contribution of traditional telephone lines in our day-to-day communication, our phones have changed as time passes by. Still, we should be grateful for the older version of the telephone because, from it, we evolved to the Internet and smartphones, and other mobile devices, as well as different app-based virtual numbers such as Freeje.
Recommended: What are the Advantages of Disposable Mobile Phone Number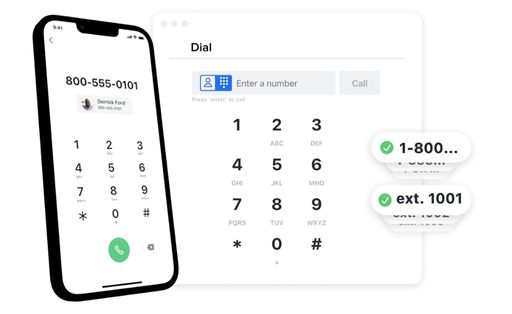 What is a virtual phone system?
A virtual phone system is a cloud-based technology that provides end-users the freedom to place and receives calls from anywhere in the world using computers and mobile devices. Although a user will experience the same as a conventional phone line, a virtual phone system provides mobility and flexibility especially for people who are always on the go.
As we all know, the biggest reason why companies and businesses move their phone system to the "cloud" is that they want to take advantage of the remarkable features that only virtual phone systems can provide. It allows these companies and organizations to maximize their productivity and at the same time, grow their team and network.
How does a virtual phone system work?
Simply put, a virtual phone system connects calls between local phone numbers and toll-free and end-users. But don't make a mistake to think it is just like an A to B process that is happening when making the call. There is a lot of technological process in the making when placing or receiving calls.
Types of virtual phone systems
There are various types of phone systems that entrepreneurs and business owners can acquire, depending on their needs. Listed below are the common types of virtual phone system:
VoIP-Based Virtual System
considered as the most popular virtual phone system and most often used by businesses VoIP (Voice over Internet Protocol) uses the Internet to send voice signals, unlike the usual landlines. Without all the technical information of VoIP, here's how it works: a VoIP virtual system takes your voice calls, converts them into a digital signal, turns them up into tiny data packets, and conveys those little packets through the Internet.
VoIP system is scalable, which means it can be easily changed, scaled-down, or up, depending on the situation. There is no question when it comes to flexibility since almost anyone in the world can get in touch with you easily. And since it utilizes the power of the Internet to handle calls, you can use a wide range of communication devices for making and receiving calls such as tablets, computers, mobile phones, and desk phones, as long as they are capable of connecting to the Internet.
PBX Virtual Phone System
PBX or Private Branch Exchange system is a centralized telephone network system that enables many people to get connected to each other within an organization.
As your business expands from being a startup to a thriving company with staff, you may aim to provide phone connectivity to all your employees. Although there is no doubt that setting up a PBX phone system is no small task, it has impressive capabilities, such as advanced features and benefits that cannot be found in other virtual phone systems. Let's take a look at some of them:
Manage and complete calls using a pre-programmed schedule. You can set out your own rules in the PBX network and operators have the capacity to restrict or limit international calls to avoid high costs.
Transferring of calls between users and different departments is possible in the PBX phone system. You can establish calls easily and maintain the connection without the fear of drop calls. One thing that is quite remarkable in this kind of activity is your ability to transfer calls seamlessly either warm or cold transfer.
Operating a call center is very possible with the PBX phone system. A cloud-based PBX has the ability to handle more calls and distribute them to the appropriate members of the team.
App-Based Virtual Providers
if you browse the Internet, chances are you'll find plenty of service providers in this category. The reason why there is a huge competition with this type of virtual phone system is that many people find them to be very affordable.
But be reminded that these app-based virtual providers only work through your mobile phone alone and cannot be utilized with other mobile devices. Moreover, it cannot really help you in scaling up your business, unlike the other two virtual phone systems mentioned earlier, the VoIP and PBX.
You'll also find that most of the services being offered by app-based lack the important features you may want such as the call menu options, holding queues, and others. One thing that might discourage you from using this type of virtual phone system is the fact that it's difficult to reach someone from these phone apps.
However, not all app-based providers are like that. Some companies are reliable enough to trust and are always dependable such as Freeje. You can check this link to verify its virtual numbers' reliability at Freeje Optimum local number app.
Final Thoughts
A virtual phone system is just within your reach. All you have to do is determine the one that you need most. If you are running a business, regardless of its size, always remember that communication is one of the most important factors that you should consider and never take for granted.
Recommended Reading: