Sometimes, we just can't avoid forgetting our passwords. To make matters worse, the process of resetting your password can be troublesome. Fret not if you forgot your computer password. TunesBro WinGeeker is the easiest Windows password recovery software. Here is one TunesBro WinGeeker review.
Most of the time, you need to install additional apps so you can reset your password. Other software lacks the command inputs and algorithms that should ease the process of resetting your password. That is why people are drawn to the TunesBro WinGeeker software.
In this tutorial, we'll walk you through the step-by-step process of using TunesBro WinGeeker. Say goodbye to the horror of losing all of your data—photos, videos, documents, and files that contain valuable data and, more importantly, memories that came with it.
Recommended: How to Password Protect a Folder on Windows 10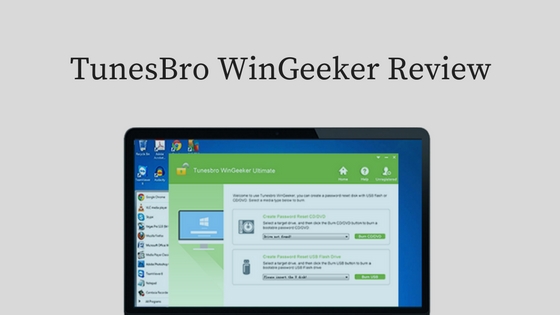 What Is TunesBro WinGeeker?
If you've been searching for ways to reset your login password in the most reliable way, you may have already come across one TunesBro WinGeeker review. TunesBro WinGeeker is one of the best password recovery software on the market that can retrieve lost or forgotten Windows passwords. It is considered as a USP tool because it can recover even the most complex password without having to reinstall the system. Hence, you don't lose any valuable data.
There are two questions people need answers to when it comes to using software like TunesBro for the first time:
First, "Are we secured in using it?" TunesBro WinGeeker is safe since it is virus-free. This software has also been successfully tested by beta users and on various brands, such as Samsung, Dell, and Toshiba, among others.
Second, "Is it easy to use?" With TunesBro WinGeeker, resetting your login password is as easy as making a few clicks on your mouse. If you're a tech novice—and technical jargon always leaves you more confused—this is the best software for you. The program uses powerful algorithms to reset your Windows password and does not require any complicated instructions.
Recommended: This Copy of Windows is not Genuine Fix
How TunesBro WinGeeker Works
The TunesBro WinGeeker app has three core functions. These core functions are the reason this recovery tool is reliable, safe, and effective.
#1. Resetting password
With TunesBro WinGeeker, the user can retrieve complex Windows login passwords that were either misplaced or forgotten. These passwords can be from a Microsoft, user, or administrator account. Supported operating systems include Windows XP, Windows Vista, Windows 10, Windows 8.1, and Windows 8.7.
#2. Burning ISO to DVD/USB
There are two ways to create a bootable reset disk. Most recovery tools would either only provide a USB reset disk or a DVD/CD reset disk. TunesBro WinGeeker can support both methods and is compatible with most brands.
#3. UEFI computer support
TunesBro WinGeeker is also perfectly compatible with UEFI computers. Furthermore, it only requires one key to load a program in UEFI BIOS.
One of the many reasons users prefer the TunesBro WinGeeker software in retrieving their passwords is that it is user-friendly. Resetting or retrieving lost or forgotten passwords is as easy as three steps. TunesBro WinGeeker was intentionally designed to be convenient and efficient password recovery software, with a clean user interface.
Easy Steps for Password Recovery
Step #1: Installing TunesBro WinGeeker Ultimate
Download install TunesBro Windows Password Recovery from the official website and install it on a working computer. After the installation, launch TunesBro WinGeeker Ultimate.
Step #2: Creating Reset Disk
Insert either a USB drive or a CD/DVD to make a password reset disk. Burn the WIM/ISO onto the CD/DVD, or copy it on the USB drive.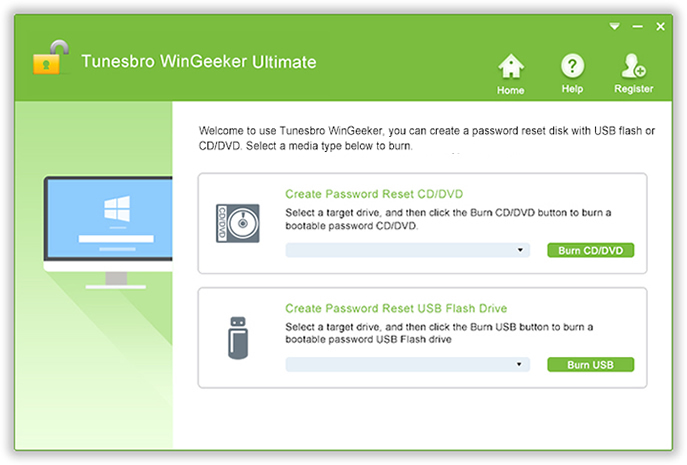 Step #3: Resetting Account Password
Insert the password reset disk or USB drive on the computer where you got locked out of, reboot the computer, and reset the password of the selected user account.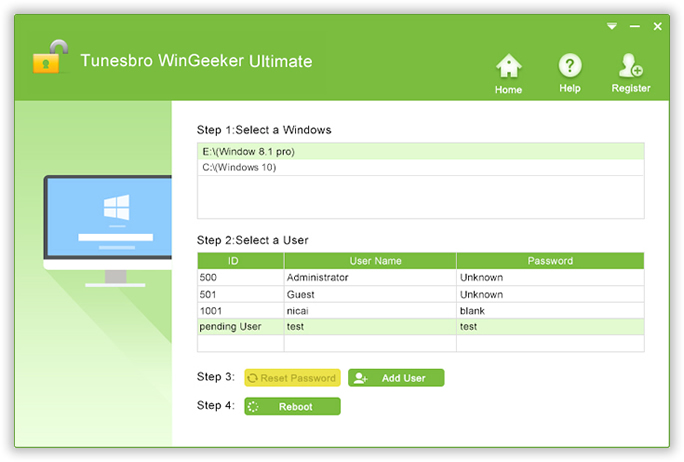 Summary
TunesBro WinGeeker is a program trusted by millions across the globe. It received rave reviews from Top Ten Reviews, Softonic, and Software Informer. As you have already read, TunesBro WinGeeker is very easy to download, install, and use to reset your lost login password. Even newbies can use this program with ease. We hope that this TunesBro WinGeeker review has helped you reset and recover your lost password.
Related Post: