Every Business needs a website to connect with more customers, and for your site, you need best web hosting services. I found that there are numbers of web hosting offer available on "Black Friday Deal OR Cyber Monday Offers." But if you are searching for best web hosting service providers which provide reliable, affordable and efficient services in India for your website then I have done some research and listed Top 10 Web Hosting Services Provider Company in India.
Before we go to the list, I have some tips to select best one for your website. Before buying any web hosting services, you need to check what services they are providing. Here are some features you need to check while buying hosting plans.
Best Web Hosting Features
– 24/7 quick customer support
– Server uptime
– Easy to access
– Bandwidth and Disk Space
– Investment value
– Money Back Guarantee
– Server Location
So, while hiring best and reasonable web hosting service provider in India consider these features.
Top 10 Web Hosting Services Provider Company in India
MilesWeb
– Your Hosting, Our Responsibility!
MilesWeb is leading; reliable and trusted web hosting service provider in India. The company offers latest and advanced products and services which your website need. If you wish to keep your website always up and running, then MilesWeb hosting is trusted name in India. If you have any question about their hosting services, then they are 24/7 time available to answer your questions. Some of the key benefits of choosing MilesWeb is that you will get free private SSL certificate (Secure Sockets Layer), free domain name, free website builder, free SpamExperts with the option to choose the server location from India, UK and US.
MilesWeb provides flexible hosting plans, quality infrastructure with high uptime, premium customer support, and user-friendly control panel.

There are three types of web hosting package with cPanel for your site you can buy.
Economy Plan (1GB SSD Storage & Unlimited Bandwidth) at Rs 109/mo
Value Plan (Unlimited SSD Storage, Unlimited Bandwidth & Host one Domain) at Rs 277.50/mo
Unlimited Plan (Unlimited SSD Storage, Unlimited Bandwidth & Host Unlimited Domains) at Rs 390/mo
cPannel Hosting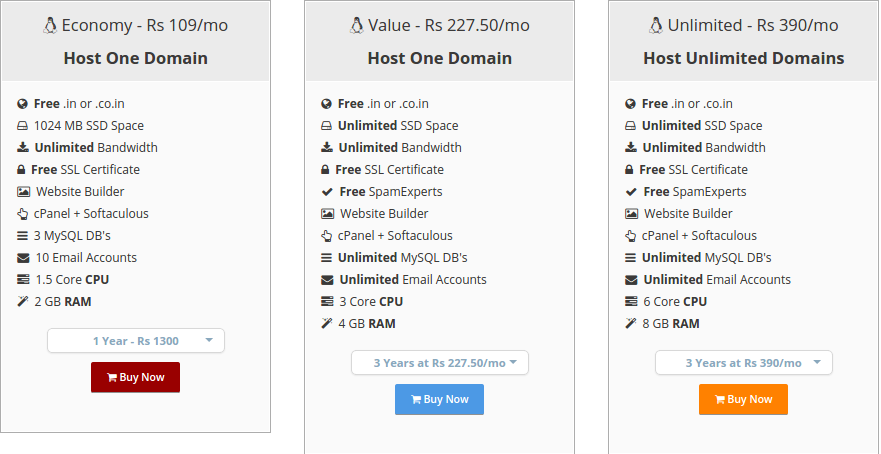 More information about this package visit www.MilesWeb.com
Choose the best web hosting plan according to your requirement.
HostPapa
HostPapa is another good web hosting service provider which is powered by renewable energy. HostPapa offers green web hosting service. HostPapa offers Smart web hosting plan which is for startup business at $3.05/month with 100 GB disk space, 100 email accounts, and 200+ free apps. Other is Business Pro plan comprising of unlimited disk space, bandwidth, websites and email accounts at $12.05/month. HostPapa offers security, marketing, and customer services package for all plans.
Big Rock
Big Rock is another top ten web hosting providers in India because of its outstanding services like website hosting, email hosting solutions, domain name registration, premium domain sales, VPS hosting, DNS management, WHOIS, etc. You can transfer your domains, avail of 24/7 technical assistance and even enjoy domain lookup features. The premium infrastructure and expertise in managing websites have made it one of the most reliable web hosting service providers; it offers e-commerce hosting, Linux hosting, Windows hosting, WordPress hosting, reseller hosting and Joomla hosting.
Hosting Raja
According to my experiences on Hosting Raja, this is one of the best web hosting company in India, and I recommend, you also should prefer this hosting service. Hosting Raja has created a brand name by its outstanding web hosting services and for it service in the hosting industry which can be testified with their two prestigious web hosting awards they won for their quality of service like "Best Reseller Hosting 2010" and "Top Pick Web Hosts 2012".
SSD India
If you are the small business owner or you are in starts up then, SSD India is best web hosting service provider for you. They provide well-managed web hosting services for small kind of business. SSD India offers Domain Registration, Shared Web Hosting which is start from Rs. 49/month, Reseller Hosting which is stat from Rs. 599/month, and Bulk SMS services which are start from Rs. 10 Paisa/SMS.
Arvixe
Arvixe is also coming in my top ten web hosting providers in India. They offer unparalleled reliability, affordability, and quality of service. Arvixe web hosting awarded for its exceptional contributions to the world of web hosting. You can quickly register your domains through Arvixe web host and can get advantages of their Windows hosting, Linux hosting, VPS hosting and well managed dedicated hosting plans.
Hostgator
Hostgator is one of the best web hosting service providers in India. They have four different plans for different requirements. Web hosting for your business presence which starts forms Rs. 222/month, Reseller hosting to make extra money from your own web hosting business which is start from Rs. 1,125/month, VPS Hosting for dedicated functionality start from Rs. 900/month and windows we were hosting which are start from Rs. 295/ Month.
HostItSmart
HostItSmart is one of the perfect web hosting services with its excellent hosting service. In its portfolio, HostItSmart offers domain registration, Shared Web Hosting, Fully Managed Dedicated Servers, Reseller Hosting, and Fully Managed VPS hosting. HostItSmart offers Free Domain Name registration when you purchase Advanced and Business hosting plans. They offer hosting plans like Economy, Deluxe, Advanced, and Business. With its smart team, technology, support and excellent customer service, HostItSmart fits in our top 10 web hosting service provider in India.
Godaddy
Godaddy is one of the reliables and trusted web hosting service providers in India. They have the largest number of domain name registrations in the world. Godaddy provides hosting services like unlimited space, mailbox, transfer, unlimited domain, 99% uptime and one free domain at Rs 99.00/mo. Other unbelievable services offered by the company include shared hosting, WordPress hosting, dedicated hosting and VPS services.
Hostoople
"Hostoople" web hosting company which now become "FastWebHost" with a firm belief in high performance. This web hosting company provide all the important features and tools which are required for starting your website online. On BLACK FRIDAY SALE they offer a good deal on Web Hosting, WordPress Hosting, Reseller Hosting and VPS Hosting. Hostoople offers different plans like web hosting at Rs. 61/month, WordPress web hosting at Rs. 409/month and VPS hosting at Rs. 103/month. So, choose your plan as per your business requirement.
So, here is top 10 best and reasonable web hosting service provider in India according to me. Choose best web hosting service for your business and give wings to your business.
You may like to read: