The person who working in SEO field and SEO expert knows the power of Social bookmarking. Social bookmarking on the most commonly used Offpage SEO technique. SEO person who working on the various project uses Social Bookmarking. Let's check out some tips and tricks for using social bookmarking for SEO.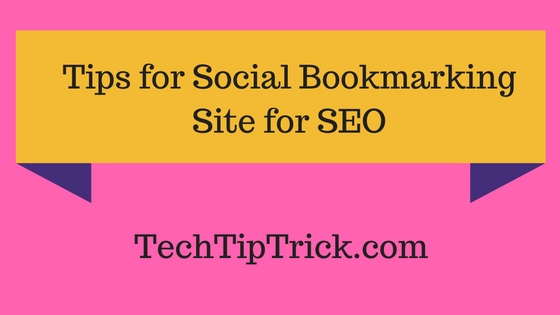 Do you know what is social bookmarking and how it works? Social Bookmarking is like to save you love to read in future or want to share with your followers and friends. And this is called social bookmarking. People use the best bookmarking site for saving the page they like on the internet to read them again in the future.
You just need to add URL you like to save, add the title of that page and some description about that so that if your follower wants to see that page, they can easily understand what the page is about.
We all preferred to bookmark the in the browser because sometimes we lost that page because of clearing the history of that browser and other reason.
Social bookmarking is very secure on the internet because we can save our pages on the various secure website like Diggo, Delicious. Folk and more.
Read about : Google Algorithm "Possum" Update
How to Use Social Bookmarking in SEO?
Well, there are many off page activities on the internet like directory submission, magazine sharing, social sharing but in SEO social bookmarking works better than other activities.
Some Important point about Social Bookmarking in SEO
– Search engine love to share most updated news on the internet and social bookmarking sites play the best roll for the search engine for fetching newly updated news over the internet.
– There is some social bookmarking website which provides do follow backlink that means when that social bookmarking site crawls by the searching it also crawl the target URL and your page gets to benefit in ranking.
– If you have enough followers or friends on the social bookmarking website, you will get shares and visits on your bookmarks and you get direct traffic on your web page.
– Having a good quality backlink for the web page can give the good position on SERP and social bookmarking sites for good quality backlink.
Tips and Tricks for Using Social Bookmarking
1. Find Dofollow Websites:
In this post, we are talking about using social bookmarking sites for SEO benefits and that's why I recommend finding a dofollow website for bookmarking activities. (I will share a list of bookmarking website which I used for SEO. Keep following)
There are many DoFollow websites available on the internet like directory submission, but you can use social bookmarking website and Tumblr is one of the best websites to get stable and relevant dofollow backlink.
2. Make sure to complete your profile on Social Bookmarking sites:
I found one common mistake in every SEO person is that they just sign up the website and start sharing a web page without completing the profile. You need to complete your social bookmarking websites to get a stable position. Because sometimes it happens that social bookmarking site owner removes your user just because you haven't completed your profile and you lost all your saved web pages.
So, make sure that whenever your sign up high authority social bookmarking sites, first complete your profile with all require detail. If you have other detail which is an option then fill-up too.
Read more: Tips for Set Instagram Bio in Middle
This question recently asked by one of my friends that how many pages I can submit on the social bookmarking website? The answer is, there is no limitation to submit web page on the social bookmarking website because the social bookmarking website is not invented for SEO.
But to get I suggest to submit 10 to 20 page in a week on social bookmarking site.
4. Different Description for Every Social Bookmarking Website
I talk with many SEO experts and asked this question that Can I use the same description for all my social bookmarking submission? They say if you want a good result for your web page to try to submit it with a different description.
Search engine crawls every social bookmarking website and if they found your website with the same description, they did not give importance to your page. So, try to submit with the unique description with your targeted keywords.
5. Use Different Title for Every Social Bookmarking Website
As we discuss above point for description, unique title for every social bookmarking website. You can use prefix and suffix with your main keyword to make your title unique for every submission.
Here is some example for understanding.
If you have page about "Social Bookmarking sites" and you want to bookmark this page in 5 different social bookmarking websites then use can make title like this,
– Best Social Bookmarking Sites
– Dofollow Social Bookmarking Sites
– High PR Social Bookmarking Sites
– Top Social Bookmarking Site List
– List of Social Bookmarking Sites
You can see that how I use "Social Bookmarking Sites" title in different 5 ways for submission with targeted keyword.
6. Find Stable and Relevant Social Bookmarking Sites:
Social bookmarking is most common SEO activity and if you search on the internet you find list social bookmarking sites list. This website mainly designs for SEO purpose to boost the ranking for a website but now but now SEO factor is changed.
Submitting in this kind of website is harmful to your web page. Search engine Ignore this kind for websites. So, try to use stable and relevant high PR website of social bookmarking.
First, you need to create a list of social bookmarking website and start sharing a web page on relevant websites. If you don't have enough links to share on this relevant and stable website then you can use other social bookmarking website for SEO benefits. You can search some good high PR follow websites for social bookmarking.
7. Create Community on Social Bookmarking Websites.
Only submitting links on the social bookmarking website is not worth, you need to create your community to read your bookmarks. Try to find the community which is relevant to you and where more member. Follow other members on same community, like and share their bookmarks and make a strong reputation.
Many social bookmarking sites have discussion part you can ask your question regarding your submission, in this way you get importance on that websites.
8. Choose Right Category for your Social Bookmark.
When you submit your link on the social bookmarking website make sure to choose a most relevant category for your submission.
Many users do is, they submit their links in general category or easily available category like news, technology. Keep in mind that submitting your links in this kind of common category is big to lose to keep in front of your reader.
So, take your own time and search most relevant category for your links. This not only helps in the search engine but also helps your community members to find your submissions.
9. Keywords and Tags are Important
When you submit your web page on social marking website, don't ignore the importance of keywords of the web page. This keyword will appear your links when your user searches keywords.
For better search, use variation in keyword while social bookmarking. You can use high and low competitive keywords for social bookmarking submission. You just need to involve your main keyword in-between the other keywords.
10. Don't Use Tools for Social Bookmarking submission
Many SEO companies use various online tools for automating social bookmarking for their submission. This is not good practice for you. Try to do social bookmarking submission manually, so this will look natural and acceptable by search engines.
Hope this tips of using social bookmarking for SEO benefits will help you in better ranking. And keep in touch for the social bookmarking list which I use, we are going to share in our next post.