The rising energy prices are a major concern for households all across the country. People are spending twice as much on their electricity bills as they used to a few years ago. This has led to an increase in demand for energy-efficient appliances. As ceiling fans run almost entire day long, especially during the summer season, they too form a major part of our energy bills and so it is important to invest in an energy-efficient ceiling fan.
But considering the fact that the market is swamped with energy-efficient ceiling fans of different brands, it becomes imperative to pay attention to a few important things when looking for a ceiling fan that's truly energy-efficient. To help, in this post, we list how one needs to go about looking for an energy-efficient fan.
Let's get started.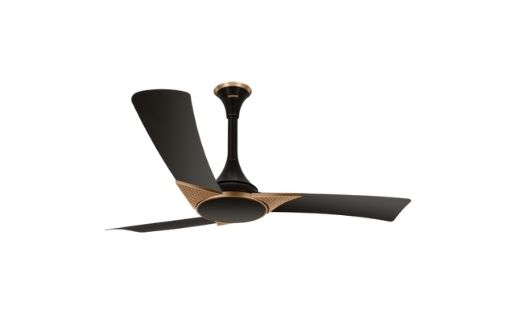 1. Make sure the fan is BEE-Rated.
In 2006, the government of India started a program called the BEE Star Label to promote energy efficiency. The program covers a wide range of energy appliances wherein it rates these appliances on the basis of their energy efficiency. Ceiling fans, too, are covered under the BEE Star Label program and so you should check the BEE Rating of a fan before you buy one. The rating lies between 1 Star to 5 Star wherein 1 being the lowest and 5 being the highest.
2. Pay attention to the technology.
The technology used in manufacturing any fan has a major impact on its power consumption. Go for a fan that is manufactured using the latest and most reliable technology. The BLDC (Brushless Direct Current Motor) technology, for instance, is one of the best technologies used in manufacturing ceiling fans. Unlike conventional motors that use electromagnets, BLDC motors use permanent magnets which not only reduces the power consumed by a fan but also leads to a reduction in the heat dissipated.
3. Compare fans based on their power consumption.
Once you have zeroed down on a few fans that are BEE Rated and are manufactured using one of the best technologies, it is time to compare the fans on the basis of their power consumed. The power consumption of a fan is measured in Watts and you can check the power consumption of a fan in its specifications section. On comparing different fans, you will find that there are fans like the New York Chelsea from reputable brands like Luminous India with power consumption as low as 35 Watts of power.
4. Keep the brand factor in mind.
Brand is an important factor to consider when looking for an energy-efficient ceiling fan. That's because several other important factors such as design and style options, warranty, and after-sales support depend on the brand that we select. We suggest that before you choose a particular brand, read online reviews to find out what the existing customers have to say about the brand.
What we recommend
If you are looking for a reputable brand and would like us to recommend one to you, we would suggest you go with Luminous India. It is one of the most trusted brands in the home electricals space and its huge customer base of 70 million-plus customers is a reflection of its trustworthiness and reliability. The best part about the brand is that it offers superior-quality products with generous warranties that too at very reasonable prices. So if you want to buy one of the best energy-efficient fans in India, you must check out their website, today!