Guide to Choose Perfect Power Stage Monitors
The importance of power stage monitors cannot be exaggerated. When choosing one, it is good to have a reliable monitor system for you and your band-members to be able to coordinate properly. Otherwise, you will not be able to perform properly. It will not matter whether you are the lead singer or the drummer, when you cannot hear yourself clearly or other members, you will not offer a nice performance. So what do you need to look for when choosing a power stage monitor, and which one is the best for your needs?
Also Check: Best Gaming Headsets 2017
When searching for stage monitors, you will come across different types and models. Some will vary in size, specifications, and structures. But the good news is that such systems have different specifications that will guide you to choose the right Power Stage Monitors for your great performances.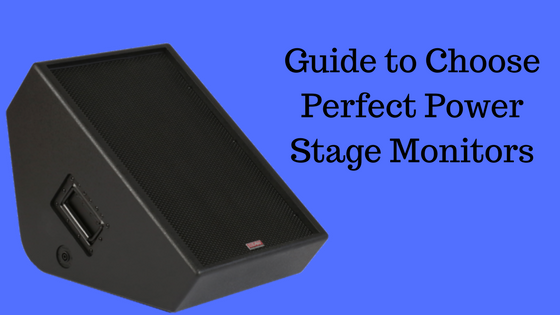 1. Power handling
How much a monitor can handle power is a significant way of rating the speakers capacity. It is vital to note that they are rated in RMS watts and not in peak watts. It is also important to note that watts will not measure how loud a monitor can be. A system rated 200-watts is not twice loud a 100-watts one. Even though watts do give a simple idea of how load a monitor can go, better choose a 100-watts model a clear sound, or with an inbuilt amp.
2. Sound Pressure Level, Sensitivity, Power ratings
One sign that can tell a speaker is efficient to convert amplifier power into sound is its sensitivity ratings. However, different ways are used to rate sensitivity. Some manufacturers prefer to use sound pressure level ratings.
3. Frequency response range
Another important factor to consider when choosing a stage monitor is the frequency response range. You will need a product that will be able to cover your range. In many models, you will notice a single speaker is handling the entire range, while in others, you will find several speakers developed for different frequency ranges.
4. Speaker cables
It would be so embarrassing to get a new speaker only to learn later that you do not have the required cables. Even though you can get good ones at a good price, going for the cheapest option may be a bad idea, because you need quality speaker cables. You can easily find affordable, quality cables online. However, do not use the price as a determining factor.
5. Stands for both monitor and speaker
If you are planning to mount your monitor and speakers, you need to consider stands as well. You do not want to start thinking about the stands long after purchasing the new product.
6. Stage accessories
When choosing stage monitors, it is also important to consider other accessories. Be it earplugs for protecting your ears or tapes to keep your cables well, it is important not to miss on all the accessories.
Bottom line
Choose the best power stage monitors you can afford and learn how to use them well. It may not be easy to get the biggest, the greatest or the latest, but if you consider the above tips, you are good to go.