The concept behind Sleepets Pet Tracker was heavily influenced by the Apple AirTag, serving as its primary inspiration. The standout feature is its seamless integration with Apple's FindMy technology, eliminating the need for an additional app to locate your beloved cat or dog. This design ensures that your pet's comfort isn't compromised, avoids the hassle of removing the tracker, offers moisture resistance, and durability against impacts, and extends the operational lifespan. Moreover, the Sleepets tag encompasses comprehensive details crucial for finding a lost animal, including contact information, vaccination history, allergies, and trusted contacts.
Upon the introduction of Apple's AirTag, the emergence of an animal tracking solution was inevitable. While we already offer collars with dedicated spaces for labels and special covers on our platform, the AirTag's price point posed a challenge. Additionally, customization options were limited, preventing the inclusion of the comprehensive information needed by the person who finds your pet. There was also the concern of potential theft due to the AirTag's design.
Sleepets Pet Tracker stands out by encompassing all the necessary features while being tailored for efficient animal retrieval.
Design and Features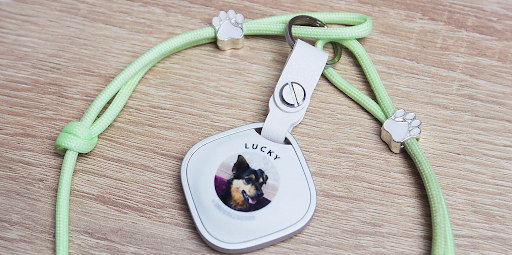 Constructed from durable plastic with reinforced aluminum edges, Sleepets Pet Tracker remains resilient even if subjected to biting by your pet. Both the tag's external structure and internal components, including the speaker for tracking, are designed to withstand these challenges.
The device boasts water resistance, allowing your pet to partake in baths or outdoor activities without the need to remove the tag. Although submersion beyond 30 meters is not recommended for extended periods due to potential speaker issues, the tag can be dried and used again after such an occurrence.
The package includes a battery and a practical clip for effortless battery installation. This clip is essential as opening the tracker cover and accessing the battery is otherwise intricate. Resetting the tracker requires unbinding it from your Apple ID, and turning it off is only possible by removing the battery. The kit also features an eco-friendly leather strap to attach the tracker to any collar.
It's important to note that Sleepets suggests wearing the tracker as an identification tag on a separate collar that your pet wears consistently. Since the tracker's battery doesn't require recharging, it can remain on your pet at all times. The device is radiation-free and doesn't impact your pet's health. This precaution safeguards against scenarios where your pet might unexpectedly run out of the house or escape through a window.
Customization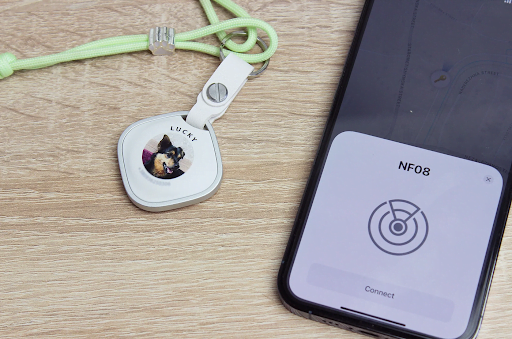 One of the most intriguing aspects is the customization feature. Beyond adding your contact details and your pet name, you can incorporate images, such as pictures of your pet or of you and your pet together. This serves as evidence of ownership in case the tracker is misplaced, reducing the likelihood of someone claiming it as their own.
Furthermore, each tracker includes a unique QR code. Initial scanning grants access to edit the pet "passport," allowing inclusion of:
Pet name and aliases, gender
Your contact information
Allergies, behavioral traits
Your address, phone number, email
Pet photo
Breed, birthdate
Vaccination details
Medical history
This information becomes accessible upon subsequent rescanning, without any need for additional software or subscriptions, ensuring a burden-free experience on your smartphone.
Connection and Configuration
Sleepets Pet Tracker functions akin to the Apple AirTag, offering similar capabilities while omitting the U1 chip, which is superfluous for pet tracking purposes.
To establish connectivity, insert the battery and:
Launch Locator on your iPhone
Navigate to the "Items" section
Add a new item labeled "Non-Apple AirTag"
Await tracker recognition
Establish connection and configure settings
Sleepets Tag Functionality and Range
Tied to the FindMy network, the tracker's range is contingent upon the presence of Apple devices nearby. This limitation is advantageous in urban environments with a plethora of iPhones. However, in less populated or remote areas like forests or mountains, the tracker might encounter challenges. Nonetheless, it records the last point of contact with any Apple device for reference.
Equipped with a speaker, the tracker aids in locating the tag if your pet removes or loses it. Activation of loss mode enables sharing of search information with a nearby friend who can assist in the search.
Battery Life and Replacement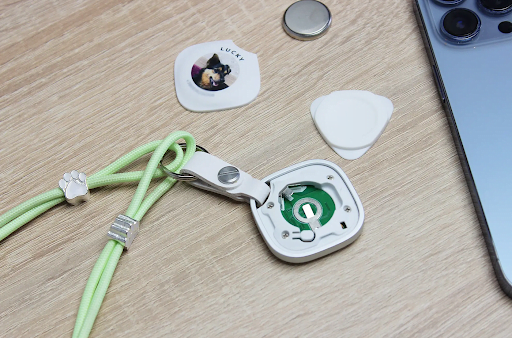 The tag can operate for approximately a year on a single battery. Usage frequency, particularly voice-activated searches, affects battery life. The Locator app monitors battery level, signaling replacement when it drops below 10%. Conveniently, replacement batteries are readily available, costing around $1 each and easily found in stores like Walmart. This accessibility extends even to international locations, enhancing your ability to track your pet using Apple Maps and plan routes promptly.
In Conclusion
Sleepets Pet Tracker stands out not for its groundbreaking innovation but for its user-centric approach tailored to those with cats or dogs. While lacking GPS, it mirrors the simplicity of an AirTag-like tracker. Sleepets prioritizes minimizing pet loss and facilitating swift retrieval in case of such an occurrence. The comprehensive features, user-friendly design, lightweight and compact build, along with extensive photo personalization and QR code integration, combine to create a dependable tracking solution.
To acquire the tracker, visit the official Sleepets website.