Office Chair VS Gaming Chair
Sitting in a chair for 8+ hours a day, or sometimes even 12 hours a day, is becoming more and more common. However, the reason for this duration can vary. Maybe you're yet another aspiring MLG gamer, or a disabled veteran who passes the time by playing video games, a college student with a lot of free time, or a professional programmer who knows his code.
Whatever the reason, we all need a good chair if we spend a lot of time on the computer. This means $100 chairs and the like won't cut it since they have poor cushion, and they usually end up breaking after a year or so with heavy use. We all know the feeling of "cracked leather" on armrests after all.
So you might be wondering–which is better, a gaming chair or an office chair for a 8 hour work day or gaming session? For the most part, it doesn't really matter too much which activity you plan to spend your time on. There has to be a better option at the end of the day–or does there? Also check some awesome gaming headset for your game-play.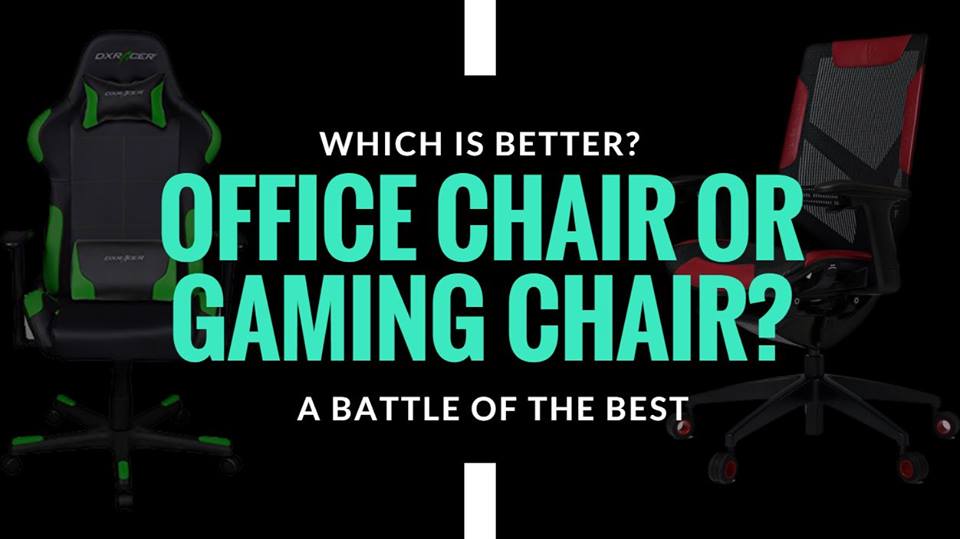 Most people like to make this comparison with a cut and dry, 1 dimensional approach. However, I think that when deciding to get a gaming chair or office chair there are a lot of influential factors to consider. One is simply just not better than the other, even if that would make things more simple.
If you want to see some of the best gaming chairs in any price range, check out this huge guide on the best gaming chairs. Or if you want an awesome office chair, check out this in-depth guide on the best office chairs.
Price – Who Wins?
In the battle for victory, one must consider price. At the end of the day it doesn't matter how good a chair is if you can't afford it. However, keep in mind that cheaper chairs also usually have less padding, durability, and comfort. We won't really be looking at "cheap office chairs or cheap gaming chairs" since these chairs aren't suitable for our long work and gaming days.
If we take a look at the "typical" gaming chair, like a DXRacer chair for example, we can see a price range of $300-600. Anything less is just a gaming chair "clone" without much features that one might associate with a gaming chair. This is also assuming you're a PC gamer as well, since console gaming chairs go more from $140-250–like X Rocker chairs.
If we take a look at the "typical" office chair that one would want for a 8 hour work day, we can see a price range from $600-1200. These office chairs come from a variety of companies. The best office chairs we can find are chairs like the Steelcase Leap, Herman Miller Embody, and the Ergohuman chair.
In terms of price, gaming chairs like DXRacers–while expensive, win here.
Comfort – Who Wins?
Remember how I said price usually equals comfort? The higher the price, the higher the comfort right? Well, it's mostly true.
When you pay top dollar for an ergonomic chair like the Steelcase Leap, you are getting a ton of extra features that you wouldn't get in a gaming chair. For example, the Leap has adjustable arms with great padding whereas gaming chair armrests usually are just plastic and uncomfortable.
Additionally, the Leap has mechanisms that let you tilt back whenever you want, whereas the DXRacer requires a lever to lock your position. Another thing to consider is that with a gaming chair, it's not "one size fits all", so it requires you to buy the exact size of chair, whereas some chairs like the Leap or Ergohuman chair are so adjustable they can fit any body type and profile which means them extremely comfortable.
With more expensive ergonomic office chairs, you are also paying for research and design. Gaming chairs use things like pillows for lumbar support, whereas high end office chairs have built in support that can be adjusted and feel much more supportive.
One last thing to note is that gaming chairs can be comfortable they just aren't as adjustable or flexible which means throughout the day, you might find that the chair restricts your movement. However, gaming chairs like the DXRacer can be great to just relax in and watch movies, I just wouldn't say they are as comfortable.
Ergonomic office chairs win for comfort.
Durability / Longevity – Who Wins?
So while gaming chairs are mainly cheaper, and office chairs are more comfortable, which are more durable? Well, in short, I would say office chairs. Office chairs like the Herman Miller Embody, and Steelcase Leap, come with 10 year warranties. I've seen Steelcase Leaps last for 15+ years which good comfort.
However, that doesn't mean that gaming chairs can't be durable either. DXRacers are built to last, and their high quality foam, strong leather materials, and steel base are super heavy and very strong. The only bad thing is that sometimes peripheral parts like arm rests can get stuck or hard to adjust, or sewing linings can wear down quicker than the foundation or padding.
Who wins It All?
If you are on a budget, gaming chairs like DXRacer are very affordable and sturdy for the price. However, if you want the most comfortable option, ergonomic office chairs are also reliable for years and years but a bit pricey.
Some other products to buy