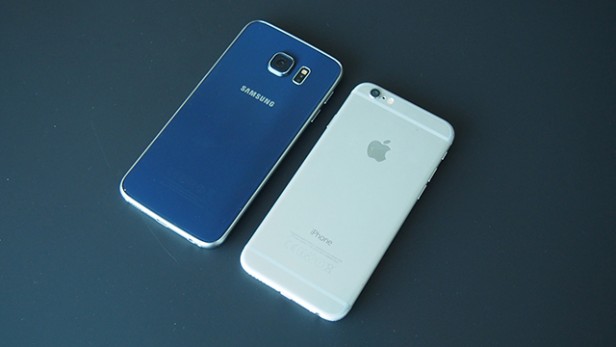 iPhone 6 vs Samsung Galaxy S6: Which is a best Smartphone to Buy?
Samsung Galaxy S6 and iPhone 6, both are beyond comparison in today's competition in the smartphone industry. It's now been some time since they were launched, so we have clarity to an extent about their distinctive features and which one we should opt for.
Now, let's compare them both according to their unique features:
1. iPhone 6 vs Samsung Galaxy S6 : Design
Both these phones are superbly designed and undeniably attractive. Apple's iPhone 6s has a metal unibody and the physical appearance is identical to its previous devices.
Whereas, Samsung Galaxy S6 is a mixture of aluminium and glass body which grabs the convincing attention from the buyers. It's every individual's personal choice to pick up the design that attracts them the most, but, without any doubt, both the devices are extremely good.
2. iPhone 6 vs Samsung Galaxy S6 : Display
The most important part of any tablet or smartphone is the associated display in the device. Apple's iPhone 6s has a 4.7-inch Retina HD display, with a resolution of 1334 x 740 pixel and which serves upto 326 PPI. They even have a 3D touch technology and a pressure sensitive display.
On the other hand, Samsung Galaxy S6 has a much larger 5.1-inch Quad HD display with an amazing resolution of 2560 x 1440 pixel at 577 PPI.
3. iPhone 6 vs Samsung Galaxy S6 : Camera
Many people purchase phone which has an amazing camera quality, and luckily, both these devices succeed in taking stunning shots with excellent picture quality. Samsung Galaxy S6 has a 16-megapixel rear camera with 5-megapixel front camera, also a single LED flash and a superb optical image stabilization. With these camera features, users of this smartphone can capture memories for lifetime.
And, iPhone 6s comes with 12 megapixel camera with option available for Live Photos, phase detection and a dual LED 'True Tone' flash. It's features are also enhanced in shooting any video in 4K.
Also read: Best Running Apps for iPhone
4. iPhone 6 vs Samsung Galaxy S6 : Battery
Excellent battery life is what is demanded by everybody these days. iPhone 6s gives us a 14 hours of talk time, full 10 hours of 3G usage, usage of WiFi near to about 11 hours and an unbelievable 10 days of standby.
On the other hand, Samsung Galaxy S6 have not stated any official battery life, and because of Quad HD screen and TouchWiz software, it gives a poor battery life when compared to Apple's iPhone 6S.
5. iPhone 6 vs Samsung Galaxy S6 : Price Point
Price of any mobile is the most dominating factor in picking up a device for yourself. This is where an individual diverts from the best phone to an average one. Apple's iPhone 6s price range starts from somewhat 40k for 16GB which increases with the rise in GB. The price also differs as per the colour of the phone, whereas, Samsung's Galaxy S6 can be owned at a slight cheaper rate.
6. iPhone 6 vs Samsung Galaxy S6 : RAM and Processor
The processor and the RAM are most talked about before purchasing a phone. Samsung's Galaxy S6 has a 3GB RAM and comes with octa-core processor embracing with a quad-core 1.5GHz Cortex-A53 and even a quad-core 2.1GHz Cortex-A57. There's also 3GB of RAM alongside that beast.
Whereas, Apple's iPhone 6s has a 2GB RAM, and owns a Apple A9 64-bit processor, with an excellent M9 motion coprocessor built in.
7. iPhone 6 vs Samsung Galaxy S6 : Software:
The iPhone 6s come with iOS 9 pre-installed and Samsung Galaxy S6 is installed with latest version of Android Lollipop. Here, it all depends on a person's personal preference because the features and functionality of both are highly well documented.
Now, make your own choice to choose the phone you want to own because both the handsets look attractive and elegant. My personal choice is Samsung Galaxy S6, because I find it easy to use and there are no complicated functions to be confused about. Both are featured with biometric fingerprint detection and are tried and tested. The reviews of both the devices are superb, so feel safe to purchase whatever you prefer to.
You may also like this