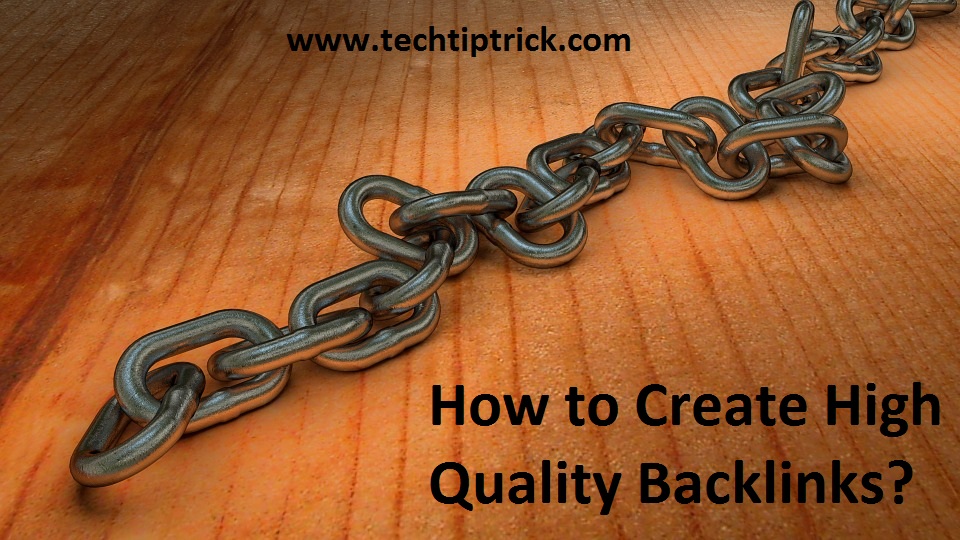 High Quality Backlinks for Blog and Website
In this post I am going to share with you, "How to Build High Quality Dofollow Backlinks" for your blog and website. Are you working as SEO then this article for to generate quality backlinks. So, if you are working with your client website or on your blog and want to improve your website authority or want improve website traffic or if you want to rank your keyword then you need to know how to create high quality backlinks.
There are many people who working in internet marketing knows what backlinks is but some are don't know what high quality backlinks is. I am working in SEO since last 4 years and today I am going to share my experience about backlinks.
What is High Quality Backlinks?
Backlinks means when you link your website to another website it calls backlinks. But when link your website in related website to you its call quality backlink. If you use your website link to another keyword related page it's also considering as quality backlink.
Check site popularity to Build High Quality Backlink
There are many online free tools from where you can check website page authority and domain authority. Also you can install add-on to your browser like SEO Quake, when you search keyword you can see popularity of page below the search result.
Can Backlink Increase Site Ranking?
Yes, quality backlink can increase your site ranking. But beware of bad links it can cause google penalty and you lose your website ranking. So, don't focus on creating so many backlinks in initial stage. Content is king, so focus on content first and then create some high quality backlinks for your blog or website and you get higher rank on google search.
Tips for Getting High Quality Backlinks
Blog commenting on similar Site/Blog
Blog commenting is best off page technique to generate high quality backlinks for site. You can get huge traffic by doing blog commenting. To make blog commenting and create quality backlink you need to find your keyword related sites. Here are some search terms, just open google and fire below query.
Your Keyword inurl: .com
"Your Keyword" site:.gov inurl:blog "post a comment"
"Your Keyword" site:.edu inurl:blog "post a comment"
"Your Keyword" "add to this list" site:site name
"Your Keyword" "This blog uses premium CommentLuv"
"Your Keyword" "Notify me of follow-up comments?"
Guest Posting on other blog site
Guest posting is one of the most powerful technique in SEO to create high quality backlink. If you want to guest post then first you need to find your keyword related blogs. Doing guest post on huge traffic website can give you high quality backlink and direct traffic.
You can search website for guest post with below search terms;
"submission guidelines"
"guest post guidelines"
"accepting guest posts"
"contribute an article"
"submit content"
"guest post"
"want to write"
"add a post"
"become a contributor"
"guest post by"
"submit your post"
Directory Submission
Directory submission is yet not dead. You just need to find right category for your website and do submit with unique description along with your keyword. Directory submission can improve your domain authority and page authority, also increase search engine visibility of website.
I already shared list of dofollow directory submission list to generate high quality backlinks. Make sure to do it manually otherwise you will not get benefits of directory submission.
Note: Directory Submission is not recommened by us now. If you are business then you can submit your website in business directory.
Social Bookmarking
Social bookmarking is another best way to generate high quality backlink. You can submit your website link or post link in high authority website. Many SEO people just create user and start sharing links for them I shared a post about how to do social bookmarking in my previous post. You can checke this social bookmarking list.
.Gov and .Edu backlinks
.gov and .edu website is highly authorized website and you can generate high authorized backlinks from .gov and .edu website.
Forum Posting
Forum posting fastest way to generate backlinks. Find your keyword related forum to increase your website visibility and website traffic. Use your links in signature so that whenever you comment on other forum topic it will display below in your answer and other user directly drop on your website.
Image Submission
When you publish your blog post, submit blog image in high authority image submission website like flicker. The benefits of sharing image is when people search keyword related to you in Google image, they get your image and they directly visit to your blog.
Web 2.0 Creation
Web 2.0 submission is best off page seo technique to get high quality authority backlink. Submit your content on web 2.0 site like wordpress, blogger, tumblr etc.
Profile Creation
Profile creation is good link building strategies for new website. You just need to find high authority website like Microsoft, Amazon where you can create your profile and put your website. These type of link will be nofollow or dofollow.
Hope you like this high quality backlink tricks. Share this on social media.