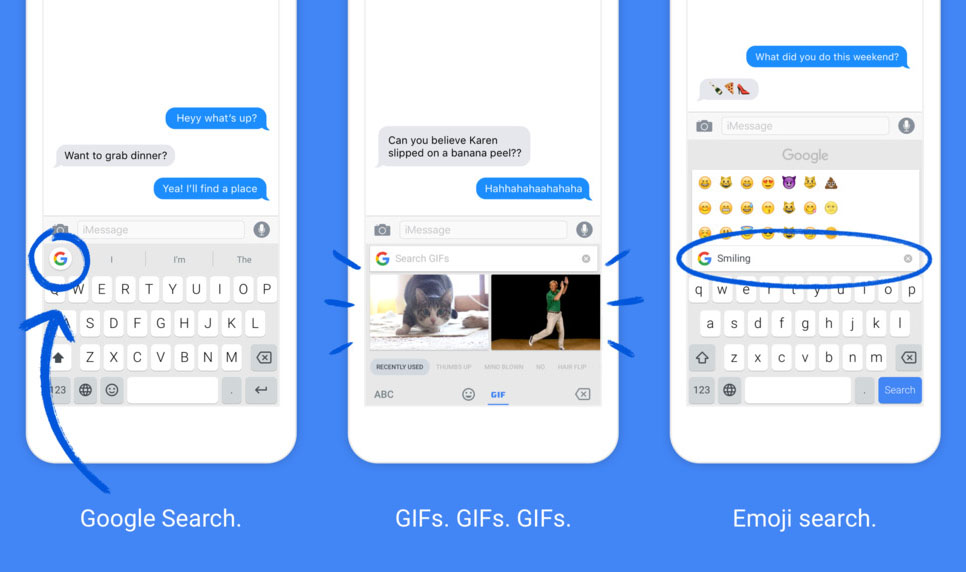 Google already launched GBoard application for iOS device before six months (We are going to share trick below). Now Google launches GBoard application for Android device. You can download GBoard App from the below links, as Google yet not officially launched in play store.
What is Google GBoard?
GBoard is an updated version of Google Keyboard which most of the people are using today. But Google GBoard comes with lots of ultimate features for Android device. GBoard is not a new app in Google Play Store but it just updated version of present Google Keyboard which people are using on their device. Do you wish to enjoy Google GBoard before it officially launched? Go to the link below and download it today.
When you install this app, it replaces all Google Keyboard with latest GBoard App. After downloading this app, when you open your mobile keyboard you will notice Google button on the top left corner. This Google button provides you access power to use Google Search. So, now user can access Google from any app.
The main biggest change in updated Google GBoard is, you can search emojis from the Google keyboard. I like this feature most because I can reply faster with emojis. Another useful feature in this latest update is you can add number row at the top of the keyboard so that you can type number faster. Google GBoard allows you to search GIF and can send any supported platform like Whatsapp, Facebook, Twitter, Google Plus.
Google GBoard lets you search and send anything from Google. With GBoard, you can search nearby videos and images, stores and restaurants, news and article, weather forecasts, sports score and more.
This update is rolling slowly across the world. If you can't stop yourself to enjoy the latest updated version of Google keyboard then you can download this from APK Mirror.

How to Install Google's Gboard Keyboard App on iPhone and iPad?
First, you need to go to app store and download GBoard. It's totally free.
When finishing the download process, you need to launch the setting app on your iOS device.
Now tap on General option and scroll down and click on the keyboard.
Now click on the keyboard again and click on Add New Keyboard from the bottom.
You can see GBoard under third party keyboards, click on it and it will be added to the keyboard list.
Once you added GBoard, click on GBoard again
Click on Allow Full Access button. When you make it green its pops up. You need to click on allow button.
That's it.
Now you can enjoy Google GBoard on your iOS device.
Hope you find some useful information here. Give your love to us by sharing on social media.
You may also like to read:
Google Algorithm "Possum" Update : Everything You Need to Know