We all know the fact that appearance does matter. It is said that appearance is nothing when you have a golden heart but actually it's not true. In reality, we all know that the first thing that catches our eye is the one which is attractive and appealing.
Also Read: 7 Best Blog Editing Tips To Attract Readers
The famous saying "first impression is the last impression" is the true conveyer of this appearance thing. No one ever turn to a person or thing that is not clean or attractive. Most of the people claim that we notice a person's appearance more than their personality and attire.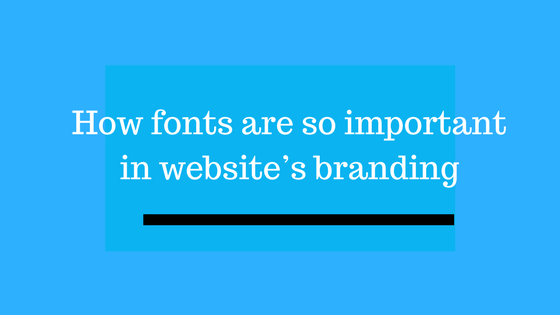 This is a long debate but it is clear that appearance does matter if you want to create a persona, progress and get noticed.
Likewise, if you are developing a business or a website it must catch the eyes of the user. There is no doubt in it that user wants his or her work done so why the front end appearance should be nice or presentable. So the answer lies in above discussion in the article. We human beings are naturally attracted towards beauty, colors and life. That leads us to a clause that if you are developing a website then it must be presentable.
For example, if you add some fancy letters in your website then it will catch the attention of the customer. Such attractions make your website memorable.
If we keenly observe then we come to know that many fonts become the part of certain brands and many brands or people created new fonts just to make their product more attractive and memorable.
When there is a department of quality assurance of the product, there is a department of and designing as well. That creates new logos, designs and such websites that helps to advertise the product.
Just like people love to make tattoos, that is why they want to have a variety of different tattoo fonts so they can carve it on their bodies. So they visit such websites that have already attracted them in many ways and one of the key attractions is front-end or appearance that involves creative fonts and designing.
Have a look at world best websites they all really work hard on the front end of the website. Innovative fonts make a positive and healthy impression of brand, company, product and team.
It will click in user's mind that if they are innovative and creative towards the website then they are producing truly innovative and inspiring products as well.
Such fancy and attractive fonts, contents, images and product will make a heavy promotional campaign that will help you grow and make your place in the market in a smooth way.
The brand shows its passion through fonts used on the website. How much they are passionate to make a place in the market and maintain their persona as well.
In branding of any website, fonts are truly important to create an impression and make it memorable.