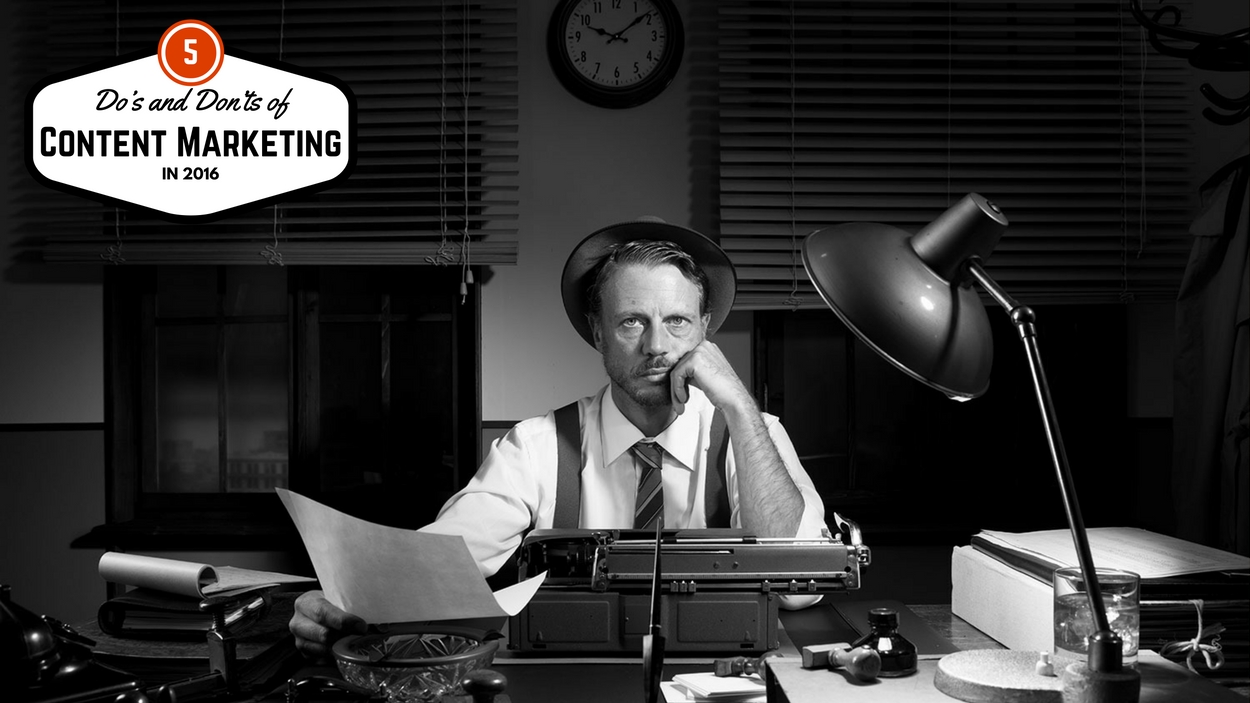 Over the past decade as digital marketing has become increasingly essential to business growth and success, online reputation establishment and management has also gained importance and complexity. Today, building a relationship with prospects and customers is all about presenting your brand in a certain light and giving them something valuable. High quality content can help you accomplish all of these goals. Through this post, we'll discuss some of the most important dos and don'ts in content marketing.
Do #1: Formulate a clear strategy
Uploading or posting content sporadically will not accomplish much. In order to cultivate a strong brand image and online presence, you'll need direction and consistency. A monthly content marketing strategy will help you stay focused and discover topics that your audience will have a particular interest in. Your content plan should cover both the topics you're going to cover as well as the frequency of your updates.
Do #2: Add value
One of the goals of content marketing is to make visitors come back to your website time and time again. In order to accomplish this, you need to have content that adds some value to your audience's experience. There are plenty of ways this can be done. One good example is interviews with experts. Another great idea is explaining complex topics that people don't have a lot of knowledge in. Most importantly, look for a unique angle to present your content. Even if others have written about the topic, it's still possible to make it fresh and original.
Do #3: Know what your audience wants
There's no point posting content your audience isn't going to relate to or get some sort of value from. Generic content isn't going to get the trick done either. In order to impress and engage your audience, create content around topics and information that they need. Your social media presence and tools like Google Analytics can shed a lot of light on the types of content that your specific audience will be interested in.
Do #4: Promote effectively
Once you've got informative and engaging content, it's imperative to utilise it as the powerful form of promotion that it is. Always end your posts with a clear call to action that's easy to follow. Tell your audience exactly what it is you want them to do. This will increase the proportion of your visitors that do follow through. To make the most of your content marketing strategy, consider creating different types of content and popularising it through different channels. Such an approach can help you significantly expand your audience.
Also read: How to Create High Quality Backlinks?
Do #5: Analyse your content's performance
There are several data tools which make it very easy for you to track the performance of content. Google Analytics is one of the most widely used tools and boasts a range of analytics functions. Use this information to improve your strategy even further and present content that you know will engage your audience.
Don't #1: Limit yourself to text
It's not enough to simply post blogs and leave it at that. While text is a great starting point, content comes in many shapes and sizes and text is just the beginning. A few other forms your content can take include videos, infographics, image galleries, diagrams and even cartoons. These are likely to engage your audience much more than a chunk of text.
Don't #2: Force your content to go viral
It's difficult to figure out which pieces of content will go viral and which ones won't, simply because there are many complex contributing factors. Don't push every single piece of content, because by consciously focusing on making every post viral rather than informative and adding value, you risk losing some of your audience. Refrain from making promises you cannot keep and using "clickbait" titles – these are titles that "bait" or encourage people to "click" and read on but fail to deliver in terms of actual content value. While such a strategy may boost your popularity in the beginning, it's not a sustainable one and will make it impossible to maintain a loyal audience in the long run.
Don't #3: Oversell
Focus on content that is informative, interesting and funny. People don't want to be bombarded with too many calls to action, or prompts to buy your products and services in every other line. Aim to build a relationship with your audience first through the use of informative texts, then begin advertising and promoting yourself. Even then, it's important to ensure you're not pushing too hard.
Don't #4: Write generic content
For every single search people make for any sort of information, there are dozens of websites available for them to turn to. If your content is generic, vague or simply not up to par, your audience will look for better content elsewhere. Don't sacrifice quality for the sake of quantity. One fantastic post is a lot better than five unoriginal, boring or generic posts. If you find yourself struggling with the quality or specificity of your content, it's better to decrease the frequency of updates while you formulate a comprehensive strategy.
Don't #5: Plagiarise
Plagiarism is the biggest sin in the world of online content creation. Not only can it have a negative impact on the relationship you have with your audience, but also on the reputation and rankings of your website in the eyes of search engines. Most major search engines, particularly Google, see plagiarism as a huge error. If your website has duplicate content, or content that's not unique enough, it will rank much lower and chances are that it will disappear from the search engine's list of indexed pages.
Creating quality content takes time and effort but is 100% worth it. Quality content will help you build a relationship with your audience, enhance your brand recognition and can eventually lead to increased revenue.