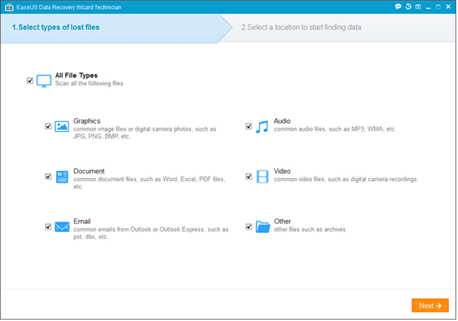 EaseUS Data Recovery Wizard 11.5 is one of its newest launches and there have been some considerable changes made in this version. Basically, EaseUS data recovery software aims at restoring missing files or lost files. A lot of times, your files might get accidentally deleted. These files may be the ones which you had never intended to delete. These files, which could be documents, music, videos, images or emails, could possibly contain really important information. This could be due to situations like virus attacks, partition loss or even accidental deletion. This is why it's more than necessary to have a proper data recovery software installed in your PC or laptop. EaseUS data recovery software has the capacity to hunt down files even from external devices like SD cards, digital cameras, hard drives etc. Its functions are not limited to PCs and laptops, which is what makes it the best data recovery software.
Features Included In EaseUS Data Recovery 11.5
The steps required to recover lost files are very simple. They're not out of understanding capacity for users. To add on, the new version comes with an entirely new interface and the scanning process has been developed for effective results.

For simple and successful recovery of data, the filter function can be optimized after scanning. The new version supports 2 new languages, which are, Turkish and Arabic.
EaseUS free data recovery software hence helps a great deal in restoring missing or deleted files and other data.
Steps involved in the process:

The first step of the process requires you to launch the software Then, the software undertakes a scan through which all your lost and missing files can be restored to the point from accurate locations in your PC, laptop, hard drives, SSD, USB, memory cards, digital cameras etc. The scan goes on till the point you have found the files that you wanted to recover. These files can be documents, audio, video, images, emails etc. The lost files could also be from your mobile phone and other sorts of storage media apart from your PC and laptop. The final step of this process is recovery, where once you've found your files, after a preview, they're recovered.
PC and memory card data recovery wizard: Data recovery is not restricted to your hard drive, external devices, SSD on your PCs and laptops but it also widens to cover damaged or corrupted parts of your memory card, memory stick, SD card, micro SD etc.

USB drive and other device recovery wizard: EaseUS data recovery wizard ensures that it offers a huge variety of service. You will be able to recover data even from mobile phones, Apple devices like iPod, iPad, USB drives, pen drives and flash drives.
Data loss can arise owing to various reasons such as formatting, virus attacks, partition loss, accidental deletion, system crash, volume loss, RAW partition etc. In the case of your hard drive, hard drive corruption is also possible. The restoration process is done within a snap of your finger. It hardly takes time and there are two well known features called deep scan and quick scan. They help you track down the missing files by carefully scanning all locations. Before recovery, a quick preview will be shown to you. The quality of the files to be recovered will not be compromised even a bit. The scanned results can be imported or exported without having to go through long procedures. You can continue with your scan after saving your result without having to start from scratch.
Related Post: