Comparium is used for Automated Testing multiple websites which, therefore, uses authoritative software to give exact results. The First Version Is Live You Can Go And Test Your Website Right Now.
In today's generation, most business owners create a website so that they can connect with customers. Before it reaches the customer make sure that the website is reliable.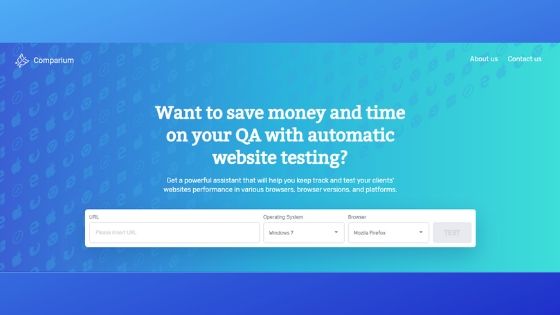 People generally use browsers like Mozilla Firefox, chrome, safari, and so on. It becomes cumbersome for website runners to have a check on, as they have to test its various versions on multiple operating systems and test every browser. To overcome this automatic website testing tool that tests your website automatically on various browsers at the same time.
Recommended: Best Safe Search Engines on the Web
There is one free tool called selenium, which you have at your service through which you can test an application easily. Each of its tools performs function itself and have their own practicable. Its first version is expected to release at the end of December due to which the users will get the first version at free of cost.
SALIENT FEATURE OF COMPARIUM APP
Here it follows: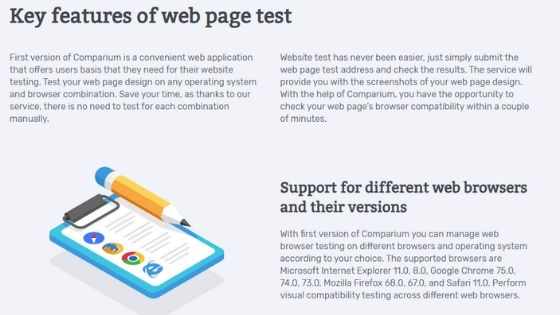 1. GET THE OFFLINE RESULTS VIA MAIL:
Whenever you have to test the website make sure that you have entered the URL and their email address. So no longer you have to wait for the result and get stuck on the computer to take it's screenshot as this will mail all the details of your results along with the screenshots taken as proof comparium will send it via email. Once you get the results you will be able to make necessary changes in your website and finally, you can release in the market. You will receive a notification once your website testing results are out.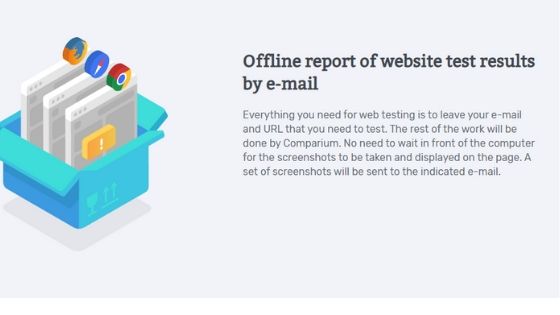 2. DIFFERENT WEB BROWSER SUPPORT:
This application allows the users to test their site on an operating with a different combination. You can make it reliable so that you can run it excellently and choices accordingly. You can also test a variety of browsers with the help of its new version of the application. The browser supported includes the following:
Safari 11.0,
Google Chrome 73.0, 74.0, 75.0,
Firefox 67.0, 68.0
And Microsoft Internet Explorer 8.0, 11.0.
Recommended: 3 Tips for Private Web Browsing on Android
3. SUPPORT BROWSER FOR DIFFERENT PLATFORM:
The supported is being provided by this application using a different operating system.
Following are the operating system which is supported by this app:
Linux
Windows 10, 7
Mac OS X Mojave
High Sierra
This app gives access to browsers and modern operating systems moreover Comparium application supports cross browsing. Sometimes it becomes impossible for the user to check every browser on every platform as there are many versions for one single browser which might become difficult to test manually. Thus, to make it proficient, users can check in the compatibility of the site on different platforms.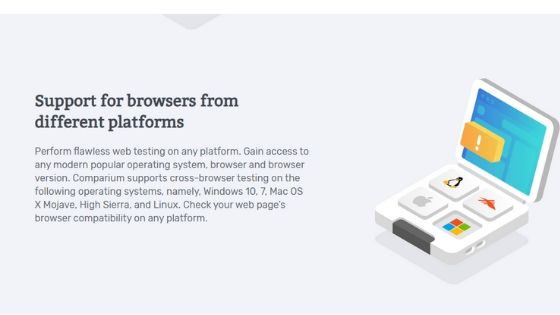 4. TIME AND MONEY SAVING:
You can easily save time and money to have another work to increase production just with the help of a highly advanced application for testing the sites. In such a case you don't have to test the combinations of browser and there is no need for visiting different sites. All you have to do for this application is to submit the mail address of the site and collect the result after some time. You are ready to make changes if needed and for the production to get a consistent website.
5. COMPARIUM'S GUIDELINE:
With the release of the new version, the user will get the advantage of this application. The aim of this software is to provide innovative solutions to its users. The first version is Live And Ready To Use and its second version is about supporting the client's selenium scripts so that it can be tested on different pages. Each version of this app will make you more relaxed and simple. The best thing I like the most is the first version of this app will be distributed for free but take a note you have to purchase additional features.