Over recent years, the digital world has seen a huge increase in UI tools for designers. Most of which provide a seamless experience for the user, while helping them with day-to-day tasks such as screen designing, prototyping, and aiding users with handing off designs to developers.
There are certain software types that allow users to do all of this from one single app, while others offer third-party integration for a fully featured workflow.
In this article, I'll look at some of those software types, comparing their features, ease of use, compatibility and price.
Recommend: Tips to Learn Web Designing in an Efficient Manner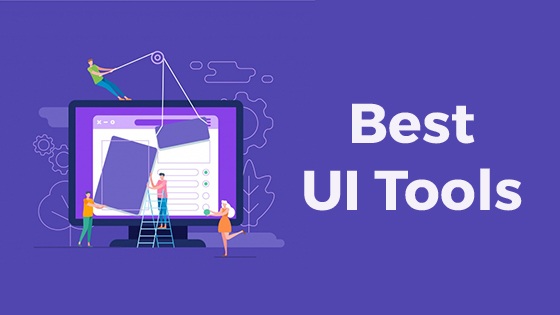 Best UI Tools for Designers
#1. Figma
Recommended for: collaborating in real-time
With its browser-based interface, Figma enables developers to collaborate in real-time. With features such as prototyping, screen design, real-time device mirroring, and commenting, Figma is a great all-around tool for designers.
And what's more, if you're a lover of Sketch but want a Windows alternative – Figma is the tool for you. However, the only major downside is that Figma lacks advanced animation functionality.
Compatibility: MacOS, Windows, Linux, Web
Price: Free for 3 projects ($12 per month for unlimited projects
#2. InVision Studio
Recommended for: a powerful screen design tool
Recently released, InVision Studio combines the prototyping tools of Invision, with the screen design tools of Sketch. When it's time to join workflows together through a clickable prototype, this is where Studio really shines. You can create custom animations, transitions, and interactive interfaces with a bucket load of features.
And what's more, it's shared design systems help you and your team to stay consistent, up to date, and connected.
Overall, InVision Studio is a great new tool with advanced animation features that are available to users for free. While it's still in its early years, Invision Studio has bags of potential.
Compatibility: MacOS
Price: Free
#3. UXPin
Recommended for: quick-to-create wireframes
UXPin enables you to create clickable prototypes on your browser, while allowing the design team to collaborate and asses the prototypes before the development of the final project.
Equipped with a drag and drop interface, UXPin is efficient and easy to use. It works by generating necessary data for developers to use, and it ensures the prototype is in sync with the project's design elements.
While UXPin can also be used on complex projects, its simplicity and ease of use make it one of the most popular prototyping tools out there. You can check Best UX Tools.
Compatibility: Browser-based
Price: Packages start at $23.00 per month
#4. Adobe XD
Recommended for: being one of the best all-around UI software
Adobe XD is one of the most popular all-around UI tools out there. With a stripped back interface predominantly made up of two tabs: Design and Prototype, XD is simplicity at its finest. But it doesn't end there, as you'll soon realize that Adobe XD is incredibly user-friendly, and requires very little technical knowledge to understand.
What's more, last year Adobe XD announced the news of a free starter plan for its App. And while this is good news for MacOS users, the Windows version (admittedly released a lot later) still has some catching up to do.
For example, the MacOS version has layers and symbol functionality, while the Windows version is without either of these. However, we're led to believe that these features among others missing from the Windows version will soon be available.
Compatibility: MacOS, Windows
Price: Packages range from $9.99 to $79.99 per month
#5. Webflow
Recommended for: users who want a development tool
Webflow is equipped with a WYSIWYG (What You See Is What You Get) editor. Taking care of CMS and Hosting, Webflow is the perfect tool for designers to build landings, blogs, or eCommerce stores. It also enables functional components alongside animations that work in all browsers.
What Webflow does so well is that it takes a lot of the stress out of developing a website, as it requires zero coding knowledge. But the bottom line is that Webflow is a development tool, and users will require a third-party wireframe tool such as UXPin before moving to Webflow.
Compatibility: MacOS, Windows
Price: Webflow offers a forever free plan, as well as three paid plans ranging from $12.00-$35.00 per month.
So, What Have We Learned?
Well, there are dozens of UI tools that have been expertly crafted to benefit designers in some way. And while these are some of the best ones for 2019, there are new software types being created and updated every day.
For example, in years to come, I truly believe that Invision Studio will most likely wipe out Sketch. And if I'm honest, I can't wait to see the competition fight back.
2019 is set to be a great year for UI software, and seeing as though we're only two months in – there's still plenty of time for new platforms to hit the mainstream.
Other good reads: Essential Tools for UX Designers: A Beginner's Guide
Saying that I'm interested to hear what you think. So please, leave your thoughts in the comment box below.
Related Post: