Searching for best online Photo Editing Software and Websites for editing photos like pro? We are sharing list of 6 online photo editing software and websites here.
Although Photoshop remains the king when it comes to photo editing, a lot of people cannot use it for one reason or another – including its hefty licensing fees or the need to install it. If you are one of these people, you will be glad to know that there are free, website-based photo editors that work quite well. You will find what you are looking for regardless of whether you need simple or complex photo editing functionalities.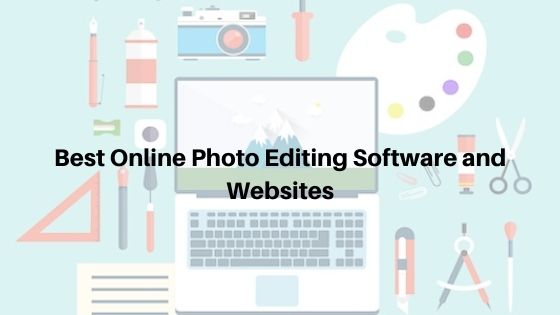 Best Online Photo Editing Software and Websites
#1. Pixlr
Pixlr describes itself as a photoshop alternative. When you visit its website, you quickly realize why. It offers all the different features photoshop offers, with some added on top. It has a conversion function that can convert different file formats including Sketch and Adobe XD. It is a free online alternative to photoshop, with its only requirement being that you need to sign up before using it.
#2. Befunky
This one is geared towards simpler social media photo manipulation. It offers the common functions that you would expect, like boosting the colors of a photo or even cropping the photo to size. If you are a marketer looking to create a simple social media post, you can use Befunky to create posters, presentations, postcards, invitations and more in just a few simple steps.
#3. PicMonkey
PicMonkey is known for its simple user interface. People who do not have a lot of photo editing experience can pick up an online photo editor and get going in a matter of minutes. As with other online photo editors, it comes with several templates that you can use as a starting point for your designs.
#4. Canva
Canva is perhaps one of the most popular online photo editing software in the world. Just like the ct scan machine revolutionized the way engineers visualize and work with 3D models, Canva paved the way for all other online photo editors and photoshop alternatives. Canva brought us the idea of online templates that could be edited and then shared easily on social media. Canva comes with lots of integrations for scheduling your images and posts after you have edited and saved them on their online platform.
#5. Photoshop Express
This is an Adobe product that those who do not like Photoshop might not care for too much. That said, it is well-designed and has an intuitive UI, as you might expect from any product developed by Adobe. If you come from an Adobe background, you will find its user experience and interface intimately familiar.
The only two downsides of this otherwise great photo editing software that is teeming with great features are that it only supports JPG images and it does not have any social media sharing features. If you are looking to edit PNG images for their transparency features, try some of the other software on this list.
#6. Fotor
Fotor came up almost at the same time as Canva and can, therefore, be called one of the original photo-editing platforms. It offers editing and retouching options in addition to allowing users to download their photos with a high dynamic range applied. You can use Fotor for visual marketing for your online business.
Conclusion
Regardless of whether you are interested in their features, their ease of use or the need to not download them to your computer, you can easily find an online photoshop alternative that will fit your needs.