The gaming industry performed beyond expectations during 2017. Newzoo, the game market researcher, revised its estimates to $116 billion, up from 10.7% last year. Mobile gaming revenue was also updated to $50.4 billion from an initial estimate of $46.1 billion. The growth was mainly driven by revenue from China and Japan. Esports also acted as a contributing factor. Esports revenue is expected to hit $2.5 billion by 2020.
Usually, the perception is that gaming apps don't contribute much to the industry. However, mobile games hit a new record in 2016 by generating $40.6 billion revenue worldwide. Smartphones have been the catalyst for the gaming industry because of their proliferation. While the experience and quality may not match with that of PC and console, smartphones have made games accessible to a lot more people. Don't miss to check Best 15 Games like Harvest Moon.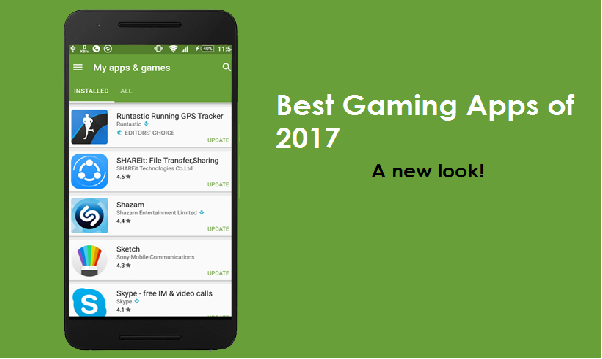 Best Gaming Apps of 2018
1. Monument Valley 2
The first part of Monument Valley was a huge success in the App Store with its gorgeous graphics. The sequel follows the success of its predecessor. The game is quite appealing aesthetically with vibrant colors that slowly change if you are patient enough to notice. However, the sequel comes with some new structures and textures. The story is not connected with the previous part; the sequel is about Ro and her daughter who has not been given a name. The entire game is about motherhood and how mothers have to let go of their children so that they can start a life of their own.
Just like the previous one, Monument Valley 2 is also user-friendly; all you need to do is tap on your character to move it. The puzzles are not quite difficult and challenging, but they are fun and a good way to kill time. You can get this game for just $4.99. You can also check 10 Games Like RuneScape to Play.
2. Bury Me, My Love
The game is a product of a partnership between studios The Pixel Hunt and Figs along with a French-German TV channel ARTE. With a compelling and intriguing narrative, Bury Me, My love follows the journey of Nour, who is trying to escape from war-torn Syria to find a new life in Europe.
The game is unique in the sense that it tries to portray the real-life struggle of an individual who is trying to cross borders and living in refugee camps. Even though the entire story is fictional, the game has a realistic touch to it as it unfolds like a real-time WhatsApp conversation.
In the game, you play Nour's husband, Majd. Nour keeps texting Majd about her journey. Most of the time, you will be reading their conversations. However, in critical situations, you can advise her. For example, you can help her decide where and how she should spend her limited funds.
The journey is full of perils and unpredictable events. Sometimes the weather gets bad or the border is closed and you need have to help Nour by being there for her. You cannot play this game in one sitting. Nour will text you from time to time through push notifications.
The unique part about this game is that you get so involved in it that you start looking forward to Nour's messages. You can download this on both iOS and Android just for $3.
Recommended: SB Game Hacker APK Download For Android
3. Arkanoid versus space invaders
The mashup of Arkanoid and Space invaders is a product of Square Enix. Arkanoid was initially introduced as an arcade game in the mid-80's. It was set up in space, where you pilot a ship named Vaus. Space Invaders was also released in the 70's. The combination of both the games is pretty interesting. At the bottom of the screen, there is a control panel from where you can blast the invaders that are attacking the space from the top. You need to clear the space from the invaders to get to the next stage.
The game gets difficult with each subsequent stage. You have to work with a strategy; you need to decide which bricks to hit while keeping in account the fact that the invaders would be hiding behind them. When stuck in a difficult position, you can spend the coins you collect on the four power-ups.
4. Neon chrome
Unlike most of the Android games that cost $3-4, Neon Chrome costs $10. However, it is one of the best shooter games available on mobile and is totally worth it.
This top-down shooter game has around 20 levels full of action and intriguing battles. The best part about this game is that you would never get bored of it because the levels are different every time.
The game comes with plenty of weapons and passive abilities that you can unlock with time. It is also important to collect money as it allows you to upgrade your stats. The game has impressive graphics and is worth the time and money. There are no in-app purchases; you get all features in $10.
Related Post: XmodGames APK Download
5. Linelight
Unlike other games that are full of action and happening stuff, Linelight is minimalistic with few lines and highlights. However, its looks are deceiving since the game is not as easy as it seems. Initially, the goal is simple; you have to guide your light on a path that will activate a gate, which opens up another path.
The game gets difficult with each stage as enemies' light beams try to trap you. However, the game does a great job at teaching you how to play by showing you every step. These mind-boggling puzzles can be quite addictive. So, don't be surprised if you keep returning for more.
These were some of the best games for 2017 that you should definitely purchase and play on your smartphone. There are a plethora of other games out there too that are equally interesting and serve a good way to kill time as well. Some of the old ones are still a hit among players. For example, Big Barn World available via AirG spam is another blockbuster that allows you to play as well as socialize with real players. Although three years old, the game has still not lost its charm and is worth a try.
Author Bio:

Ashley Rosa is a freelance writer and blogger. As writing is her passion that why she loves to write articles related to the latest trends in technology and sometimes on health-tech as well.  She is crazy about chocolates. You can find her at twitter: @Ashrosa2
Some interesting Post: