Productivity and efficiency are key metrics that every business must measure to remain successful. Managers have a responsibility to ensure that their teams are committed and focused on achieving the goals of the organization.
However, with the increase in remote working, particularly due to the ongoing global pandemic, it's become quite challenging for managers to increase and improve employee productivity.
Fortunately, modern technology has made this task easier through the use of Employee Productivity Tracking Software.
Eager to learn how this tool can help your business improve efficiency and productivity? This article shares all you need to know. Let's dive straight in!
Recommended: How Employee Scheduling Can Help Your Business Save Money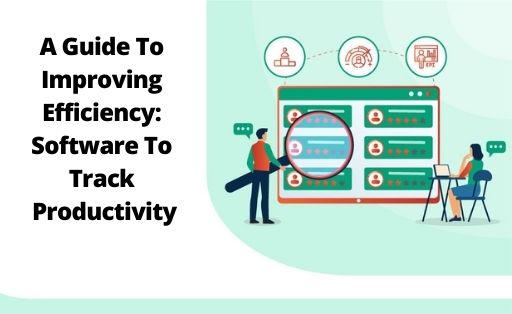 Employee productivity tracking software. What is it?
Employee monitoring software is a business-based technology that is installed on company-owned devices to help track employees' digital activity, whether they're at the office or working remotely.
It provides you with vital information that you can use to improve efficiency by monitoring different metrics that influence employee productivity. For example, you can use it to understand how productive your team is by analyzing the activities that they engage in during working hours.
The data this tool generates can then help you identify productivity issues that need resolving to enhance efficiency in the workplace.
What activities to track?
As we said, productivity tracking software allows you to know what activities your employees are engaged in during working hours.
The digital activities monitored by most tracking software include;
Social media
How much time are employees wasting on social media sites during working hours?
Emails
What kind of emails are your employees sending and to whom?
Instant messages
What kind of topics are discussed using instant messaging services by your employees. Are they personal or work-related?
Websites
What websites are frequently visited by your employees?
Program usage
What applications and programs are frequently used by your employees during working hours?
Logins/logouts
Are your employees properly utilizing all working hours?
Why track productivity?
Productivity is a variable that keeps on changing depending on the mental state of your employee. An employee can be very productive 15 minutes ago, then gets disturbed or stressed about something, and the productivity reduces significantly.
Therefore, managers should use productivity monitoring software to keep an eye on their worker's productivity. Some of the key reasons include;
Gain valuable insight
Productivity monitoring software allows you to gain insight into your employees' level of productivity and gather tons of valuable information that you can use to improve efficiency in your business.
Avoid the need to micromanage
Employees don't like managers micromanaging them. It kills their self-responsibility. They want to be trusted to do what they are supposed to do and produce the set results. Productivity monitoring software allows managers to generate correct productivity conclusions without constantly managing or disturbing employees.
Protect your business from unnecessary timely and monetary losses
Distracted and unproductive employees can have an adverse effect on your business in terms of money and time wastage. Employee tracking software can help you protect your business by avoiding such unnecessary losses.
Benefits of using productivity tracking software
Employee monitoring software can help managers;
Boost the levels of productivity of employees working remotely
You can see how company devices are being used by employees working from home and what projects they are working on.
Identify what is causing low productivity
Some of the reasons include distractions, constantly being absent, and overuse of personal time.
Show progress
You can compare recent data against historical data to determine if there are improvements in productivity levels.
Reach business goals
You can use activity tracking tools to keep your employees productive, thus achieving organizational goals more efficiently and faster.
Prevent understaffing
Insights gained from productivity tracking software can help you know if you have enough employees to handle the objectives of your business. You want your employees productive, not overworked.
Identify key employees
Rewarding hard-working employees will keep them motivated towards improving efficiency and achieving business goals.
Best Productivity Tracking Software: SoftActivity Monitor
If you want to know what exactly happens on your computer network and track your team's productivity, SoftActivity Monitor is the way to go.
This employee monitoring software allows you to track employees' frequently used applications and visited websites and even generate reports to enhance productivity and security. Besides, you can use it to prevent and detect insider threats, investigate high-risk employees, record electronic communications, and get notified when users disobey the computer use policy.
SoftActivity Monitor is trusted by thousands of organizations around the globe. It can be used in a wide range of industries such as wholesale & retail, healthcare, financial, IT services, financial, insurance, and law enforcement.
Check it out if you're tired of losing too much time micromanaging your employees or if you want to trim your workforce and work with only the most efficient employees.